Privateer Profile: Jacob Saylor
If you watched the telecast of the Amp'd Mobile AMA Supercross Series from Anaheim 1 on CBS on Sunday, you surely noticed the #198 of Jacob Saylor out front. Unfortunately, Jacob barely missed making the Supercross main event, but he definitely opened some eyes. This Knovxville, TN, resident hopes to build on of his Anaheim performance and show the Tamer Racing team that he was a good investment. Be sure to show Jacob and his sponsors some support by clicking on the links at the bottom of the page.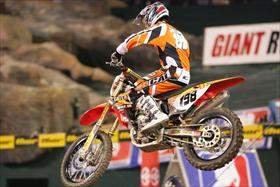 Although he didn't qualify, Jacob Saylor opened some eyes at Anaheim 1

Racer X: Jacob, we saw you at Anaheim running some very cool Caterpillar graphics. What's the story with that?
Jacob Saylor: Well, we have a bunch of new sponsors on board with the Tamer team this year. Caterpillar, as you can see, is the main one. At the first round we ran the red plastic, but we were hoping to run the white plastic. But I'm stoked to be on this new Tamer Motorsports team with Erick Vallejo. I really didn't know what to expect, but after the first round I was pretty happy with the team and everything. It's a great environment.

It seemed like you were on top of your game at Anaheim 1, but you just came up a tad short on making the Supercross main event. What happened?
Well, my evening went pretty good. I was in the first heat race, and I had the last gate pick all the way on the outside. Myself and Kyle Lewis came out 1-2 and I was just thinking, Wow, this is my first race in the Supercross class and I'm up here! I knew I had Bubba and Reed behind me, but for the first couple laps I was holding my own and I was battling with Kyle and we had our own pace going. The factory guys came up on me, but I felt I was riding good because I was in fourth with a lap and a half to go. But then those damn whoops got me.

Along with Ricky and Jeremy.…
Oh yeah. After watching other guys crash in them, I didn't feel so bad. But as far as speed goes, I felt really good.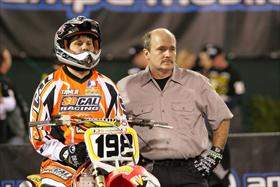 Jacob focuses prior to the start of the Last Chance Qualifier

Yeah, your starts were exceptional throughout the evening. Has that been an area you've been concentrating on lately?
Well, that was the thing I was most happy with that night, but I haven't really been practicing them. Just the Honda 450 with the Tamer holeshot device just kept the bike down and I launched out perfect every time.

What areas are you hoping to improve on for Phoenix?
This first round was an eye-opener, not only for me, but also for the bike. There are definitely some issues, and I really want to work on the whoops, because if I didn't go down, I think my night would've definitely changed for the better. I also want to get the bike working the best that I can.

Well, being teammates with a seasoned veteran like Erick Vallejo should help things out.
Erick's great. We were teammates on Star Racing last year, and we get along well.

You've made some big changes this season, starting off with a team change. Last year was your rookie season and you were a member of Star Racing. Tell us about that.
It was a great team. It was my first year turning pro, and Bobby Regan and everyone helped me a lot. They saw my amateur results, and they gave me an opportunity. I almost had a few top-tens in Supercross Lites last year, but I'm really starting to enjoy supercross this year.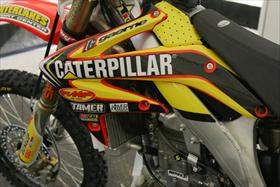 Caterpillar is playing a vital role in supporting the Tamer Honda team

You were also on Yamahas throughout much of your amateur career, and now you're on a Honda. To be honest, you look really comfortable on the bike.
I'll tell you, when I first got on the Honda for the start of the four-stroke nationals last fall, it was like a breath of fresh air and I felt really good. I won the Four-Stroke National Championship, and I felt this was the bike for me. Luckily, Tamer was on Hondas, so it worked out perfect.

How did the Tamer deal come together?
Well, throughout the Four-Stroke Nationals I was riding for Freewheeling Honda, but after the AMA Nationals I was contacted by Tamer and they were looking for a few riders to fill in at Glen Helen. I got a call from Dave Kimmey at Engine Ice, and he was pitching my name to Tamer a lot. Throughout the off-season I kept in touch with Tamer and things just worked out great.

Are you guys pitting out of a rig?
Yeah, we have a rig, but it was all white at Anaheim. But they're going to get Caterpillar graphics on it and everything.

So when the Amp'd Mobile Supercross Series goes back East, will you be dropping to the Supercross Lites class?
No, I'm full Supercross-class, all the way. I'm racing Supercross all year [laughs]!

Well, what are your expectations or goals for this supercross season in the Supercross class?
I'm a realistic kind of guy, and I think after the first round—getting a little taste of running up front—I really think that I could break the top ten. I think it's just going to take some time to get comfortable, but I feel I have the potential.

Who you want to thank, Jacob?
I really want to thank Tamer Motorsports and all of their sponsors, along with a few of my personal sponsors like Fuel Motorsports, MXers for Jesus, Engine Ice, and Ogio.

Thanks, Jacob, and good luck in Phoenix.
Thanks, Billy.