My Racer X Gas Card Experience
Our
Racer X
Gas Card experience was one of the most memorable times of our lives. Being a motocross fan since 1980, I never thought it would be possible to go to a race and be treated like a celebrity, especially since I'm not one. On Saturday, January 7, 2006 my wife and I drove to Angel Stadium and picked up our tickets and it became a reality. From the time we arrived at the stadium until the time we left, we were treated like royalty and allowed the privileges of the rich and famous.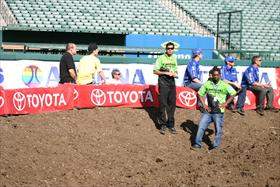 Jeremy and James stare down the author
photo: Michael Crawford
As many of you know, the opening round of the Amp'd Mobile AMA Supercross Series at Anaheim is probably the most anticipated race of the year. This year it certainly didn't disappoint. We arrived at the stadium at around 10 a.m. and took advantage of our all-access, anytime, anywhere passes. I grabbed my camera and we went straight to the pits, where we saw the riders arriving with their crews, bags, and friends. It was strange being in the pits so early and seeing what goes on. There is a lot of work that goes into trying to get a rider into a 20-minute main event, and most people don't see it, but we did. Tech inspections, bike detailing, last-minute work on the bikes, and interviews. Honestly, we didn't know what to do with ourselves as we stood watching riders like RC, Reed,
Bubba
, Shorty, MC, and others just casually walk by us without all the crowds. You know it's good when
Jeff Alessi
asks your wife if she's waiting in line for a bathroom he wants to use!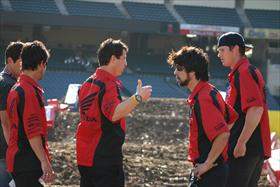 When Jeremy speaks, everyone listens
photo: Michael Crawford
Ten minutes before 11 a.m., we ran into Davey Coombs. We approached him and thanked him for the opportunity. We were again treated with great respect and thanked for participating in the
Racer X
Gas Card program. He told us to watch for the riders as they went toward the tunnel to take their track walk, and that we could go with them. We eventually saw RC heading toward the tunnel and stadium, so we just followed him and his trainer. Before we knew it, there were tons of riders, mechanics, and reps all around us, all waiting to do the track walk. We finally went out on to the track and I was totally in awe. You don't realize how tough, big, and outright crazy the obstacles are until you're standing next to, on, and in them! We felt out of place being surrounded by so many superstars. Several times, the likes of
Bubba
, RC, MC, and others were standing right next to us, inspecting the track. The track walk was definitely a highlight of the
Racer X
Gas Card experience.
When race time came around we took the elevator up to the press suite, where the view was spectacular. Again, it was so cool to be around the media and riders like Kevin Windham, Broc Hepler, Travis Pastrana, and others as we all took in a great night of racing. The supercross web crew was just 10 feet away. I thought the seats I usually pick were good, but we couldn't have asked for a better place to watch the race.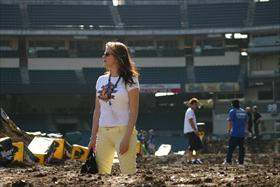 Danielle Crawford is knee-deep in the Anaheim whoops
photo: Michael Crawford
It felt good to see the
Racer X
Gas Card handed out that night and to know that we had helped a privateer. This truly was an opportunity of a lifetime and well worth the money.
We would like to thank Davey Coombs, Billy Ursic, TFS and Hutch at Motonews.com, everyone at Racer X, CCE, all the privateers, and anyone else we left out that made our Racer X Gas Card experience possible.
Michael & Danielle Crawford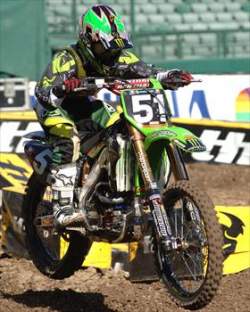 Ryan Villopoto finished an impressive second in his supercross debut
photo: Paul Merritt
I was able to get one of the
Racer X
Gas Cards and myself and a friend had one of the best times at a supercross ever! It was all worth taking off work and staring at the computer for four hours straight to win the chance. There was a ton of interesting things, but for me, getting the chance to walk out on a real supercross track was the coolest.
After the track walk with the riders, I went to the riders' meeting and found that to be very interesting, especially the way they do roll call. I am not good at remembering names, but the guy who did the church service after the riders' meeting did a wonderful job and everyone traveling the circuit are lucky to have a special person like him. As I stood out there among the riders as he related his experiences in life to us, I was feeling very lucky to be able to hear him speak, even if it is just that one time. One thing I noted was that most all the riders left and never heard what he was saying.
Well anyway, I just wanted to thank everyone involved in making the Gas Card experience happen and DC for taking the time to explain everything my friend and I were able to do. The best part of getting the Gas Card was bringing in my camera with no problems whatsoever—although when the gates opened, I did notice that no one else had any problems bringing in good cameras and big lenses. Thanks again to DC and
Racer X
Paul Merritt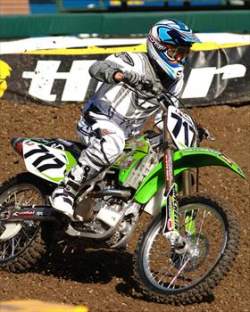 Kyle Mace on his Corona Motorsports-backed KX450F
photo: Paul Merritt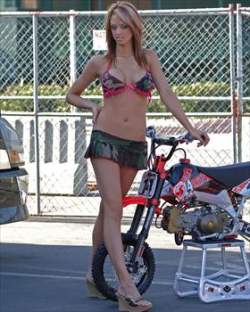 Early-pit-entry perk
photo: Paul Merritt