Monday Conversation: James Stewart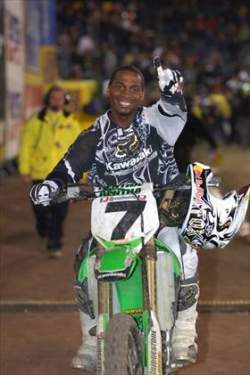 After winning Anaheim 1 and the two World Supercross rounds in Canada, Stewart has good reason to be optimistic

James Stewart's "New Beginning" picked up momentum with his most significant supercross win to date: He won an exciting Anaheim 1 season-opener that featured a thrilling battle with Ricky Carmichael and Chad Reed that was cut short when Carmichael fell in the whoops. Regardless, Stewart looked like he was on top of his game all day long, and he ended up in the winner's circle in what turned out to be his first race as a 20-year-old, as well as the maiden AMA Supercross voyage for the KX450F.

James Stewart is faster, stronger, more patient, and more fit than the 250-class newbie "Bubba" Stewart was a year ago. Time will tell if 2006 is going to be his year, but so far, things are really going his way. We stopped James right after the press conference at Anaheim 1 to see what's the dealio.…

Racer X: James, you just won "the big one," Anaheim 1. How does it feel?
James Stewart: I think that's only the second time I've won a season opener. The whole weekend was better. It wasn't raining, first of all. It was just a good weekend. I felt strong. I got two bad starts—I was outside of the top ten. I just kind of made my way up and rode a smart race and ended up getting them.

What happened on those starts?
I don't know! One time I blinked and looked up and the gate was down, so I popped the clutch. In the main event, I don't know. I'm going to go back home and work on my starts. I felt like I could get a bad start and finish at least on the podium. I felt good. My training and everything is starting to peak right now.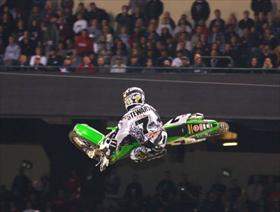 Stewart seems to have it all together this year. He's adapted to the 450 perhaps better than anyone else.

It seems like you brought a lot of confidence with you this weekend. Where does that come from?
From just hard work. I know I have the speed—the only thing I was lacking last year was a little consistency. I feel like I can do that now, and it's going to be great. I got around Chad—he actually put a pretty aggressive pass on me. I was talking to my team about it. It just kind of feels like, if he is going to try to knock me down, that's the only way I guess he'll beat me. But he rode a good race and Ricky rode a good race.

Has your training changed? Are you fitter than you were last year? What does DJ have you doing?
We're doing a lot. But I'm not going to sit here and tell you guys what I'm doing! Right now it's working. I can tell you that I'm a lot more fit than last year. My health was the biggest thing last year, just being sick and having all these nagging injuries. I feel really good right now and confident.

Let's talk about where you are right now with your speed and how you manage it. Is this the year that you manage to avoid mistakes and stay healthy?
Yeah, definitely tonight I felt I had the speed. Tonight I really didn't click in some good laps until about lap 10. I was just trying to stay behind those guys. I really wanted the race to come down to the last two laps, right to the end. It was good, but Ricky ended up going down. The track was really tough tonight.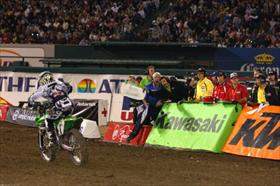 Stewart's pit-board message: "Relax. You Can."

So this is the year you're hanging back and using patience like that?
I just want to be consistent. I want to finish on the box and help Kawasaki and Fox Racing and Red Bull and all these guys on the box, and I feel like I will do that.

Do you think Ricky matched your speed tonight? If it really came down to it in those last five laps and it's a sprint between the two of you, would you win it?
I don't know. I'm not going to say that, but I felt like I had some in the tank. I know when it comes down to it, speed-wise, I always have it. I don't know if he might have been faster tonight, but I ended up winning.

Thanks for the time. See you in Phoenix.
Thanks, Steve.