Stewart Wins a Wild One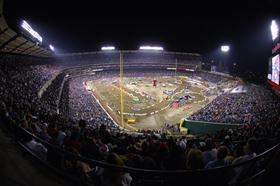 Another sell out at Angel Stadium. There's great fans and outside sponsors and CBS TV and great racing. These are the glory days.
A sold-out crowd of 45,050 supercross fans got their wish at the Anaheim Supercross, round one of the Amp'd Mobile AMA Supercross Series and round three of the Amp'd Mobile World Supercross GP. The race featured a knockdown, drag-out battle between
Chad Reed
,
Ricky Carmichael
and
James Stewart
, as each of the "big three" had stints in the lead during a furious first ten laps of the Supercross Main Event. It was fun to watch, and ultimately it proved that any of the three still have a shot at winning races and championships this year.
But when it was all said and done,
James Stewart
was able to be both patient and fast, and he ended up with his third-straight win in the early going of this series. It wasn't easy, though, as both Stewart and Carmichael both got terrible starts in the main and had to slice their way through traffic while fighting each other at the same time. Reed, meanwhile, gated better, but took a few laps to work his way from about fifth into second. Then early leader Ernesto Fonseca had another in a long line of his highlight reel crashes, but of course, he bounced back up and ultimately finished a solid sixth.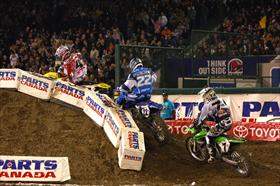 The "Big Three" dueled early.
Carmichael and Stewart worked into second and third and battled each other as the crowd roared, both feeling each other out. Reed logged the fastest lap time of the night while holding the duo at bay, but finally he made a few mistakes and allowed Carmichael to get past him in the mechanics area. Reed had been busting out a tricky jump combination in a rhythm section, but when Carmichael figured it out he was able to get close, and then drive past. Soon after though, Carmichael got bucked off of his Makita Suzuki and went down.
Then the race was down to a two-horse show between Reed and Stewart, and Stewart had all of the momentum, making the pass and slowly pulling a gap. Carmichael eventually worked his way past Fonseca. Then he reeled in
Mike LaRocco
, who was putting in another brilliant ride even though he hadn't raced in months and was also adjusting to a 450. The Rock just keeps on going….
But Carmichael got going around him to finish a distant third. As you would expect, he didn't look very happy after the main.
But all of the top three can take positive thoughts out of something in the event. Reed had been off the pace in Canada and in practice here, but he had the speed in the main for a few laps, even setting the fastest lap of anyone outright. Carmichael had to feel like he was fast enough to get in position to win. And Stewart? Well, he won. That's positive.
Next week in Phoenix, it's on again.
The Lites West Region Series kicked off with an awesome race. This class features a great mix of veteran contenders like
Nate Ramsey
, Grant Langston and
Andrew Short
, while rookies
Mike Alessi
,
Ryan Villopoto
and
Jason Lawrence
in the mix with them. Lawrence didn't qualify for the main, and Alessi crashed all over the place in his main event, ultimately fighting back for ninth. But it was Villopoto who impressed. After riding poorly in his heat, he won the LCQ to make the show. Things didn't look good, but he pulled a good start in the main, battling past Toyota/AMA Arenacross Champion Darcy Lange to take the early lead. He was riding brilliantly, while Short got a terrible start, Ramsey crashed all over the place, and Langston also crashed in the whoops on the first lap.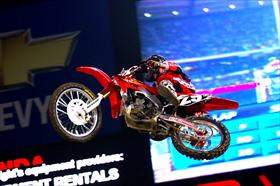 Andrew Short overcame a terrible start to win the Western Region Lites opener.
Finally Short worked his way past
Billy Laninovich
to get in second, and then past Villopoto. It was a great, hard-earned win by one of the hardest working guys in the game. Villopoto finished second in an incredible debut supercross ride, and Laninovich was third.
Langston put on the ride of the night coming from 22nd place to 4th, and putting in ridiculously fast laps doing it. He ran out of steam late in the race and couldn't reel in Laninovich, but fourth was incredible from where it started out. Ramsey, meanwhile, is in a deep hole.
But this is the wild, Wild West. You never know what's going to happen. Then again, you don't know what's going to happen in the Supercross Class right now, either. It's a good time to be a supercross fan.