You can learn a lot standing outside the mouth of a stadium tunnel and talking to the riders as they walk on or off a supercross track. On Thursday, right after the press conference inside Angel Stadium, we decided to hold station at the base of the Anaheim racetrack at the Big A. We asked a few top riders and one living legend about their hopes and expectations in regard to Saturday evening and the opening round of the AMA/Amp'd Mobile Supercross Series.

Chad Reed, Team Yamaha

Racer X: Chad, was it me or was the press conference a bit slow?
Chad Reed: [Laughs] Yeah, it's the normal same old, same old—especially when there is just the three of us. Take Kevin out of the equation and you have Jeremy thrown in there for six races, and you can only answer so many 450 and 250 two-stroke questions. You know, you get kind of use to it.

When your turn in the hot seat came during the conference, you sounded kind of hard on yourself when you spoke about your performance in the first two Canadian rounds.
Oh, it was the truth. They were horrible races for me, you know? I had my little issues and it wasn't until after the second one that we found out really what my problem was. And when we did, it made a whole lot of sense. You know, there is always a "why" behind everything and I guess this scenario was no different. So I'm looking forward to this race to just redeem myself and to build my confidence. This is that start of a new season for me.

When you found out what the "problem" was, was it more of a physical, mental, or mechanical thing?
I wouldn't say it was a physical problem, but it was a physical issue. But we feel like we fixed it. We're still working on it—we can make it better—but right now I feel we're right where we need to be. It's the first race and I'm excited. We have a new bike and everything like that and I feel good about it. I feel that I made the right choice in racing the four-stroke. It seems like some people might be kind of guessing at why I did, but as far as what bike I chose to race this season, it was my decision. I think this weekend we can turn things around and make it all look justifiable.

So how is your confidence? Is it okay?
Yeah. We watched a lot of tape after Canada; we looked at a lot of lap times. You know, the tapes show a lot. As pathetic as I rode, we weren't so bad. So, no, I feel really confident. I feel a lot better this weekend, for sure.

Is there a big difference between the overall vibe at the Canadian races when compared to the vibe here at round one?
There is a similar feel. I think the riders feel the same, no matter what, year-in and year-out. I mean, different things affect different riders, plus everyone kind of has their new thing. But everyone had the 450 thing they needed to answer. You know, James was kind of the unknown—he changed numbers and all that other kind of B.S. I don't think Anaheim will be any different or any worse. It's going to be the same. It's going to be the same three guys going for the title. We say all three guys and, in all honesty, that's all I look at. We all want to win, but realistically, there are only three guys with a shot at the title.

The goal Saturday night?
The goal Saturday night is to place on the podium. Obviously, we all want a win. There is no hiding that. But you have to leave here with a shot at the title. Leaving here 16 points behind your nearest competitor, like I did last year, that's not a shot. That's just making life hard for yourself. None of that this year.

Michael Byrne, Team Kawasaki

Racer X: Michael, how have you been? After Canada, are you ready to race here in Anaheim?
Michael Byrne: Yeah, I think so. We learned a lot from Canada about our bikes and our training. It was definitely worth the trip to go race there, and it helped a lot with our bikes. We were able to make a lot of good changes since Canada. Power-wise, I think our bikes are really fast. I also think our bikes are handling really well right now. So I think we're ready for this, so we'll see what happens when the gate drops. Nobody knows what's going to happen right now and that's kind of the whole beauty of it, you know? I guess we'll just go out there and do our best and see what happens.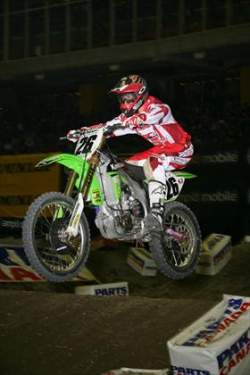 Byrne's goal is to be in the top five
photo: Simon Cudby

Did it take a lot to get the bikes where you wanted them?
We did a lot of testing, especially after the U.S. Open. We wanted to get ready for Canada. We really did do a lot and then coming back from Canada we knew all we had to do was some fine-tuning. So after Canada, we didn't have to do as much testing as before, that's for sure. Our bikes are in a good spot.

Do you and James Stewart get along well?
Yeah, we've been teammates now for the last two years—this will be three. We get along really well, and we have a good, friendly relationship and that's important. Ever since the U.S. Open, the morale inside the team has been really good, especially after Canada. Everyone has been putting in a lot of work and a lot of effort. So now James and I want to give them something back to them.

What's your plan for the first phase of the season?
Right now I'm still kind of unsure. I had to work on a lot of things, too, since Canada. I'm just going to try and go out there and put in a good 20 laps. I mean, my goal is to be is in the top five. That's a realistic goal, and it's a goal that is definitely obtainable. We'll see what happens. Consistency is a big part of it. Like, last year I got a podium here, but I wasn't as consistent as I needed to be and then I had an injury. I think the consistency definitely pays off. If you can be up there each weekend, if you can be in the top five each weekend, anything can happen. That can put you near the top three as far as the series goes. Like all the guys said in the press conference, consistency is everything in this series. It's such a long series that you just have to try and stay healthy.

Throughout the past few years, you have experienced a number of injuries. How do you feel right now? Are you at 100 percent?
Yeah, everything has been good. It took me a long time to come back from the injury I suffered lat year in Atlanta when I crashed and did my shoulder. I just landed wrong and it was just one of those things. But I've been good since the nationals. Right now I'm as good as I've ever been. I feel strong and healthy and that's definitely a big plus.

Compared to the Canadian rounds, does it feel more like the series is really starting now?
Yeah, it's Anaheim, you know? Even though it's only press day, you still have a lot of nerves and flies in the stomach. It was good that we got to go up there and shake some things off a little bit. I think this race is going to be good. I think there is going to be some good racing here on Saturday night.

I know the track today was pretty much just a small loop, but could you get any kind of read on the surface or condition of it?
Yeah, it's the same old Anaheim. It's hard and it's slick. These guys [Live Nation] have put a lot of water into it and I think they'll work it real nice now that they have that extra day to prepare the track. Hopefully, the extra day allows them to make the track as good as they can. They usually do, and I think it's going to be the same old Anaheim. A big crowd and a great race!

Kevin Windham, Team Factory Connection Honda

Racer X: Kevin, what did you think of the press conference?
Kevin Windham: It was kind of boring. I don't know … for me, I don't know how it could be much more exciting sitting up there with one good arm and one bad one. I'm kind of down in the dumps anyways.

Are you going to stay and watch the race on Saturday night?
Yeah, I'm going to do most all of the races, if not all of them. I may miss one or two of them, but until the doctor allows me to go back riding, I'll be at the majority of them.

You've been at this a long time. Is it going to suck to have to sit up in the stands on Saturday and watch what could have been for you?
Yeah, of course. It sucks. Especially with the way I was riding. Things were going good. But with age, you can't get too down or too disappointed. On a positive note, I hope to turn over a new leaf and be a little bit more involved in the team and commentating and just kind of taking up a new role. I am getting a little older and this might be a good opportunity to look at some new avenues of racing. I don't see myself going anywhere after racing. I still love the sport, and I still want to stay around it. But to answer your question, when I can be back, I will be here. I'm looking forward to going to the doctor tomorrow and finding out what kind of progress I've made in the three weeks that the arm has been broken.

Are you still feeling the afterglow of being a part of the winning U.S. Motocross des Nations team?
Yeah, that was a great race for me and my career.

Would you consider it a highlight of your career?
I've had several. It's definitely one of them. There's a few other races I've won that carry the same kind of weight—like when the 250cc USGP used to come to the States [in 1999]. That USGP wasn't the des Nations, but it was a great win for me.

In your opinion, the 2006 supercross championship, is it going to fall into a pattern or could it be a tight title fight?
Well, obviously I think there'll be a pattern at some point. But there are some big questions. Chad, I don't know where he plays into the scenario at this point because, obviously, as you heard in the press conference, he wasn't as strong as he wanted to be in Canada. So at the opener, there will be the questions like, Did he get that fixed? Also, will Ricky be able to step it up? And Bubba has that spark and burst of energy right now—can he maintain that? There are a three or four different scenarios that can play out, but up to this point, it's anybody's guess. I know it's going to be close.

Jeremy McGrath, Team Honda

Racer X: Jeremy, what did you think of the press conference? Everyone seemed pretty tight-lipped.
Jeremy McGrath: Yeah, I wasn't getting the questions put on me like James, Chad, and Ricky did. I think all of them are pretty cautious about saying they want to beat each other, that's for sure!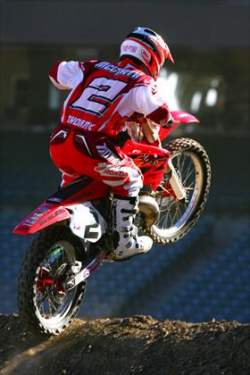 Jeremy McGrath
photo: Simon Cudby

Back in the day, you weren't too tight-lipped about being forthright about things to come.
I think that back in the day I wasn't afraid to say that if I was going to win, I thought I was going to win. A far as competition goes, I think it might have been a little easier for me to win when I did than it might be for these guys nowadays because there are two or three guys that can win. Back in the day, there was only one guy who could win—me! But I don't blame those guys for acting like that. Yeah, the press conference was dry and it was boring, but at the same time, they're going to look like a prick if they say they're going to win every week.

Sitting among those guys at the front of the room, did you pick up on anything on Reed, Stewart, and Carmichael as far as emotions or attitudes?
Reed seemed pretty humbled; he seemed a little unsure. Then you have somebody like Carmichael, who thinks he can win, but he's setting everyone up to know that he'll be content if he doesn't win. So RC has a built-in excuse. Stewart just seemed calm, but I think that in his head, he knows he's going to go and win. That's what it feels like to me.

You only had a few minutes of practice down on the track. Could you get any kind of feel for anything?
It'll be the typical Anaheim. The preparation wasn't very good today [on the abbreviated track], but they'll get it dialed in.

So what do you want on Saturday night? You're my dark horse pick for a podium finish.
Yeah, if the circumstances are there, I don't see why that couldn't happen. But at the same time, I'm not going to go saying that. Look, I'm here to have a good time, and I put a lot of time into it and should have a good result, but I'm not going to say that I'm going to run fourth or fifth or third or whatever. I think that maybe after this weekend I'll be able to pinpoint where I'll be able to finish in the mains. I mean, I should be comfortably inside the top 10.

It was weird hearing your two-stroke out in practice. Does your motorcycle have what it needs to run with the valve-and-cam bikes?
As long as the start isn't too long, I think I'll be competitive on the start. And I think you can race the two-stoke the as good as the 450.

Roger DeCoster, Team Makita Suzuki

Racer X: Roger, how are your two guys, Tedesco and Carmichael?
Roger DeCoster: Ivan was actually sick the last week. He had the flu, so he was not able to ride yesterday. In fact, he has not ridden for the past few days. I think he's going to be good, and by Saturday he should be fine. I expect him to have a pretty good, consistent season. I don't expect him to win, you know? But he works well with the team. He is a good guy to work with. He is for real—he has a solid foundation and he's really professional. I really like working with him. He's a little bit of a later bloomer than Ricky, but in a lot of ways, he's a lot like Ricky. He has a very good work ethic and is determined.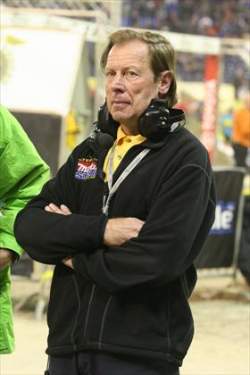 Roger DeCoster
photo: Matt Ware

I know the track was just a couple of straights, but how did Ivan look in practice today?
Ivan looked a little bit stiff and a little bit off, especially at the beginning, but he got better as practice went on. He's going to ride Friday and work up a sweat. As I said, he's still getting over the flu and his head is not completely clear, but he should be fine by Saturday.

And how's Ricky?
Well, we have not stopped working on his motorcycle. We've also been working on things like cornering. We've found some improvements, and Ricky has also worked on his riding. Even though today was just a little practice today, Ricky sounded really happy with the bike. He looks confident and happy, and when he's happy, usually things go well.

What did you think of James during the press conference, and how did he look in practice?
I think James came off well in the press conference. He spoke well. From the things he said, they all seemed right. He did really well. As far as riding today, I don't think James was pushing himself. None of the guys were. I mean, the difference between him, Ricky, and Chad is not going to be huge. I think all three will win races. I think the experience of controlling the emotions during the race when things don't go perfect, that's what's going to make the difference.

Do you think the 2006 season has the potential to be a tight one?
I think it does. Ricky's experience and knowledge makes him a for-sure guy. I'm sure Bubba has learned from his rookie year. We all know how much talent he has. I'm sure he is going to be more consistent than last year. And I know Chad has a lot to prove, you know?

Chad didn't sound super confident during the press conference.
You can talk confident, but that real, deep-inside confidence comes from results. Chad may not be 100 percent confident now because he got beaten last year and at the first two rounds in Canada pretty bad, but at the same time, don't write him off. Chad, especially in supercross, is pretty tough; he's pretty resilient. During the first half of last season, Chad got beaten up race after race after race, but at the end of the season he was there. He was still able to put some pressure on Ricky at the end. All Ricky needed to do at the end of the season was finish second, but sometimes finishing second is harder than winning when you go in knowing you have to do it. Mentally, when you have a big lead, sometimes it's harder to hold than to come from behind. But Chad is very talented, and he has a toughness about him. So with all that, I think we have the potential for a very, very good and competitive season.