Privateer Profile: Duane Evans
Back in December, several members of the Racer X staff road-tripped it up to Toronto for the opening round of the 2006 Amp'd Mobile World Supercross GP Series. And while all of us were excited to see the Ricky and Bubba show, we were also there to support two riders from our neck of the woods here in Morgantown: Logan Martin and Duane Evans, as both qualified for the SX Lites main event. Unfortunately, Duane suffered a flat tire, yet he still earned the cover of The Racing Paper. We recently caught up with Duane for this week's installment of the Sponsorhouse.com Privateer Profile. Be sure to show Duane and his sponsors some support by clicking on the links at the bottom of the page.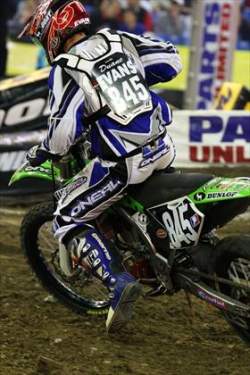 Duane qualified for his first supercross main event in Toronto

Racer X: Duane, congratulations on qualifying for your first Supercross Lites main event at Toronto.
Duane Evans: Yeah, definitely!
But you had some bad luck in the main event, right?
Yeah, I hit a rock somewhere and I got a flat tire. I felt something in the whoop section in the back, and two turns later I realized I was done. It was, like, the eighth lap.
Regardless of the bad luck, you still earned the cover of the new issue of The Racing Paper! You have to be stoked with that!
Yeah, I was stoked about that! Not only was I, all of my sponsors were happy about it.
So was that your first attempt at racing supercross?
No, the second. I had tried one in '99.
Why did you not race another for six years?
I don't know, probably because they're scary as hell to do!
Now that you've probably built up some confidence, are you planning on doing any more this year?
Yeah, I'm planning on racing the entire East Coast series.
I know you've qualified for outdoor nationals before, but how nervous were you racing in front of all of those people?
It wasn't as bad as the outdoor nationals. I don't know if it was because there were only 22 riders instead of 40, but it wasn't near as nerve-racking as an outdoor national. But of course, I've had a lot of confidence going up because that's all I've been riding for the past three months.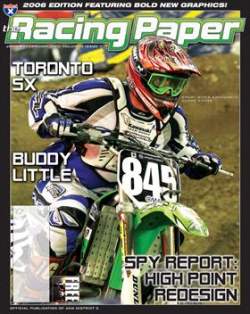 Duane is the new cover boy for The Racing Paper

Yeah, I was going to ask, since you live pretty close to the Racer X headquarters here in Morgantown, West Virginia, the cold weather probably made it hard to prepare for the race. Can you tell us what you did to get ready for that race?
Well, up until two weeks before the race, I rode at Logan Martin's house, who lives 10 minutes from Morgantown. But after that I went down to Lonnie Taylor's in North Carolina and practiced with Jeff Gibson and Chad Boyd for a weekend. It's really nice down there.
Well, give us some background about yourself. How did you get started racing motocross?
My old man used to race, so he got me started when I was 6. I raced four-wheelers until I was 9, and then I've been racing motorcycles ever since.
Since I'm talking to you on your lunch break right now, racing obviously isn't your primary job. Tell us what you do.
I'm an elevator mechanic. I got into that through my father, who was a supervisor. I got into that about five years ago.
Does it make it hard finding time to train and ride?
Yes, it does, because I work four 10-hour days, and by the time I get home I'm pretty exhausted. It's not an easy job – it's very physical and I'm worn out every evening when I get home.
So how are you preparing for the first East Coast supercross in St. Louis?
I've been lifting weights and just trying to ride a lot out at the ash piles every other day. Whether it's snowing or freezing, I just put on coveralls and go ride. That's the only way to stay on the bike.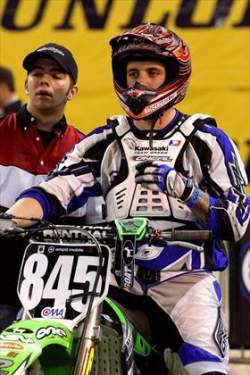 Prior to Toronto, the last time Duane raced a supercross was Indianapolis in '99

What are your goals for 2006?
It'd be great to make a main event, but my main goal is just to make all the night shows. I'm also going to race most of the East Coast nationals, except Southwick because I'm getting married that weekend.
You going to race the Motocross or Motocross Lites class outdoors?
Motocross class.
On the new KX450F?
Yep.
I've heard a lot about them. How are those new Kawasakis?
They're really good. They definitely have a lot of power, but the turning isn't that great. But overall, I like them a lot.
Who do you want to thank, Duane?
Well, I really want to thank Josh Eagle for helping me out last year. I'd also like to thank my dad, my fiancée, and all of my sponsors!
Duane Evans' sponsors:
Sport Rider Outdoors