The annual Anaheim press conference saw just about every factory-supported rider on the circuit gather under the Big A at Angel Stadium to meet and greet the media and sponsors and industry folks. With the opening round of the AMA/Amp'd Mobile Supercross Series just over 48 hours away, everyone seemed anxious, but at the same time reserved as the final countdown started.
As far as press conferences go, this wasn't exactly Ali-vs.-Frazier, as all of the major players featured—Ricky Carmichael, Chad Reed, James Stewart, Jeremy McGrath, and the injured Kevin Windham—we were cordial and respectful of one another and almost middle-of-road with their remarks. It started out with the special presentation of the Special Recognition Award for Shav Glick, the erstwhile sports reporter for the Los Angeles Times who has been reporting on supercross since the first race—Mike Goodwin's 1972 Los Angeles Superbowl of Motocross at the Coliseum. Glick has long been a friend of supercross, giving the sport valuable real estate in the newspaper and helping make it a relevant sport to California kids over the decades. Even Jeremy McGrath, who presented the award, spoke about how cool it was growing up as a young fan to know that supercross would be featured in the Sunday papers after every Anaheim race.

"I want to thank all of the riders I have had the pleasure to write about, which goes all the way back to Brad Lackey and Jimmy Weinert," said Glick, who is retiring this year. "I really appreciate this."
After Richmond Racing Kawasaki's Darcy Lange was given his AMA/Toyota National Arenacross Series award—a diamond-encrusted championship ring—the microphone was handed to seven-time champion McGrath by press conference host Jason Weigandt.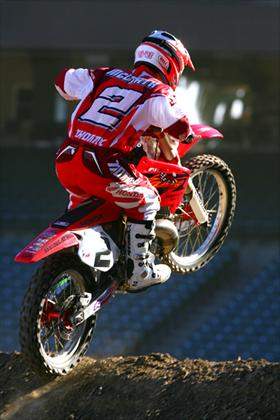 The King is back
"I miss racing, I really love being out here with these guys, and I still want to race a little bit," explained McGrath of his presence in the first six rounds. He explained how he's been testing with Honda and helping the younger guys on Team Honda. McGrath also brought a baby picture to show everyone of his new daughter Rhowan Parker McGrath, born on December 9. McGrath also said he plans on doing better this time around.
"I told myself that when I raced again I would treat it as a hobby, but there's no way you can do that," he said. "I've put a little more time in with riding and hopefully I won't make a mockery of myself on Saturday night and have a good time…. I wouldn't drive 80 miles every day to go to the test track for nothing!" As for riding the 250 two-stroke, McGrath said he's happy about riding the bike—its more agile to him—as long as the starts aren't too long.
Windham was next. Wearing a cast on his broken left arm, he explained that the compound fracture (both bones) was on a simple crash, not one that he expected would leave him out for the next three months.
"Coming out a whoop section I kind of lost my front end over a little double, maybe just 10 or 15 feet, and I lost the bike and came down on my arm," he explained of the break, that required two plates and 11 screws in surgery. "It was all in the blink of an eye—it was going awesome and then one day, that little double gotcha."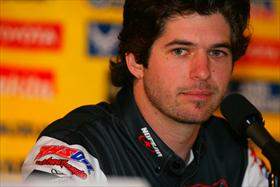 Get well soon, Kevin
Windham explained that he planned on attending a lot of races as he heals up, and he hopes to get a removable cast from his doctor tomorrow in order to get back to some training on the bicycle. "This isn't an opportunity for me to go into hiding like I did with my femur," said Windham of his crash a few years ago that resulted in a long layoff just as he was feeling burned out. "I love the sport and I'm happy to be here, and while I wish I was on the track, I will be there soon enough. Until then, I will take an active role in some other part of the sport."
When asked about the fact that everyone is now riding four-strokes for the most part and how he thought the series might turn out, Windham, almost a pioneer in using the bike in supercross, said, "I really think the face of racing is changing because of the bike. Things that guys can jump is a little bit different, the lines are a little bit different, and I think we will start to see some changes…."
Chad Reed was next. The 2004 AMA Supercross Champion said that basically it was no secret that he had a tough time in Canada. "It's pretty common knowledge that Canada was a pretty pathetic performance for me," he joked. "We had a lot of work to do, and the week after (Vancouver) I pretty much just stepped away and took a little bit of a break…. I wanted to see where we were and where we could get better. Nothing crazy or out of the ordinary and try to hit our marks for this weekend."
Reed blamed himself for Canada and not the bike, but said he worked on the problems and is ready to start this weekend fresh and new. "I think one thing I learned last year was that you can't win the championship at the first one but you can sure lose it," he said of last year's 16th place finish in the Anaheim mud," adding that he plans to be more consistent from the start this time. And while he got beat twice in Canada by Stewart and Carmichael, Reed did say that the bright side of going to the World SX rounds there meant that he knew what he needed to work on.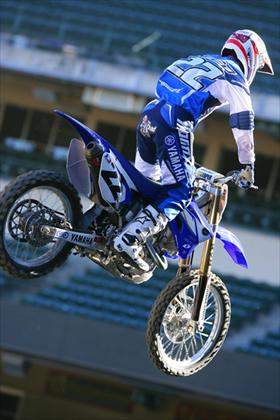 Reed used Canada as a learning experience and is ready for Anaheim 1
"The goal is to win the title," said Reed. "It's going to be a long season and you need to be on the podium and be consistent and win when you can and be the guy that can be on the top at Vegas (at the season finale)."
Next was Stewart, who swept the two Canadian rounds and served notice to all that he and his new Kawasaki KX450 are even faster than he was last year on the KX250. The now-20-year-old said the wins in Toronto and Vancouver were really great for his confidence after last year's erratic season and that he and his father had been working hard since then. "I know have the talent to do it," he said of winning at this level, "it's just putting all of the pieces of the puzzle together to do it. So the main thing I really worked on this year was to make sure I was ready to go the whole season."
When asked by Weigandt what happens if he gets a bad start and how far over the edge he will push it, Stewart answered, "I'm just trying to stay consistent. For me this race is the third race, not the first one, and going to those world rounds really helped me out a lot. If I get a bad start, I'm just going to try to finish the best I can. It's a long series, not a one-race shootout, and that's kind of how I looked at it last year—just trying to win every single race. This year I'm just trying to win the race at Vegas and the title."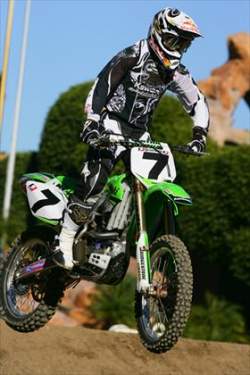 Armed with a ton of confidence and the new KX450, Stewart will be a force to be reckoned with in 2006
As far as pressure goes, Stewart said it's always there. "You win two races and people are talking about going undefeated," he laughed. "I just want to stay consistent and be on the box every weekend."
When asked by TFS about what made him to decide to start out with a whole "New Beginning" before Canada, James explained that after watching Ricky win so many races, and then getting sick at the U.S. Open, it just felt everything was going wrong. "I had really prepared myself to race at the U.S. Open, and then I had the stomach virus," he said. "Then there was an opportunity to get a new number and the new KX450 and I felt like I needed a change. I'm taking racing really serious this year—a lot more serious than I have—so that right there is a new beginning for me."
Carmichael went last. First he was awarded the championship rings for both the 2005 AMA Supercross title and the World Supercross GP title. Then he discussed his training before and after his two losses in Canada to Stewart. "I was never planned to be peaking for Canada," he explained. "I'm not sitting up here making excuses—I definitely had work to do—but I feel that now I'm rested, I'm ready, I've had a few weeks off and now I'm maintaining my program through the rest of the year.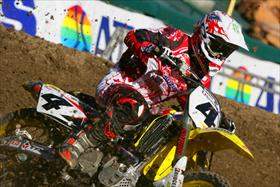 RC is rested and ready to go for 2006
"Training is easy for me now," he added of his notoriously tough training regimen. "It's fun and I enjoy going to the track every day."
As for Stewart and what he learned racing with him in Canada, RC said, "I know where James is good and I know where he's not as good. The number one thing is that I have to be in position to capitalize if he makes a mistake or something. It's not going to happen if he's eight seconds ahead in three laps (like he was in Vancouver)…. James does amazing things on the motorcycle and for me it's fun—I feel I can learn off of it and I can get better."
Carmichael has never won the opening round of the AMA Supercross Series, and when pressed about that, he said. "The goal is just to be in the hunt when we leave California (after six rounds)," he said. "There's a little more of a comfort zone for me when we move back east, and basically all of us up here live on the east coast now except for Jeremy, and we all probably have the same feeling now, so it would be very special for me this year to get out of here in the hunt."
When pressed about his future plans, RC would only say that nothing is set for next year and he would basically worry about that later. Right now, he and the rest of the contenders just want to go racing.