Bench Racing Ammo: Opening-Round Surprises
In between packing our suitcases in preparation to head west, we were doing a little bench racing about some of the biggest surprise winners of the highly anticipated season opener. With '06 starting out this weekend with the opening round of the Amp'd Mobile AMA Supercross Series, we were talking about surprise winners of the first race on the calendar each year. Here are some of the ones that really stand out in my lifetime (though I'm sure there's a few from even further back).

2005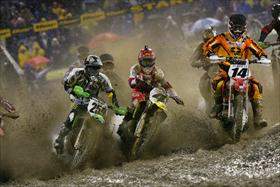 Kevin Windham won the opening round of "The Perfect Storm" in 2005
photo: Simon Cudby
Anaheim 1 was dubbed "The Perfect Storm," with the top four racers in the world finally converging on the same starting gate for the start of the 2005 season. As it turns out, it really turned out to be a storm as Mother Nature rained on everyone's parade and turned Anaheim 1 into a mudder. And while all the hype was focused on Ricky versus
Bubba
versus Chad Reed, Amsoil/Factory Connection Honda's
Kevin Windham
put in a quiet and steadfast performance to win the race. It was a surprise, yet it wasn't.
Kevin Windham
is one of the most talented racers in the world, and he proved it at Anaheim 1. Alas, K-Dub won't be around to back it up, as he's now out with a broken arm.

2002
Four years ago was another surprising opening round.
Ricky Carmichael
was coming off his first 250cc AMA Supercross Championship season, where he won an astonishing 14 races, but he was also switching from a Team Kawasaki KX250 to a factory Honda CR250. Still a heavy favorite coming into the race, RC got a mid-pack start then had a terrible crash entering the brutal whoop section, which resulted in a 20th place finish for RC. France's David Vuillemin took his factory Yamaha to the winner's circle that night, followed by the Honda's of
Mike LaRocco
and Ernesto Fonseca. But RC would rebound to win the championship that season—Honda's first since Jeremy went yellow (then blue) in 1997.
1998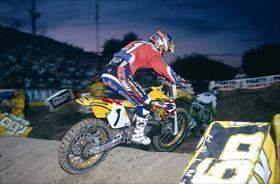 While most of the hype was surrounding Jeremy McGrath at the '97 opener, Suzuki's Greg Albertyn took his first and only 250 SX win
photo courtesy of Moto Verte
After a wild 1997 supercross season, the 1998 opener turned out to be just as exciting and unpredictable. In a muddy opener at the Los Angeles Coliseum—Anaheim's "Big A" was under reconstruction—it Doug Henry getting out front on the production YZ400F's maiden voyage (Henry had won the '97 Las Vegas season finale on a white, pre-production thumper). Henry led all the way while an unknown rider on #103 charged from way back in the pack. It was former 125cc World Champion Sebastien Tortelli, racing in the U.S. as a warm-up for the GPs. Tortelli passes everyone—even the announcers think he is a lapped rider at one point—and then Henry falls and stalls his thumper. Tortelli takes his first (and still only) supercross win.
1997
After four straight 250cc supercross championships with Team Honda, McGrath shocked the racing world when he decided to switch to a Suzuki of Troy-supported RM250 for the 1997 season. Still a favorite to win, Jeremy suffered some unfortunate mishaps – one with former teammate Steve Lamson – resulting in an uncharacteristic 15th place finish. Suzuki was still able to win the race, though, with former World Champion Greg Albertyn taking his one and only SX win. Doug Henry and Larry Ward round out the podium.
1986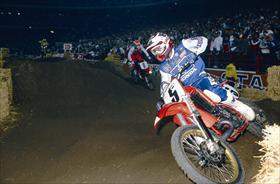 The Anaheim '86 battle between Ricky Johnson and David Bailey was one for the ages
photo courtesy of Moto Verte
For 20 laps, Team Honda teammates David Bailey and Ricky Johnson had one of the greatest duels in the history of the sport, which saw DB outlast RJ for the victory in the battle royale—more on this race later on from Racer X's Eric Johnson
1983
Another muddy Anaheim, and this time it's David Bailey winning his first-ever AMA Supercross. Wearing #11, in a race broadcast two weeks later on NBC, Bailey did his classic no-hander over the finish line jump and basically catapulted himself into the title chase. By the end of the season, he was the AMA/Camel Supercross and Grand National Champion.