For just about anyone who works in the motocross industry, this is a black Friday. Last night, I got a text message from
Donn Maeda
that his close friend
Darin Motoda
, one of the nicest people I have ever met, had passed away. Darin, an independent rep out in California who worked with White Brothers, Alloy, Ogio, RS Taichi, and Bell Helmets, had been in a coma since he crashed last Friday at Lake Elsinore MX Park. He fought for a week to stay alive, but the pressure and swelling in his brain became too great. He passed away around 7 p.m. Thursday, surrounded by his parents and a few friends.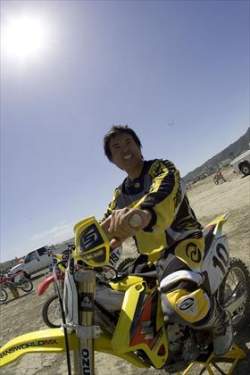 Godspeed, Darin Motoda
photo courtesy of Donn Maeda
So the year 2005 ends with terrible news on a personal level for just about everyone involved in this sport. We can only look ahead to future days and hope we don't get news like this again anytime soon. Unfortunately, losing someone we know is a fact of life. But when they go so young, so unexpectedly, doing something we all love to do—something we basically do for a living: riding and just being around motorcycles—it just tears your heart out. I can only imagine the grief that the really close friends of Darin—guys like Donn—must be feeling today, because for all them, this is just a terrible loss
Please say a prayer for Darin Motoda tonight. He was a really, really great guy. The whole sport lost a quiet champion here.
Looking back at these past 12 months, lots of things changed during the course of the year—for a lot of people. Jason Weigandt and I were bench-racing about this today, and we could hardly keep track of all of the transitions.
For instance, we've gone from the 250 class in THQ Supercross being one of the last bastions for two-strokes to the "AMA Supercross" class in Amp'd Mobile Supercross being a four-stroke free-for-all. ESPN2 is gone; CBS and Speed Channel are the new homes for the series. That in turn means farewell to Todd, Cameron, and Jamie, and hello to Ralph, Denny, and Krista.
Clear Channel is now Live Nation; Amsoil/Chaparral/Factory Connection Honda is SoBe/Samsung Wireless Honda (though Factory Connection is still there, just not so prominent in the title); and AMA Motocross is now (thankfully) AMA/Toyota Motocross.
But there's still three Anaheims, and here's a really cool pic for you to stare at for the next eight days as we get ready for the first one of 2006. It was put together by Mike Fisher—no, not that Mike Fisher. Click on it for your preferred size.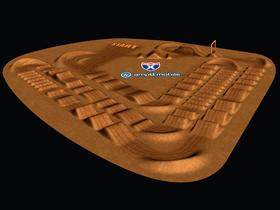 For your daydreaming pleasure, here's A1
The World Supercross GP used to be an afterthought, where
Heath Voss
was the underappreciated champion. But then
Ricky Carmichael
raced in Canada in December '04 and went on to basically dominate 2005. But now
James Stewart
and
Chad Reed
and
Ivan Tedesco
are in the mix too, so the WSXGP title fight has become a whole lot more meaningful and interesting.
And look at Suzuki: A year ago people were still mentioning the "Suzuki curse." Now they have both supercross titles, a perfect season, a championship in the AMA Motocross Nationals, the MX des Nations title, and the U.S. Open, thanks to Ricky. And Davi Millsaps and Broc Hepler won some races in the 125 class last year too. And while they lost Millsaps to Honda, they've added "Hot Sauce" to the mix.
The 2005 season started with Kevin Windham the unlikely early leader "perfect storm" in supercross, but '05 ends with K-Dub on the sidelines in a cast. At least he got himself a big trophy through his efforts to go to Europe with RC and IT to help win the des Nations.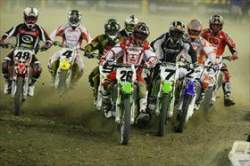 World Supercross GP is now more meaningful
photo: Simon Cudby
Going into '05, Yamaha put serious work into the 2005 YZ125 to make the tiddler relevant again.
Brett Metcalfe
was even assigned to race one for Yamaha of Troy, just to show that it would work. But now even that grand 125 experiment more or less failed in the face of four-stroke evolution, and all of the Lites teams race 250Fs only.
And if you don't believe the 125cc motocross bike is going away, Kawasaki made one of these at this time last year. Now they don't. The AMA Sports people even passed a 144cc overbore rule to try to help the tiddlers out in 2006, but the pulse here is weak.
Conversely, Kawasaki didn't even have a 450 at this time last year. Now they do, and it looks really, really fast in the hands of a certain #7.
Which brings me to the "New Beginning" that is James Stewart. The pre-mix oil is gone from the racer formerly known as Bubba, and so is his lucky #259, replaced by a hopefully more lucky #7.
So far so good for Stewart, as he seems to have overcome his health issues and the penchant for crashing that marred his 2005 season. And while everyone is now expecting a war for the 2006 supercross title, Stewart will also be formidable in the outdoor nationals, especially now that he's on equal equipment.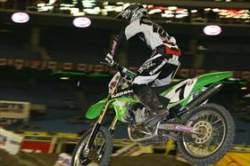 With James on a 450, everything will be even this summer
photo: Matt Ware
You know, I took some flack last year after
High Point
and
Budds Creek
when I wrote that Stewart was at a disadvantage on his KX250 because all of the lines on the outdoor tracks now set up for faster, wider racing of four-strokes than the point-it-and-rip-it of 125cc and 250cc two-strokes. The old school didn't want to hear about any perceived differences; guess we'll see soon enough if the point was valid.
Remember Travis Pastrana? Travis was planning on being a full-time supercross racer at this time last year. Now he's planning on being a full-time rally car driver. He's also enjoying a life of absolute adventure that most of us can only dream of (or wince at).
When 2005 started, Ricky James was a hot young hero-to-be in amateur motocross. Then he went out and suffered a broken back in a crash at a big amateur race in Texas. As a result, Ricky's no longer a hero-in-waiting—he's got that gig full-time now. They say it's hard to keep a good man down, so it's almost impossible with a kid like Ricky James. Last time we saw him, he was racing quadcycles at the Lake Elsinore GP. That's huge.
Jerry Bernardo called me today and told me about a new T-shirt he'd made with just three words on it:
TRAVIS
GOT
HURT
He called Pastrana himself to tell him about it, and Travis loved it. But then he had to get off the phone because Kenny Bartram had just rolled one of his street rods. Life goes on (and off) and on for #199….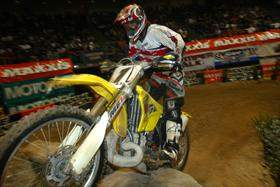 There's a Ryno loose in the wilderness now
photo: Jonty Edmunds
At this time last year,
Ryan Hughes
was struggling to put some kind of shop deal together to at least make a decent effort at winning a motocross title before he retired once and for all. Now Hughes has a multi-year deal for big bucks with Team Suzuki to race off-road out west in the WORCS Series…. Somehow it seems like Ryno is finally getting rewarded for his efforts doing things like pushing his bike to the finish line at
Steel City
that summer day back in 1995.
A year ago, Grant Langston's deal with KTM fizzled, but the Monster Energy/Pro Circuit Kawasaki team picked him up and gave him another chance. Grant was a big mystery last January, but he'll start his '06 SX season riding with a #1 plate on his bike.
David Vuillemin went from a Frenchman living in Corona with a Yamaha factory ride to a Texan on a black two-stroke BooKoo Honda starring on a TV show. He also went from a No Fear to Thor, from the father of one to the father of two.…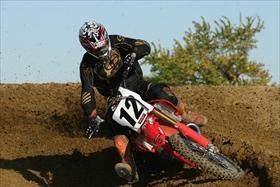 Texas has a new resident in Cobra12
photo: Matt Ware
Vuillemin's longtime friend and rival
Sebastien Tortelli
is in even more of a transition. His ride on the Suzuki 450 now belongs to Tedesco. Seb rode well in supercross last year but broke his wrist before the Nationals, another frustrating injury that led him to change directions. Seb's back in Europe racing the GPs for KTM.
As for the stateside Red Bull KTM team, manager Larry Brooks pretty much cleaned house before the start of 2005 and put an entirely new crop of riders on the new KTM 250SX-F. The once-unproven bike and team is now one of the most successful in the sport. Four different KTM pilots put the bike into the winner's circle last year, and Nate Ramsey, Josh Hansen and Mike Alessi each came within a few points of winning titles. They're all back, joined by the other Alessi—young Jeff— at least until Jay Marmont returns from a broken leg.
Mike Brown had a turbulent 2005: A year ago, Brownie was preparing for an assault on Europe, racing the MX2 GPs for a Honda team based in England. It was supposed to be the last deal of his career. The deal fizzled, and he came home and went from the top to the bottom of the 125 rankings. Now he's racing Suzukis and AMA Supercross for the new Rockstar Energy/Suzuki team, then hoping to make another title run outdoors—this time all the way the checkered flag.
There's more changes around—too many to list here. Needless to say, I really hope the new year brings more growth to the sport, as well as stability.…
Here's what's happening out in California from Ping, who, like a lot of folks, was remembering Darin today.…
With just over a week until the season opener in Anaheim, riders are putting the finishing touches on their preparation. A rather large storm is headed into Southern California this weekend and will stay through Monday. Don't worry, though, the weather is expected to clear up and be fine next weekend. The rain means three fewer days for privateers and riders running behind on their 2006 testing and believe me, there are a lot of them. Every year, there are privateers and support teams showing up at Anaheim with mostly stock bikes because they haven't spent the proper amount of time testing.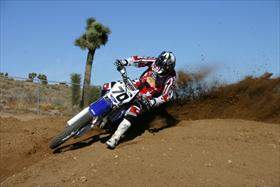 SoCal Racing's Jiri Dostal at Competitive Edge
photo: David Pingree
I dropped by
Competitive Edge MX Park
this week and found quite a few guys getting ready.
Eric Sorby
has been using the CEMX Supercross facility to prepare for the upcoming season. Sorby is riding Hondas for a privateer team and will contest the West Coast Lites division. Sorby looks good and has been putting in 20- and 25-lap motos with his riding partner,
Michael Young
. Eric certainly has the talent, so it will be interesting to see how he does next weekend; just keep him separated from whichever Alessi ends up in the West.
Another rider who frequents that track is high-desert native Chris Gossellaar. "Li'l Goose" is filling in for an injured Troy Adams on the Monster Energy Kawasaki squad for the West Coast series. It took Chris some time to adjust to the bike, but he is looking very comfortable now and should be competitive. He is known for his holeshots and will have a good bike under him to get that job done.
Adams, who broke his femur at the Kawasaki test track, is already back in California spinning on a road bike and focusing on the motocross nationals.
The newest member of Ryan Clark's Team Solitaire is Justin Buckelew. Buckelew is riding a Honda 450 during the West rounds and will compete in the East Coast Lites division. Justin is riding great and looks like he will be a regular fixture in the Supercross-class main events.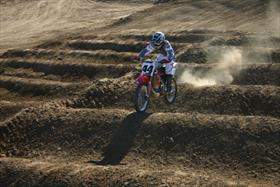 And Justin makes two….
photo: David Pingree
Justin's addition to the team did raise a question: If there are two riders on team Solitaire, it isn't really solitaire anymore, is it? Well, maybe Clark can come up with a new name. Maybe he could call it
Brokeback Race Team
as a nod to the wildly successful feature film starring
Heath Ledger
and
Jake Gyllenhaal
. I mean, who doesn't want to see a movie about two gay cowboys? Well, besides me. Okay, maybe that's a bad idea. And maybe Solitaire means that they are doing it without the help of any factory support. Either way, I hope Ryan and Bucky have a great year.
Richie Owens was also trying to adapt to his relatively new Yamaha mount. Richie is the final addition to the MotoWorld Racing team for 2006, and he seems pretty excited about the new team. "I rode my race bike for the first time last week and I couldn't believe it," he says. "It is the fastest 250F I have ever ridden! Yamaha does all of our motors in-house and they are awesome. I just need to step up this year and make it happen because my bikes are definitely good."
Another team switching brands this year is the privateer SoCal race team. Riders Clark Stiles, Jiri Dostal, and Brian Mason will all ride Yamaha 450s for the 2006 season. While Stiles and Mason have been on the East Coast riding, Dostal has been out west dialing in his new ride. All three riders will make main events this year.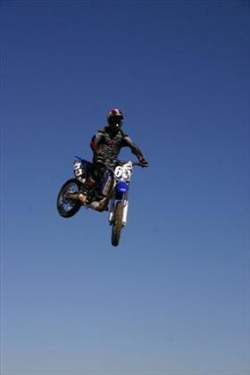 Richie is loving the blue bikes
photo: David Pingree
After talking with several privateer riders lately, a question has been raised that I think needs to be addressed, and that is the rules defining a privateer. The way the rule stands now, riders like
David Vuillemin
and
Nick Wey
are eligible for the Privateer of the Year award—or are they? Isn't Vuillemin getting factory engines from Honda? How is that privateer status? I'm not sure what Wey's deal is, and I don't mean any disrespect to him or David. I just think that riders with zero help from any manufacturer should be the ones taking advantage of that program. But hey, that's just my two cents.
Ping, by the way, is a full privateer now.
Changing gears, if you're looking for a really, really cool gym to start your New Year right, and you're right there in the middle of the SoCal MX crucible, you really should check with John Louch at this place: www.evolutionsportsclubs.com.
You may have spotted the ad that Joe Oehlhof asked us to run in Racer X letting his fans, friends, and sponsors know how much their support means to him in the wake of the first-turn accident last summer that left him with a fractured neck.
Well, Joe's wife,
Kristen
, just let us known that he got his final release from the doctors this week: "He is finally back in action full-time on the track! One small break is still there, but hasn't bothered him since he started riding again before Thanksgiving. With the CT Scan looking great, all is a go. Thanks to everyone who thought of him during this time. Joe will be back for motocross; he will train during supercross and come back strong in May." Like I said, it's hard to keep a good man down.
Something worth watching this weekend.
Press release: "The latest issue (number 10) of
Pit Racer
is out, and it features some of the biggest names in motocross, from the King of Supercross, Jeremy McGrath, to the Godfather of Freestyle MX, Mike Metzger. The issue also has a profile on Jamie Little, who is featured on the cover with her KLX110, and race coverage from the 21
st
Annual Langtown Classic. You can preview the issue at
www.pitracermag.com
, where you can also subscribe to the magazine too.
Pit Racer
would like to wish everyone a Happy New Year, and we'll see you at Anaheim 1."
Finally, here's a way for everyone to end 2005 on a good note: by helping out kids who really need our support. Here's a note we got from our old friend Pete terHorst on the Pediatric Brain Tumor Foundation's Ride for Kids program:
"If you have not heard about the Ride for Kids and would like to learn how your donation can help a child diagnosed with a brain tumor, please visit my online fundraising page at
http://www.firstgiving.com/terhorst
. As little as $5 will make a huge difference. You can donate by credit card and receive a record of your donation. All donations are secure and sent directly to the PBTF, where 91 percent of funds received support the foundation's research and family support programs. Thank you for your time and have a joyous and prosperous New Year!"
After the year we've had, and the way it ended, helping kids seems like a pretty good way to say "Auld Lang Syne…."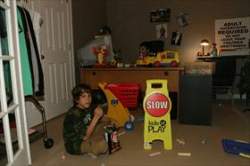 While you were road-trippin'….
photo: Matt Ware
One last thing:
Racer X
designer
David Langran
, the most meticulous, organized, and downright neat person in the motocross world, is on a five-week road trip to all three Anaheims. He stopped by Utah and Ogio and
Ken Block
's house on the way out, and now he's headed for Orange County.
In his absence, we have decided to make better use of his spotless office. After all, if he's gone for all of those races, we can use the space. For instance, today it become the office playroom for Trevor, Caleb, Vance, Billy, the kitten, and more.
Check back Monday to see what becomes of the place after we hold the company party there or something. Thank you for reading Racerhead; see you at the races in 2006. And be safe this weekend on the roads—don't forget that New Year's Eve is amateur hour.
Let's go Mountaineers!