Privateer Profile: Robbie Reynard
There will be a new semi at the races this year. It belongs to the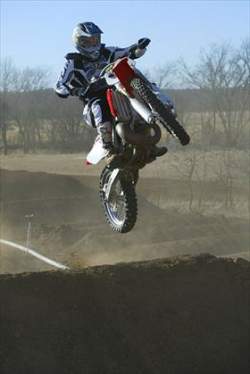 Robbie Reynard will be one of the only two-strokes in the AMA Supercross class in 2006

FreeNissan.com/Reynard Modifications team. I had heard some local rumors about this so once I got the opportunity and directions out to team owner, Lance Fenton's house, where they have the new SX test track, I headed out to get the info. Once there I watched Robbie Reynard and Jacob Martin testing their bikes and was able to talk to them and Lance Fenton to find out what this new deal is all about.

Racer X: So you are Lance Fenton, the owner of Fenton Nissan?
Lance Fenton: Actually we own www.freenissan.com and 15 dealerships in the state of Oklahoma.
How did you get involved with having a motocross team?
I've known Robbie for a while and just wanted to help them out. Robbie already had all of the sponsors lined up. I just came in for support. At first I was going to put the website for the dealership on the bikes, but things just kept getting bigger. We have a team semi with plenty of room for the riders. I just want to keep it fun and not stress about things.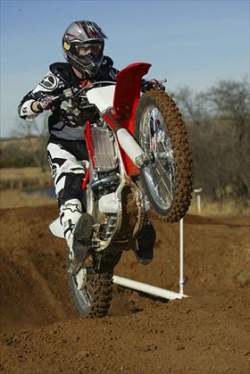 Jacob Martin looks comfortable on the Honda CRF450

Who are the riders on the team?
Robbie Reynard (#17) on the CR250 and Jacob Martin (#139) on the CRF450; both of whom will be racing the SX class. Cory Green (#480) and Brandon Jones (#316) will be on CRF250s in the West Coast SX Lites class.
What sponsors do you guys have lined up for the team?
FreeNissan.com, Reynard Modifications, Planet Honda, No Fear, Pro Circuit, Dunlop, Spy, Wiseco, NGK, Cycra, Vision Grafix, V-Force, Tag Metals, Silkolene, Twin Air, and Alpinestars.
After Robert loaded up the practice bike and took it home for the day I briefly talked to Robbie before he left.
Racer X: Robbie, I see that you are riding the CR250. With the majority of the riders on the 450 this year, why did you decide to stay with the 250 two-stroke?
I rode the 450 a little bit and had it bog a couple of times and I just didn't like it. For supercross I am more comfortable on the 250 two-stroke.
What have you been doing to prepare for this upcoming season?
I've been going to the gym and just mainly riding a lot. We had Dirt Wurx come out and build us a test track.
You've been riding for quite a while now and have dealt with a lot of injuries through the years. What are your plans for the future?
I just plan to take it year by year and keep racing as long as my body will let me.
Thanks Robbie and good luck this year.
Thank you, John!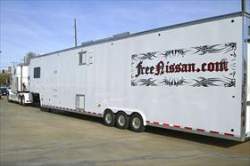 Look for the FreeNissan.com semi at an Amp'd Mobile Supercross near you!
Robbie Reynard's Sponsors:
Vision Grafix