Between the Motos: John Tillman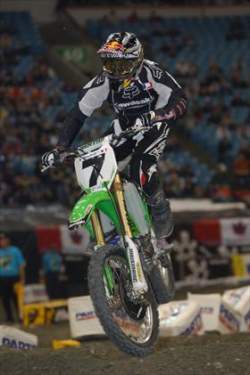 James had our flagger's section down
First off, I am not your average supercross fan. I live for the sport. I read MotoTalk every day (and post a little under "300exc"), and if I am not at the race, I am listening to the webcast and on the
Racer X
Online chat board. For me, the biggest day of the year is Anaheim 1. Everyone is even in points, and all the riders think that what they did in the off-season is going to make a difference. I have been to maybe 35 SX races in the past five years. Now, for someone living in Southern Cal that isn't a big deal, but I live about 60 miles south of Seattle, Washington. The closest SX race until last year was 800 miles—one way!

So when the opportunity to be a flagger at the Vancouver Supercross was presented to me, I jumped at the chance. To me, this was like being a roadie for the Stones! I would get to see the whole event from a much different angle. Sure, I wouldn't get to watch the race like I normally would, but what I would see would be up-close and personal.

Here's how it came together: I was racing some motos at a local track called Straddleline that just re-opened when my friend Joe came over and said the lady at sign-up was looking for people interested in flagging at Vancouver. I knew the lady (Annie) from the Old Timer series I ride, so I gave her my name and address and thought, We'll see. She knows how into SX I am, so I was hoping that would help.
About a week later I got a letter that instructed me to be at the BC Place at 11 a.m. Friday. I WAS GOING TO BE A FLAGGER! The one small problem I had was that we grow Christmas trees and the race was set for December 9th and 10th, right at the end of our shipping schedule. So it was going to be a bonsai trip up north.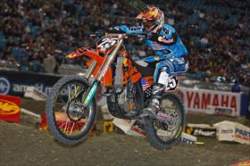 Ramsey was focused throughout the main

I got to BC Place on Friday at 9 a.m., after about a four-hour drive. It was a good time to get to the track because I like to see the teams set up and the riders arrive. It's just a good chance to say good luck and talk to a few of the folks I know. I milled around for about an hour and a half and talked to a few people but I was still outside the dang fence. At about 10:45 a.m., with my letter in hand, I went to credentials and asked about the flaggers' meeting. They sent me to a lady who asked me to print and sign my name, then she put a wristband on me. "Where does the wrist band let me go?" I asked.
Her answer, which I will never forget, was this: "Anywhere."
Two minutes later and I was standing on the Vancouver Supercross track. Now, I have been on a SX track back in St. Louis and once in Anaheim, but let me say this: The tracks look tough from the stands, but when you walk up the face of the finish-line jump and see just how far that really is, it blows your mind! And the whoops aren't knee-deep; they're waist-deep.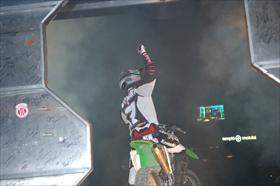 The authors veiw of the opening ceremony

When the flaggers' meeting finally started, we were asked by a guy named Mike LaRocco—that's right, it's Mike's dad—if any of us had ever flagged before. All the lead guys at the flaggers meeting take this stuff pretty seriously, and that's good. They told us we are the most important people there, and that our safety comes first. We are also responsible for the riders' careers. I was taking this whole deal real seriously because I didn't want to be the dumb-ass flagger who lets RC jump into a pile of bikes because I was watching Bubba and Reed.

They gave us headsets and radios that let them talk to us but we couldn't talk to them. Andy and Kevin of the CMA (Canadian association) did a great job of going over when to flag, how to flag, and a lot of safety stuff. One of the flaggers asked if we were insured. We all laughed, because it really didn't matter—we would have done it anyway! Finally, they told us to go find a spot. They already had the flags positioned around the track where they wanted us.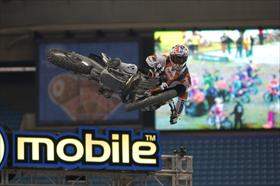 Vuilli asked for little help before the main event
I headed to a rhythm section of 11 jumps. I knew there would be a lot of different ways to get through there, and that's the spot I got. Turns out it was right at the end of the start straight also—a very good spot.
Flagging practice was really cool in a lot of ways, though it kind of sucked in other ways. Every time a rider came by, it was like a Steve Bruhn photo: I could look right in their eyes and see just how focused they were. I noticed how high some riders have their levers and the different ways they approached a section. But if there is anyone in your section, you have to watch your section. We were out there a long time, too, with only one 10-minute break. Practice goes from around one o'clock to about 5:30 p.m.
Come Saturday—race day—I got to the stadium at about 9:30 a.m. and walked the track, mostly just because I could! We had another flaggers' meeting and they told us that for the night show, we, the flaggers, would get to carry out the Canadian flag. It's a great big thing, about 30-feet by 40-feet. That flag was not to touch the ground, no matter what! And it didn't. They told us again about how we were the "most important people here" and went over more safety stuff and how the night show would go.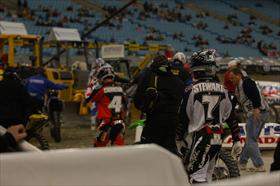 James and Ricky prepare for practice

Saturday practice saw a step up in intensity. In my section, most of the riders would triple in, then double, triple, and triple out. That looked like the fastest line and only RC, James, and Reed were doing it at will. Then Stewart went triple, triple, triple, double out! Every lap, too. Wow. RC caught on and dialed that one in, but Chad kept missing the last triple. I guess he had gone down in practice on the other side of the stadium and I didn't see it.

There were no qualifiers in Vancouver, so the first race was the heats. We got a small break before the night show and as the stands filled in, it all got somewhat electric. I say "somewhat" because it really was a pretty small crowd for the event.

Then the stadium went dark and we pulled out the Canadian flag without a hitch. We were all on the floor while the riders were introduced and some of the flaggers were taking pictures as they came out. We could hear over the radios to "get back off the floor." One thing they never did tell us was when we were supposed to go out to our spots. Finally, over the radio, they gave us the command to get out there.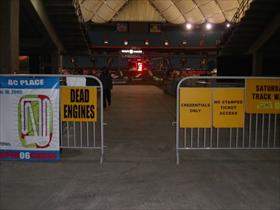 photo: Courtesy of John Tillman
So there I was, the guy who is usually sitting in Section 315 (on the edge of his seat), but this time I was standing on the inside of the first turn. When I watched it on TV, I could see that I would take a step back when they came into the first turn. Let me say this: TV doesn't come close to capturing the sound of all the bikes coming at you full throttle!

Flagging for the actual races was a lot better than flagging practice. They went by in much smaller groups so you could watch the race quite a bit more. During the parade lap for the 250s, DV pointed to the Tuff Blocks they have to go around and asked if I could move them in a little. Why not? I thought, but the dang thing was fastened to the ground and wouldn't move. But I tried, and DV gave me a thumbs-up as he went by anyway.

During the race I really got to see just how fast these guys go and the focus that's involved. Nathan Ramsey went wire-to-wire in the SX Lites class and put in a great ride. But on the first lap he almost hit one of the head guys, who, for whatever reason, was standing in the track during the start of the main event.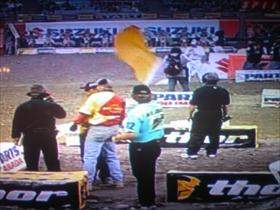 John in action on the Jumbotron in Vancouver
photo: Courtesy of John Tillman
Only once in the 250 main did I have to throw the flag and it was only for a second. Bubba walked away with the win, and as the show ended, I thought what a great experience it had been to flag once. I went to the pits right after the race but had to head home in short order—we had trucks to load the next day with Christmas trees and I also had to make it to the Mudslingers track and do some flagging. Just before I left BC Place, they gave me an envelope—with
$50 Canadian inside.

So would I do it again? You bet! But for Anaheim 1, don't look for me down on the track: I will be in the seats for practice and up in Section 409 for the race. (There was a little mix-up in tickets, so we won't be in 315 this year.) But all in all I had the time of my life. There is so much that goes into putting on one of these races that it is unbelievable. My thanks go out to Joe, Annie, and all the folks at CMA and Clear Channel (now Live Nation). What a great time!