Bench Racing Ammo: January
While most of us are probably still digesting that big Christmas dinner, you can bet that all of the riders competing in the 2006 Amp'd Mobile AMA Supercross Series are surely on the treadmill or on the test track pounding out endless laps in preparation for the start of another new season.
We kick off the new season on January 7, 2006, in the very familiar Angel Stadium—a stadium that the riders will visit twice in the month of January, with the third and final visit coming February 4. The other two weeks of January will take the riders to Phoenix, Arizona, and San Francisco, California.
So what do the January results mean when May rolls around? How important is the first quarter of the season? Let's take a look at the past champions of this millennium and see how they fared in January.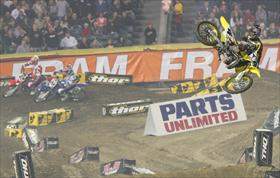 January 2005 was a good month for RC

photo: Simon Cudby

2005
Ricky Carmichael
3-1-1-1
Carmichael held a 16-point lead over Kevin Windham and was well on his way to the title. In fact, when all was said and done, RC held a 25-point lead, never losing the cushion he built for himself in January.
2004
Chad Reed
1-2-1-1
With RC out and James Stewart still riding a 125, Reed was a heavy favorite for the title. He held a 13-point lead over Kevin Windham as the calendar flipped; Reed was nine points ahead at the end of the season, though it shouldn't have been nearly that close. (Reed was docked 25 points for a fuel violation at Dallas, the penultimate race of 2004).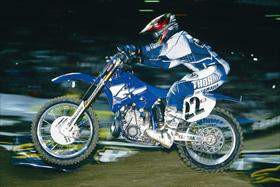 Throughout the past six seasons, Yamaha's Chad Reed has had the best January
photo: Courtesy of Moto Verte
2003
Ricky Carmichael
2-4-1-1
The then-Honda-mounted Carmichael was in first with a six-point lead over Chad Reed, but he only won the title by seven points, which once again shows you how important January can be!

2002
Ricky Carmichael
20-4-4-1
Carmichael was fourth place in points here—a full 30 behind leader David Vuillemin of Team Yamaha. RC had started his Honda career on his head at Anaheim, but he came roaring back at the end of January. As for Cobra 12, David crashed during a photo shoot and had to sit out Daytona, losing 25 of the 30-point cushion he'd built for himself in January.
2001
Ricky Carmichael
3-1-2-1
This was an important January for RC, as well as the last month of Jeremy McGrath's on-track supercross reign. The Kawasaki-mounted RC would not lose another race while finishing out the SX season; MC has not won a main since.

2000
Jeremy McGrath
1-1-4-2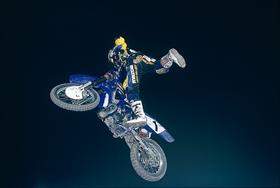 Jeremy McGrath doing his patented Nac-Nac
photo: Courtesy of Moto Verte
MC had a two-point lead over David Vuillemin, who won the third and fourth rounds after MC swept rounds one and two. But February was the important month in the 2000 title chase, as McGrath clobbered the field, winning all four races that month (Houston, Indy, Pontiac, and Atlanta). Vuillemin won two more races after that, but Jeremy was enjoying a 35-point cushion when the series ended.