First of all, here's wishing a Merry Christmas and happy holidays to everyone. Hope you have a safe, pleasant weekend, and Santa brings you some cool stuff. And just to get everyone in the spirit, we will decorate the Racerhead tree with some of the cool Christmas cards we picked up in the last couple of weeks.
For Racerhead today, I was hoping to try to go over the events of 2005, a look back at the highs and the lows of everything that had gone down between Anaheim and Vancouver. But as I started mapping it all out, I realized that most of the highs belonged to a certain red-head from Florida, and many of the lows belonged to one provocative moto-loving family out of California.
That's when I realized that everything that one could possibly have to say about either Ricky Carmichael's season or the Alessi family has probably already been said. Carmichael went from the Angry Little Elf to GOAT faster than you can say Makita Suzuki, while the Alessis have been in more battles this year than the 182nd.

But lately, things seem to be changing….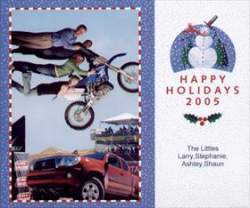 The Littles
Suddenly, James Stewart seems to be all grown up. Even though he turned 20 this past Wednesday, he seems to have matured by leaps and bounds since, say, the U.S. Open in October. His efforts in Canada suddenly have a lot of people thinking about Ricky's reign in the past tense. The 2006 Supercross season looked like a sure-thing for RC as recently as, well, Las Vegas. Now he's become the most over-qualified underdog since Marty Smith ran into Bob Hannah in 1976. Regardless of who you think is going to win, you have to admit, 2006 is suddenly looking a heck of a lot more exciting than it did a couple of weeks ago!
And speaking of 2006, don't forget to watch the CBS Sports special preview of the Amp'd Mobile Supercross Series on Christmas Day, Sunday afternoon, at 5 p.m. EST. Troy Adamitis made it, which means it's going to be amazing.
As for the Alessis, I like them—always have—though I don't always agree with some of the things that have gone on with them or around them. Recently, I've engaged in a few pretty fierce debates with people over just what happened at Glen Helen, including a couple of really upset readers who demanded that we fire Mike Alessi as a columnist for Racer X Illustrated or else they will quit subscribing.
But
Mike Alessi
doesn't work for me—he writes his column for free. And I wouldn't fire him anyway. Because love him or hate him, right or wrong, you have to admit that things are a lot more interesting when #800 is around (especially when #801 and his dad are around too).
The Alessi brothers are a work in practice. They've made some obvious mistakes, but they've done some really good things too—things a lot less public than the Glen Helen meltdown that Mikey had. It's the Glen Helen deal that really gets people angry about the Alessis. Mike went all out to win, ended up on his head, and then it got worse in a hurry. I can't fully explain what happened next, but I do have an opinion: He panicked, he did the dumb thing, and he paid a heavy price for it. I doubt he will make such a mistake again, but you never know.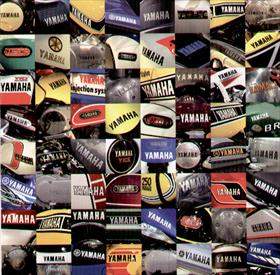 Yamaha
One thing I do wish he would have done differently was make a public apology. He wasn't interviewed after the race by OLN—he almost got decapitated by Jesse Casillas late in the race—and within 48 hours he was on his way to race in Ireland. So as the hostility built as the infamous video played over and over and over online, Alessi wasn't around to explain himself or to even really say he was sorry. That's one of the things I really think the family should have done differently….
And then, just a few days ago, I got an e-mail from Mike with his next "800" column for the magazine. It's mostly about the KTM Jr. Supercross Challenge he rode in 1997 and how special that race was to him (and did you know that his big rival that night was Dennis Jonon?). And then, towards the bottom, he wrote this:

"For those of you that I disappointed this season by mistakes I made, I am very sorry; I will try to do better next year. For those of you that were with me, through the good and bad, I will never ever forget you, and I thank you very much…. You know, I don't want to make any excuses for the few times last season I lost my mind and lost control of myself. I know who I am, and even though all the magazines out there—including this one—have written some really depressing things about me, that is not the person I am or am made out to be. I am a racer. I try my hardest in every race. I live my life to win. And I feel this is my God-given path and my destiny. All I can say is I am sorry to those I offended or hurt this season. The pressure was overwhelming…."
With that apology, I will go back to the only input I have on the whole sordid mess: Don't forget that Mike Alessi is still just 17 years old. He's still work in progress, just like the rest of us.
Which brings me to the next hot-button topic that's come up lately, and that was the Amp'd Mobile commercials that accompanied the Speed Channel coverage of the Toronto Supercross.
In case you missed it, one of the commercials went like this: A woman in a bra, boobs a bouncin', is on top of what looks like an older businessman or maybe even a politician, basically pounding on his chest CPR-style and begging him not to die. The message? "Don't die. Amp'd Mobile is coming."
If you haven't seen the commercials since, that's probably as a result of what happened in the 72 hours or so after the commercials aired. After a huge discussion broke out on Mototalk, a poster named "Spodeboy" got proactive and started a website called Boycottamp'd.com or something like that. He spoke about how bad the commercials were the family friendly environment of our sport, and basically demanded that the commercials be cut from the race broadcasts.
Personally, I couldn't believe what I was reading. I couldn't believe that someone would try to run off a major series sponsor exactly 20 laps into a four-year commitment. A lot of people got mad at Spodeboy for the website, and I even referred to him as "some clown on Mototalk." All hell was breaking loose.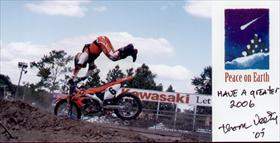 Thom Veety
It got worse when Peter Adderton, the man who founded Amp'd Mobile, showed up on Spodeboy's boycott site. Adderton took the high road, too, wrote eloquently about his company's message and offered to not only stop airing the offensive-to-some commercial, he invited Spodeboy to meet him at Anaheim and see what Amp'd Mobile is all about, bringing a very peaceful resolution to an otherwise unfortunate situation….
And then I got an email from a man named Gino Sobrito, better known on the boards as Spodeboy, explaining exactly why did what he did, and how he really meant no harm. After reading the following letter, I believe him:
I have written several people of which whom I respect as individuals I'd always thought were objective and articulate within this sport. You are one of those people. Thank you for taking the time to read this.

It is no secret that what I set out to do has sent ripples in several different directions. Debates over freedom of speech, or forcing morality on certain people or the sport itself. The varied response that has followed has illuminated lines that we all usually step over to come together as industry personnel, spectators and the like. And in some cases caused a serious division among people who have known each other for some good lengths of time.

I realize that this issue pretty much old news. But I have sat back the last week or so wondering what the hell happened? My initial intent was to warn Amp'd that they made a mistake in the market they were targeting. I completely understand the generation growing up today as being one of the most progressive there has ever been. You can say that about all generations, but this one is on a much faster pace so to speak. I understand the type of material they chose would fit right in on MTV with shows like Jackass, Viva La Bam etc. etc. It's not my place to judge those shows or their content. I just understand the marketing behind them.

I visualized these commercials playing on the Jumbotrons across this nation as a threat to the stability of the sport. Can you imagine the type of silent "boycott" on Supercross that may have followed when tens of thousands of families saw these ads and wrote this sport off as another form of entertainment that they can't take their kids to and just stopped buying tickets, merchandise, etc.? I was not willing to take that risk. I understand that there are many who could care less. But, there are also many who do care. We already have the patrons who could care less, but we risk running off those who do care; those who are raising their kids up in the sport. Take a look at the major manufacturers: They all pitch their ads at families, showing dad, mom, and the kids all riding together. They understand the foundation of the sport, the foundation being bike sales and who buys them. The number one selling bikes in the sport are kids bikes. Amp'd, not acknowledging that (family concept) with those type of ads, could have caused a much more serious division. One that hurts us all.

I don't know who makes up your social network. Mine consists of a lot of families who race, ride, and spectate for the past 25 years. They were all turned off by the ads. That's what motivated me. That's what got me thinking how they would turn off all the people Speed Channel shows in the stands as they open and close for commercials. Families.
It has never been my intention to sterilize the sport or to force my views onto anyone. I was truly concerned about the negative effect they could have had. Which in turn could have affected future sponsors taking this sport seriously.
If I were to do this again I definitely would have approached it differently. However, I believe most of the response would still be the same among the more liberally minded. And, I can respect that. That is their right.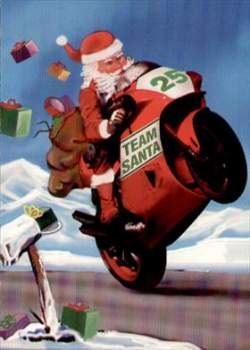 Don Emde and family
I also acknowledge that I made the mistake of not visualizing things from the "insider" viewpoint. From people like yourself that see the struggles and the needs of the sport; those needs being fulfilled only to be seemingly hacked away at by what I did. After thinking about this for the past 5 days I understand your frustration as well as others. Please understand that I do appreciate Ampd's efforts to step up and sponsor this sport. I have made that clear to them.
I am not really sure what I am trying to accomplish here. Maybe I just wanted to at least give you the chance to try and understand my viewpoint. And let you know I understand yours.

Thanks for your time.
Gino S. Sobrito.
Aka, Spodeboy
With that, I think we can put that issue to bed… Just not bed with a dead senator and a woman in a bra. (Just kidding!)
Moving on, the most recent disappointment of the year was
Kevin Windham
's broken arm. Well, the reports from the Factory Connection camp are that they took the staples out of Kevin's arm a couple of days ago and it will take up to 12 weeks to heal. The doctors also put two plates in the arm. The arm is sturdy, but they have to be careful because they did a bone graft because the arm splintered when it broke. Ouch! Good luck and get well soon, Kevin.
Okay, Pingree's turn:
Really slow week out here in California... One of the strange trends in the "Lites" class this year is to delay telling everyone which coast you'll be riding. There's always a little bit of jockeying to see which riders will be put where, but it seems more exaggerated this year than ever.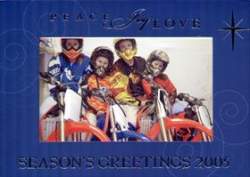 Ed, Kathy, Eddie and Lexie
With that in mind, here's my best guess of which riders will be competing in what is usually the best racing of the night.

Monster Energy/Pro Circuit/ Kawasaki will slide Grant Langston over to the West Coast and team him with Ryan Villopoto. Ryan still isn't back on a bike after his shoulder surgery but he is confident he will be ready on January 7. Chris Gosselaar is filling in for the healing Troy Adams and joins Ben Townley in the East.

Red Bull/KTM will debut one of the Alessi's and Nate Ramsey on the west coast. While it hasn't been determined whether Mike or Jeff will ride the West Coast, management doesn't want them both on the same coast. Also, the word is that Jeff is faster at the practice track right now but Mikey always seems to come though in the races. The East Coast will feature Josh Hansen, Jay Marmont and whichever Alessi doesn't race Anaheim.


The Sobe/Amsoil/Honda team will run
Billy Laninovich
and
Jake Weimer
on the West and
Josh Grant
,
Tommy Hahn
and
Joaquim Rodrigues
on the East. Rodrigues is still recovering from a broken navicular bone in his wrist, however, and may not be ready for the start of the season. No word on whether or not they will hire a replacement rider, though
Brock Sellards
would be an easy selection since he is riding Hondas in the Toyota Arenacross Series.
Factory Suzuki will run only
Broc Hepler
this year and he will probably be on the East Coast. Factory Honda will have
Andrew Short
on the West Coast and
Davi Millsaps
on the East side.
Yamaha of Troy has been off the radar but should have Australians
Brett Metcalfe
and
Andrew McFarlane
out west with
Matt Walker
and
Branden Jesseman
on the East.
MotoWorld Racing will have
Richie Owens
and
Justin Brayton
on the West with
Stephane Roncada
and
Chad Johnson
on the East coast.
MotoSport Outlet will have
Danny Smith
and
Paul Carpenter
on the West and
Kelly Smith
and
Bobby Kiniry
in the East series.
WBR/Suzuki will have three riders,
Ryan Morais
,
Ryan Sipes
and
Michael LaPaglia
, all on the West Coast.
That's it. That's all I've got. Merry Christmas.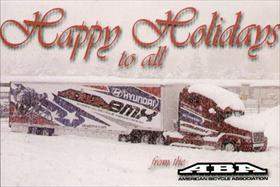 American Bicycle Association
And here's a note I got from
Lou Ledler
, the parts manager at Folsom Lake Yamaha:
Just thought you guys might want a heads up about Steve Lamson. Steve will be riding #6 aboard a 2006 YZ250 two- stroke at a select few Outdoor Nationals. Most of the details have been finalized but some are still being ironed out. We here at Folsom Lake Yamaha are proud to have Steve and his MX school on board. Pro Circuit will be doing the motor and supplying the exhaust; MB1 the suspension; Works Connection some bling; and possibly FLY gear. Let me know if I can be any assistance in contacting Steve or answering any other questions.

And here's a note from Racer X reader Ehren Deppert of New Jersey:

It's like an end of an era with the close of 2005. I feel like we are losing a generation of racers. These riders spanned the 90's and were the bridge for today's generation and the "Great 80's". Man, I know Ezra hasn't raced in well over a year but I guess not knowing for sure if he was retiring kept me hoping he may return. He is the man that put a big dent in MC's ego in '97 / '98. He helped develop today's riding style by pushing MC to the limit, forcing him to get creative to beat him. Yogi, your presence on the track was always felt. The sport misses you greatly.
Trent Howie sent me this sweet-sounding piece: http://www.supercross.com/rjsays.php?id=18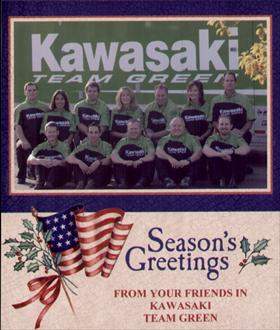 Kawasaki Team Green

And finally, for those of you Mototalkers who stepped up and sponsored the 2006 Racer X Gas Card for the Amp'd Mobile Supercross Series, here's our finalized list of who got what race. And for those of you who were unable to get on the list, better luck next year.
Anaheim 1
PaulMerritt
Mxaddiction
Phoenix
Travis919
Worldmoto
Anaheim 2
Kirker
Srl365
San Francisco
Vavoom
MarkB
Anaheim 3
Hendo241
Motorbike
San Diego
Peabody
Crf2504strk
St. Louis
Mxinxs
DW2
Atlanta
Reeves
ProMed
Indianapolis
BMLracer
Motojohn46
Orlando
Johnro
Bmizar
Detroit
Snoogans
Jeshrey
Houston
Mxaddict
Kit
Dallas
Pellco
Sheriff
Seattle
Cyclemart
MrCreepo
Las Vegas
Gforce
Spinner108

And finally, check out this picture of supercross fan Carter B. and his "scaled down" Orlando '05 supercross track. How cool would it be to find one of those under your Christmas trees?
And with that, it's time for me to go do some Christmas shopping for a 3.5 year old who likes Thomas the Tank Engine and monkeys. Enjoy the holiday and thanks for reading Racerhead. See you at the Big A.