Thursday Rev-Up: A Christmas Story
Hello, everyone, and welcome to the Rev-Up. Well, only two more shopping days until Christmas. Everyone already get all of their shopping done? Me neither. As a devote procrastinator, I typically embrace the fact that I have the full 365 days to complete my gift-giving efforts.

The holidays are upon us, and I wanted to use this week's column to tell you about how my family celebrates Christmas. You can call it, "the holidays" if that is how you do it. But this is my column, and hopefully you won't mind me getting Rev'd Up for Christmas!

The Sears catalog would usually arrive at the Bowyer household a little before Thanksgiving, accompanied by the influx of radical television commercials depicting the latest and greatest RC cars and slot-car sets. We used to watch our cartoons with the catalog sitting in front of us and find the page containing the toy we just saw racing across our TV set during the advertisement break. I would mark the item and/or go running to my mom, screaming, "This is what I want to ask Santa for!"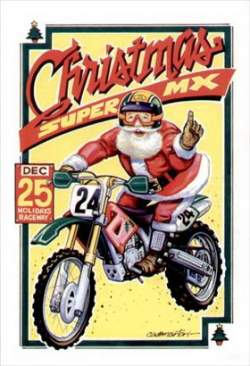 A very cool Christmas card we got from Maxima Oils
My pops would notice and peek from behind the Emporia Gazette and bellow from his La-Z-Boy, "You think you've been good enough to deserve that? Santa is always watching, boy. I guarantee you he was watching when you got written up on the school bus last week!" Alas, I was met with nervous days leading up to Santa's inevitable arrival.
Each year we would travel to Grandma and Grandpa's to join our cousins on Christmas Eve. We would always take the motocross trailer behind the family Suburban so we could have something to bring all of "Santa's" gifts back home with us. My brothers and I would relentlessly ask about the urban legends of the great Claus.
"Dad, how is Santa going to get all of that stuff in his sack? You sure he can fit a new bicycle? Is Rudolph a real reindeer like Prancer and Blitzen?"
Dad would always just smile and laugh and yell back, "Santa's fast, boys! Maybe if we're quick this year, we can catch him!"
Dad is a tow-truck driver, and he had an army of walkie-talkies for the business. Each year all of us kids would take off a little after dark with mom to go looking for Santa. After all, Rudolph had such a shiny nose that surely he would be an easy spot in the night sky, right? Armed with a walkie-talkie, Mom would take us driving around the country back roads, far away from the lights of town so we could get a clear view to look for that wonderful sleigh being pulled through the cold December sky. Every 10 seconds or so one of us would scream for Mom to check back with headquarters to see if Santa had gotten to the house while we were away. She would play with us for a couple hours or until we drove her to madness before asking back to HQ herself, with just the right tone of voice, "Any sign of Santa yet, dammit?"
Dad would come screaming back onto the radio, "He's here! He's here! Hurry up and get back, he's eating all the cookies and throwing presents everywhere!" Chaos would consume the inside of the Suburban as Mom would slide the truck sideways on the gravel and haul ass back so we could at long last lay eyes upon the elusive Kris Kringle.
We could never get back in time. One year, I swore I saw a steam of glitter floating off Grandpa's roof and rising toward the moon. My 6-year-old motocross kid imagination assured me it was "Santa's rooster tail!" I remember asking Pops one year, "You think all that stuff will fit in the trailer?" He would just smile and nod.
It was always so magical. A couple tears just dropped on my keyboard as I reflect back to those special moments we were so fortunate to enjoy.
This is a very special time of year. I don't care if you look at it from a religious standpoint or just a simple changing of the calendar year. All the same, this is a time to be together and be good to one another. You don't have to be "The Who People from Whoville" to enjoy Christmas, but being Mr. Grinch isn't the way to go. The spirit of Christmas is out there, ladies and gentlemen. Let it take you. Let go of the grudges or the anger or the bottle and give it a chance. It's not about the gift of material things; it's about the gift of love. If you have done someone wrong, call them and tell them you are sorry. If you couldn't buy your wife or girlfriend that diamond necklace from Zales, just build a fire and hold her tight and tell her you love her and will be better to her this year. You know, a lot of these little stories and anthems of insight I try to offer are simply a note-to-self. I'm going to do my best to enjoy what I've been blessed with this weekend.
After all, I'm 28 years old, and I am going to ask my mom to take us out to look for Santa this Saturday night. Who knows, maybe this year we'll finally get him!
I wish everyone who reads this the very, very best for a weekend of peace, love, and togetherness. Merry Christmas to all, and to all a good holiday!
Thanks for reading, see you next week!