Privateer Profile: Dennis Jonon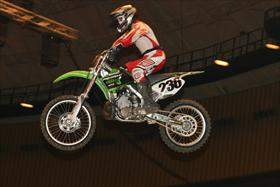 17-year-old Dennis Jonon is in his first season racing the BooKoo AX Series.

Spring Hill, Kansas is home to 17-year-old privateer Dennis Jonon, a regular competitor in the 2006 BooKoo Arenacross Series. When he's not racing dirt bikes professionally, you can usually find Dennis training or surfing his favorite website, motonews.com. Well, Dennis has read a lot of interviews on the internet over the years, so now it's time for him to read his own. You can show Dennis and his sponsors some support by clicking on the links at the bottom of the page.

Racer X: Dennis, I've been reading your posts on Mototalk for quite some time, so it's nice to finally talk to you in person.
Dennis Jonon: Yeah, for sure!

Tell me how you got involved in this crazy sport we call motocross.
I grew up in Arizona, so we could go riding straight from our garage of my house. My whole family rode and that's pretty much how it started—just riding every day in the desert.

How old were you when you started?
I rode a Honda four-wheeler when I was 3, and I started on a JR50 when I was 4.

It seems like everyone starts out on a quad or a three-wheeler, doesn't it?
Oh yeah.

But you now live in Kansas. When did you move there?
When I was 9 my mom's job transferred, so we've been living here for, like, eight years now. It kind of sucks, but….

So you liked Arizona better?
Yeah, I just liked how you can ride year-round. It's freezing here in Kansas now—it's, like, 20 degrees. It actually got up to like 29 and it was sunny, so I was excited because I finally got to ride my road bike outside.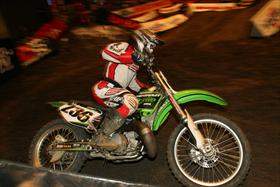 A lifelong Kawasaki rider, Dennis recently made the switch to Suzukis

You don't travel anywhere for the winter to ride?
We have a house out in California, but it's being rented by Ryan Collins at Kawasaki this year, so we won't be able to go out there. But I might go down to Texas next week, or I may go and stay with [Ryan] Villopoto. But I don't have that long until I've got to get back for the BooKoo Series on the East Coast, so I'm not sure what I'm going to do.

Well, you're currently on Christmas break from the BooKoo Arenacross Series, and you're sitting in 15h in points in both the 450 and 250 class. Are you happy with that?
No, no way! I should be a lot higher but at round two I was winning and got landed on, so I missed all four mains and got no points for that. I passed Hofmaster and Shawn Clark to move into first at that race, but then I scooted over to the inside of a rhythm section and Clark landed right on top of me by accident, so I was pretty sore from that and missed the rest of the main events that weekend. So I lost 100 points right there. That was the huge difference right there. If that didn't happen, I think I would be in the top seven or eight, for sure.

Do you think could've won that race?
I think I had a good chance. I really liked that track. It was in St. Louis, so it was real loamy. It was rutting up and that's the kind of track that I like, where it's more of a challenge with ruts and stuff. I loved that track, and I think if I didn't win, I would've gotten top-three, for sure. But after that crash I think I lost all my confidence, but I think I'm slowly coming back. The racing is just hard, though. I always watching it on TV and saw Demuth and all of them racing, and I didn't think it was going to be as hard as it is. Even when I watched Demuth, I always thought he was the smoothest guy ever to race arenacross. But I said that I should be able to beat them, because when I watch a video of me riding, I look a lot more aggressive, but that's on an outdoor track. At the first round, I beat Demuth and Bess in the qualifier, but in the main I got a good start and just went backwards. I know what I have to work on, though.

What's your best finish this year?
I got a sixth, and that was pretty good. I think top-ten is good, but I want to get a podium, bad!

Are you under contract to do the whole BooKoo series?
No, at first we were doing it to see if we could just find a ride and nothing really came up. A couple of people have gotten picked up, though. Like Damien Plotts, I was beating him all the time but he got picked up by Babbitt's, and I was like, What's going on? I'm beating these guys and they're getting picked up! They're all good riders, but I feel like I'm getting robbed. Maybe people don't like me or something, I don't know what's going on! But I don't have any contracts right now, just from my sponsors. And my agent, Danny Rubio, he's helped out a lot by getting me sponsors like contingency with AXO and stuff like that.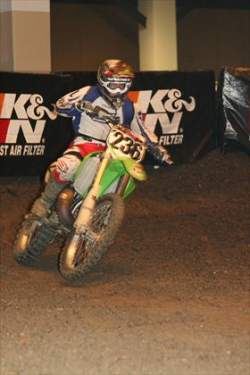 After AX, Dennis Jonon will be racing the 2006 Eastern Regional Lites class

So, are you riding a KX450F?
Actually I just bought two Suzukis today, a 450 and a 250.

Why the change?
Well, I've been on Kawasakis ever since I started riding and we just didn't have any support. I've been racing the BooKoo series with my race bikes from Loretta's last year, and they were 2005s. I just had no support from Kawasaki and there weren't any shops that could do anything. But ever since I've moved here to Kansas, there has been a Suzuki shop here called Olathe Suzuki that has been interested in sponsoring me, and they offered me better support than any other Kawi dealers.

You were a Team Green rider in the past, right?
Yeah. They just didn't want me riding an pro events, they wanted me to ride only amateur stuff. They didn't like me doing the BooKoo stuff, so they dropped me.

So are you excited to riding yellow?
Yeah, I am. The 450 is in the shop and they sent my suspension out to Pro Circuit. And I actually didn't know if I was going to get an RM-Z250, but they found one and I'm getting it worked on this week.

Briefly tell us about your amateur career. Do you have any championships?
I have a few from the amateur open and Branson, but I have a lot of seconds behind Alessi. For, like, three years I've finished second behind Alessi.

Well, look how well he's doing now in the pro ranks. You can be up there this year.
Yeah, I want to do East Coast supercross, but we don't know if we're going to be able to afford going to all of them. So I'd like to at least race St. Louis, since it's only a couple hours from my house. And I want to do some outdoor nationals this year. I think what Alessi did his first year was good, doing the nationals first because that's what we grew up doing. So I think that would be the best thing. Hopefully by that time I'll be living in California. I don't know how yet. I guess I've got to start making some money.

Are you in high school?
I'm home-schooled right now, but I'm in 12th grade.

It seems like you're on Mototalk quite a bit.
Yeah, there's nothing to do in Kansas, so when I'm not riding, I'm on the internet, just because I live in a town with 2,000 people.

Who's your mechanic?
My dad is. I really have to thank my parents for helping me out with everything.

What's your goal for the rest of the season, Dennis?
I want to get some podiums. I also want to start making the main straight out of the qualifier. It seems like I've been racing every race of the night.

Well, that's it, Dennis. Good luck with the rest of the season, and I wish you luck in getting a ride.
Thanks a lot, Billy. I appreciate it.


Dennis Jonon's sponsors: