Bench Racing Ammo: Farewell
If 2006 is looking like a season of transition—four-strokes, new class names, #7 out front so far—then maybe it's a good idea for us to look back at the 2005 season and say goodbye to a few great riders who have pretty much called it quits on full-time professional motocross. Two—Larry Ward and Ezra Lusk—have handed their permanent numbers over to someone else; two others—John Dowd and Damon Huffman—announced that they were parking their race bikes and focusing on what's next; and Ryan Hughes has a fantastic new deal to be a factory racer again, only in off-road! Here's a look back at each of their five careers….

(Oh yeah, we're not sure of the status of at least one other truly great rider, two-time AMA 125cc National MX Champion Steve Lamson. Maybe we will know for sure come Anaheim time.)

Larry Ward #10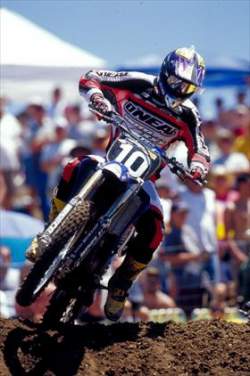 Larry Ward's long professional career is over. He's probably out hunting somewhere now.
photo: Simon Cudby
Washington's Larry Ward has amassed one of the most peculiar motocross careers. It seemed like each time Larry won, it would stand out in the record books for some strange reason. For instance, when he won the
Southwick
125 National in 1989, his riding number--#971—became (and remains) the highest number ever to win an AMA national or supercross.
Then, at the Seattle Supercross in 1990, Larry's home-state fans went crazy, and by doing the deed on an RM250, he became the first Suzuki rider to win a 250 supercross in eight years. Then his results began to nosedive, until suddenly Ward caught fire again five years later with the Noleen/Sizzler Yamaha privateer team. He finished second in the final 1995 AMA Supercross standings, the best finish ever for a privateer. He ended up back on the Suzuki factory team for 1998, which has to be the longest span ever for a rider to lose a factory ride and then get it back.
Ward won the Tampa SX in 1998, giving him the record for longest span between first and second supercross wins. Then he won Seattle again in '99, a ridiculous nine years after he won it the first time. Eventually Ward fell back into privateer status, only to reemerge at the dawn of the 250F revolution, winning the '01
Red Bud
National for Moto XXX on a YZ250F. This gave Ward national wins in three decades (a record at the time), and also made him one of the oldest riders to win a national, and the first true privateer national winner in a decade.
In addition, Ward stood at the top of the all-time supercross starts list for a while, until
Mike LaRocco
finally broke that mark in 2004. Ward is still second on the all-time list.
And beside all of this, Ward was an absolute killer at the off-season European supercrosses. For some reason, Ward could beat anybody over there. He has kept a low profile over the last few years, but before he's gone for good, we say farewell to #10.
#11 Ezra Lusk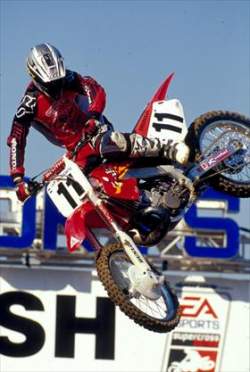 Ezra Lusk had a lot of wins, but no major titles. He could still be a contender if he were out there now.

photo: Simon Cudby
Word is that Ezra is still flying around his tracks in Georgia, but if factory teams aren't offering him bikes, he will just stay home. That means one of the fastest riders of the 1990s is finally hanging it up. Lusk was a star on minibikes and as an amateur with Team Green and Team Suzuki. Legend has it that he was the first 60 to jump the big tabletop on the infield at Loretta Lynn's, some time in the mid-1980s.
When he turned pro, he won the 1994 125 Eastern Region SX title. Then he crashed his way through his first season in the 250 class, but then finished third in 250 SX in 1996 and 1997. Honda tabbed Ezra as the man to beat Jeremy McGrath, and he did on several occasions, but unfortunately the nine supercross wins he notched with them didn't result in a title. Lusk was also fast outdoors, winning three 250 nationals and even leading the standings midway through the 1999 campaign after a dominant performance at
Southwick
. But crashes would ultimately lead to his undoing, especially after destroying his shoulder on the eve of the 2000 SX series.
Save for a lone supercross win in Phoenix in 2003, Lusk couldn't find that old magic again, but he retires as one of the flat-out fastest supercrossers ever. See you in Atlanta, Yogi?
#16 John Dowd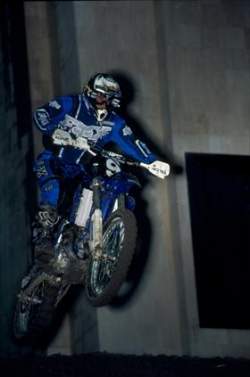 John Dowd started late (25) and finished late (now 40). He remains a fan favorite.

photo: Simon Cudby
Another farewell goes out to the #16 of
John Dowd
. At 40 years of age, John "Junkyard" Dowd can still compete with the best motocross riders in the world on any given day—but especially on a day when the AMA motocross series is in his backyard at MX338 in
Southwick
, MA, where he has put in some of the greatest results of his long, successful professional career.
Born and bred in the New England area, John got his name on the motocross map with a surprising and very unlikely win at the muddy 1991
Hangtown
National in the 250 class as a privateer. His career started to blossom from there and he started to come into the spotlight in the early stages of the 1994 season as a Yamaha privateer with support from Boyesen, which he parlayed into a factory ride with Yamaha for the remainder of the season. He was able to win two AMA 250 Motocross Nationals that year as well.
John collected all but one of his major AMA wins with Yamaha, which include five AMA Motocross victories, one AMA supercross victory, two AMA Motocross Lites victories and seven SX Lites victories, which helped him to win his only AMA championship as a professional—the 1998 Western Regional SX Lites Championship.
After his tenure with Team Yamaha, John rode for the factory Kawasaki team before switching to KTM with support from Cernic's Racing. He then competed in the 2004-'05 arenacross series full-time as a Suzuki support rider.
In 2005 John raced the AMA National Motocross Series full-time for what looks to be the last time. As a Suzuki privateer, John finished seventh overall in the series, his top finish being a remarkable third at
Southwick
. He finished out the year with a second-place finish in the 2005 Maxxis EnduroCross.
So as John closes another chapter in his racing career and looks to be opening another in off-road racing, we just want to say from all his motocross and supercross fans, farewell John, and we hope to see you racing
Southwick
again in the future.

#20 Damon Huffman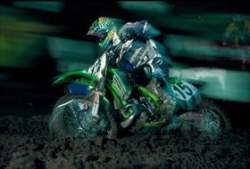 Quiet, classy, and funny, Damon Huffman is already missed around the AMA pits.
photo: Simon Cudby
Without any big announcements or fancy press releases, California's Damon Huffman quietly retired from professional motocross and supercross in 2005.
Damon started his professional career in the early '90s and found his niche as one of the most fluid and natural supercross riders to ever grace a stadium. Some of the brightest moments of Damon's career came early as he won two West Region Lites Supercross Championships in 1994 and '95 as a member of the factory Suzuki team. He then moved into the AMA Supercross class, where he won his only AMA Supercross at the '97 Atlanta Supercross as a member of the factory Kawasaki team. The 1997 season proved to be a banner one for Damon, who wore #17 at the time, because he also won the 125 Kenworthys Motocross National and was also crowned World Supercross Champion. And then in 1998 he amazed the industry by winning the inaugural U.S. Open of Supercross in Las Vegas, collecting $100,000 for his efforts.
But Huffman never fully delivered on the promise he showed on a 125, a femur injury in 1998 being the main culprit. After losing his factory ride, Damon spent several years as a privateer and, most recently, was a top competitor in the Canadian motocross nationals before retiring from racing. He was also the top supercross privateer in 2004. Always a classy rider and a true professional, Damon Huffman announced his retirement officially at the U.S. Open this year. Farewell to #20.
#105 Ryan Hughes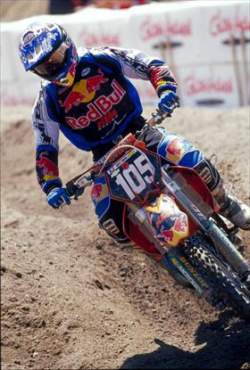 Ryan Hughes came close to winning the 125 championship three times. Now he's an immediate favorite in off-road.
photo: Simon Cudby
Ryno retires without that ever-elusive AMA National Championship, but he's a champion in the hearts and minds of fans who recognize Hughes as one of the toughest men to ever swing a leg over a bike. A fanatical trainer, Hughes put himself on the map by nearly winning the 1995 AMA 125 National title. While hanging it out trying to catch Steve Lamson, Hughes' chain broke during the final moto at
Steel City
, and he pushed his bike across the line, one of the all-time most memorable motocross moments.
He couldn't find his stride in the 250 class, though, and instead moved to Europe to race GPs for Honda. Hughes was a part of Team USA's victory at the 2000 Motocross des Nations, a proud honor for a patriotic man. He returned to the states doing R&D for Honda, even campaigning the CRF450R in its rookie season in 2001. More injuries spurred retirement, but El Ryno geared up once again for KTM in 2003. He shocked just about everyone with a two-moto sweep at
Hangtown
, but then he broke his leg at
Southwick
—and still finished both motos! Ryno came within seven points of winning the title, but a cancelled final round of the series at Kenworthys due to a flood left him short. The last two years weren't as kind, and Hughes has finally decided to hang up his motocross boots and go race off-road now with Suzuki for 2006. Ryno will certainly not be forgotten by his fans.