Monday Conversation: Josh Demuth
After six rounds, the all-new BooKoo Arenacross Championship has become "the Battle of the Joshes," with veteran arenacross powerhouse Josh Demuth trading the points lead back and forth with arenacross newbie Josh Woods.
We caught up with Demuth just after the last main of the weekend at Glendale, Arizona, outside Phoenix, after a tough weekend. Demuth twisted his ankle early in the first night and raced with his boot taped up, but he toughed it out. In the very last main of the weekend, Demuth got in a battle with longtime rival Brock Sellards and got cleaned out, hitting the ground and setting him back valuable series points. Demuth started the weekend four points ahead of Woods and ended the weekend down by eight.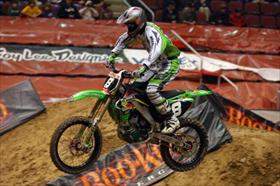 Josh rode both nights at Glendale with a swollen and taped ankle, but he would not complain. He was more worried about his starts than his pain.

Racer X: Josh, tough weekend, huh?
Josh Demuth: Yeah, definitely. Last night was pretty good, but I had a little accident right at the beginning of the weekend. Yesterday was a pretty hard struggle, but today I felt pretty good. I just couldn't get in rhythm. I don't know … I had bad starts. It just wasn't my night.

Specifically, how did both of your mains go last night?
Last night in the 125 [250F Pro] main I got a decent start and worked up to second. I just kind of got behind Josh Woods and couldn't really gain anything on him. He was a couple of seconds ahead of me and was pretty much like that the whole race. The 250 [450F] main went a lot better. I got out to about a fifth-place start and had a good line through the whoop section and was able to pick up some positions right there. I got in the lead and won that one.

So how did you hurt your ankle?
I folded my ankle back. I'm not real sure what's wrong with it yet. It's kind of swollen up. I'm going to get it checked out Monday and see how it is from there. That happened last night in the first heat race.

I saw where you rode with the boot taped up.
Yeah, Dean Hofmaster—"Big Juice," Tommy's brother—came over and taped me up a little bit and I took some aspirin and toughed through it tonight.

So you haven't seen a doctor about it yet?
No, I don't really know what's going on. We taped it up real good and have been icing it down all day. It felt good. I just didn't get the starts I was looking for when I got on the track. I didn't feel comfortable and people were passing me. It just didn't feel right tonight.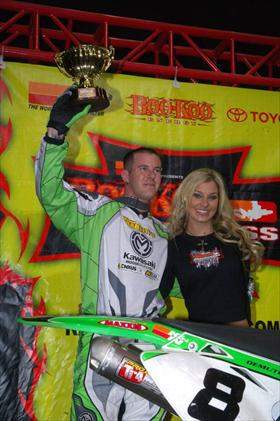 Demuth missed the podium in both mains Saturday and lost 12 points to Woods, but he still won the $1,000 Dash for Cash on Saturday

So your foot really wasn't slowing you down then?
No, not tonight. It did hurt a little bit, but I think it was more me not feeling physically right on the bike.

What happened to you at the end of that last main? You were on the ground and picking yourself up.
Well, Brock Sellards and I have had an ongoing takeout relationship, so.…

How far back does that go?
That goes way back. We used to be best friends when we were growing up on 60s and 80s. We started riding big bikes, and every time we'd go on the track we would take each other out and beat each other up. It was just one of those things, an ongoing rivalry. So he will get his—I see him in a lot of races.

He was battling with his teammate Northrup too. Weren't they beating each other up?
I didn't get to see any of that. I got held up a little by Colt Humphrey. I just couldn't get around him. I was struggling and he ended up catching me on the last lap, and he just cleaned me out in the last corner. It was just one of those things.

Can we get a quick recap on the points situation? It has been interesting with the unexpected addition of Josh Woods. It seems every race, you guys trade the series lead.
We have been going back and forth. He has a good night, then I have a good night. It just seems like we're right there in points—no matter what happens, we are neck and neck.

You made changes on your suspension—what happened there? What's up with running the Junior Jackson suspension starting this weekend?
Well, Junior has been a longtime friend of mine. We were actually supposed to use him at the start of the series, but he ended up going with Chad Johnson to race the Clear Channel arenacross series. I just told him I was struggling a little bit and he knows me inside and out. He knows what I like. So we brought him on board and he is doing my suspension and Motoworld's now. It's just one of those things. He's a good friend and I trust him a lot, and he is always there for me to help out.

So for the record, you switched from Pro Circuit yourself but it's more your personal relationship and all that.
Yeah, it has nothing to do with Pro Circuit. Mitch and all the guys out there have been one of my sponsors for a long time. They are a great company. The reason I went with Junior is, he's at the racetrack on the weekends and he comes to stay at my house, and for me it's easier to relate when he's with me all the time.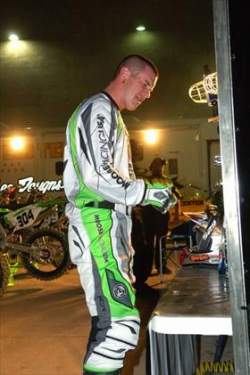 The reality of professional racing: Sometimes you have wait and worry about the things that hurt when the races are over

You have seen all the changes in arenacross now, the Clear Channel series run by Mike Kidd, then Clear Channel without Mike Kidd, now Mike Kidd without Clear Channel in this BooKoo series. How do you score this series right now?
I think with this being the first year, everything is so tough. I think they are doing an excellent job. We are not lacking on riders. In fact, we have more riders at this BooKoo series than we ever had at Clear Channel's. I think we had a record number of riders last weekend for the Long Beach Arenacross. Everything is going well. The introduction ceremonies are getting better. It's kind of a big work in progress. The way contingency is set up and the way they have the races set up, I think it's above and beyond what arenacross has been in the past.

So the sport is okay with two series, and getting away from the AMA is not hurting anything?
No, it hasn't at all. I think Mike Kidd and Lance Bryson are doing a great job of putting the series together. With me, they are close by and I've got an inside on some of the things they are doing in the future, and I think they really have a good sponsorship package behind them with BooKoo and Advanstar.

One of the things we hear from the Clear Channel/AMA side is that they want to use that series as a development series for supercross. You have ridden both, so is that practical? Do you really learn what you need to learn for supercross doing this?
I think so. I think the races are a lot similar. You have the caliber of guys that are racing supercross. In the main event tonight you had Northrup and Sellards and myself and Josh Woods. All of us have raced supercross before. I think any of the new riders stepping up will have the competition of a supercross race, and there's valuable skills they will learn here with tight racing. Then when they do get on an open [supercross] track they are going to love it—it's going to be easier, I believe.

So what's your game plan from here?
We have that good break coming up. I'm going to spend a little time with my family. There are a few things I need to work on personally as far as riding, just some things that I have been struggling with this year, and getting used to my Kawasakis. I really didn't have a lot of testing time. Junior is going to come down and stay with me and get our bikes even more dialed in for the second half of the series.

Good luck to you, and thanks for your time, Josh.
Thanks, Steve.