Privateer Profile: Jacob Marsack
Jacob Marsack, 19, is off to a great start for 2006, and it's only 2005! Rather unsure of whether or not to even race the first two rounds of the Amp'd Mobile WSXGP Series, Jacob decided to go for it as a member of the Synergy/SoCal/Lucas Oils team, and he came away with two 17th-place finishes in the Supercross class. We called the Allenton, MI, resident to catch up with him regarding his recent success. Be sure to show Jacob and his sponsors some support by clicking on the logo/links at the bottom of the page.

Racer X: First of all, you have two consecutive 17th-place finishes in the first two rounds of the Amp'd Mobile WSXGP series—you have to be excited about that!
Jacob Marsack: Oh yeah, for sure. I was debating whether to do them, and it was a good choice, because I definitely needed to get warmed up.

So are these the first two Supercross main events you've made in your career?
Yes, the first two Supercross main events.

Did you ever make a Supercross Lites main event?
Yeah, the second year I rode pro, I qualified for a main event and finished 15th. I was riding an RM125 back then.

So tell us about your decision to ride the Supercross class in the first two Amp'd Mobile WSXGP races.
It was pretty much a team decision. The SoCal team wanted me to ride the Supercross class because I'm smoother on it. I've been practicing on the 450 all year, so I think it was a good decision to ride it in supercross, although it's a little tougher. I'm feel pretty good in the bike.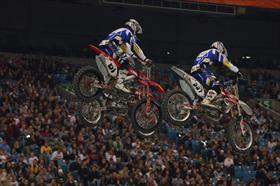 Jacob battles with Clark Stiles (61) at the Toronto Supercross.
photo: TFS
You mentioned that it was a team decision from SoCal Racing, so can you tell us about the team that you're on for 2006?
It's a good team, which is supported by Synergy Racing Technology, SoCal, and Lucas Oil. They put it together last year and it carried over for this year. We'll be riding Yamahas this year too.

I could've sworn you were on a Honda 450 at Toronto and Vancouver.
Well, we rode Hondas for those races because we couldn't get the Yamahas yet. We just got them, and now we have to get them set up for Anaheim 1. But I guess we have some Yamaha support, somewhat. But last year I rode for the MXPrivateer.net team, and they helped me out for the Lites class. The team then split up, but the new owner bought a rig and the knew I was part of the old team, so they decided to sign me up for this year.

Well, I was watching you in practice and your qualifier in Toronto, and to be honest, you look like a totally different rider from the past. What have you been doing lately to prepare for the new season?
I've just been riding a lot. I have a supercross track at my house that I built, and I've just been riding and training really hard. Every day I just wake up and train and ride. Once the snow hit up here I went down to GPF and practiced and tested there. We then tested some Ohlins suspension and got some stuff worked out right before Toronto. And that was my first race in over eight weeks, so I rode a little tight there, but it was good getting things worked out. After that, I went home and worked on some areas that needed attention. Like, I felt my legs were a little weak, so I worked on them and worked on my cardio a little more, and I think everything improved.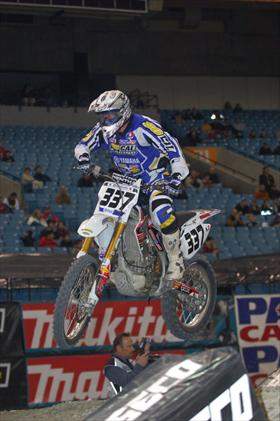 Jacob qualified for both Canadian rounds of the 2006 Amp'd Mobile WSXGP series.
photo: TFS
Is racing your primary job?
Yeah, so far it is. I finished up high school last year, so I just got out and figured I'd try racing for about four years or something, just to see if I could make enough money to do it as a living. So hopefully I will, but if it doesn't work out, then I will go to college and do all that stuff, because I got pretty good grades.

Yeah, it's a good idea to have a backup plan, for sure. On another note, I saw you on The Great Outdoors privateer DVD and it seems that your dad, Jim, is really involved with your racing career.
Oh yeah, he's probably one of my biggest sponsors, for sure. If I don't have the money, he puts it up for me to get me to the races, so he's a really big influence to my racing career.

Is he still your mechanic this year?
Yep. I wouldn't really trust anyone else to work on my bikes. He's really good at it too. He actually raced all through my amateur career, but once I turned pro he quit to focus on just being a mechanic. It's a lot safer too.

Thanks for your time, Jake, and good luck in Anaheim!
Thank you, Billy.


Jacob's Sponsors: