Racer X Between the Motos: Kelly Louch
John Louch is one of the top trainers in the sport. He's worked with Grant Langston, Travis Pastrana, Nate Adams, and right now he's helping Josh Hansen and road racer Aaron Gobert. But that's not important right now—it's his wife that we wanted to talk to!
Kelly Louch runs The Connection, a booking firm that helps connect models and actresses with advertisers and companies in need of spokesmodels and the like. She's worked with a lot of motocross companies in the past, and now she's ramping up talent for the 2006 Amp'd Mobile Supercross Series. If you're a model who likes motocross, or you know some models looking for a break in the sport, check out what Kelly does and maybe she can connect you with the sport.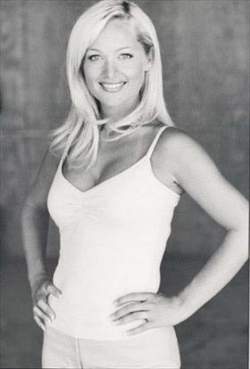 Kelly Louch

Racer X: First off all, why don't you introduce yourself? We know your husband, but tell us a little bit about yourself.
Kelly Louch: Well, I grew up mostly in Southern California, but I was overseas a lot because my parents liked to travel a lot. John and I actually met in Dana Point—our parents introduced us—and got married very young, 18. So we've been married now for over a decade and a half, which is kind of weird, because we're not that old!

When did you start working in the modeling industry?
I got into modeling when I was really young. I did guest spots on sitcoms and missed a lot of school because of modeling, which is why I don't have my children in modeling! But it was nice to have some good money waiting for me when I turned 18. I got into pageants, and then I landed a job being Barbie for Mattel toys, believe it or not. My first job for them was a 21-day trade show—21 straight days of being Barbie for 10 hours a day, so it was like being in a bubble.

How did you fit into those little outfits?
[Laughs] Yeah, right! And Barbie happened to be head-to-toe in pink leather, so I was in pink leather every day, all day. What was ironic was that I never had a Barbie growing up—I was into Hot Wheels. So whenever they couldn't find me at these shows, they had to go and look in the Hot Wheels section, and there I'd be, playing with everything. Kids ask you questions when you're Barbie, and Mattel told me to tell kids that when they'd say, "Being Barbie, you must have every Barbie growing up!" I'd have to say, "You have no idea!" But really, I had none—I was too much into cars!

Didn't you live in South Africa for a while?
Yes. When I was Barbie, the South African buyers asked me to go there for them, and I hoped they were serious because my husband was South African and I been there before and I'd like to do it. At the same time John had a really good job offer to work with a fire department, so we packed up everything and went there and I started Barbie the same week I arrived. We were there for three years.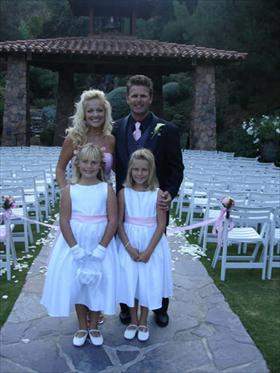 The Louch family

How did you get into being a booking agent?
I started working as a booker at a modeling agency during the off-season of Barbie, and I actually loved it! Also, when you're pregnant and you're modeling, your income completely diminishes because there is only so much modeling you can do when you're pregnant. But when you're a booker and an agent, you can still keep working. I liked finding talent, and I liked working with international models. South Africa has a very hot market with international clientele, and it's a great place for shooting. You've got great tear sheets and great photographers, so I loved bringing in models from New York and L.A. We kind of had a lot in common because we were both Americans being there, so it was pretty cool.

So you kept doing that when you moved back to the States and John started training with racers?
Yes. We arrived back in America with a baby and a dog, back at square one. And so I started working as a booker at an Orange County agency for four years, and that was great. And then when I went on maternity leave with my third child, my clients were calling me while I was home, about to go into labor. I realized that I was fortunate to have a stronger bond with my clients than I realized. And so I just didn't want to cut ties—I didn't want to give it up. I have a lot of clients that are friends of Johns, that are sponsors, or people like you guys, so I decided to take it on my own, and I started my own gig, called The Connection. The name was a nickname of mine: People called me "The Connection" because I'm basically the go-between for models and jobs.

And that's one of the reasons we wanted to talk to you. Tell us about the projects that you have coming up that our readers might really be interested in, especially if they are, say, 5' 9" or so and gorgeous.
[Laughs] Actually, right now I have a lot on my plate. Just this past summer I booked models in over 50 U.S. cities and 17 states, so I was slammed in the summertime. Now it's going to start all over again because one of the major sponsors in this big print campaign coming up has me casting for their catalog, and that's going to be shooting at the race in Anaheim. I've also got the ASR show, which is the Action Sports Retailer show, which huge because every extreme sportswear company out there is there, and I've got that show coming up.
And I need some girls for the 2006 supercross series, because I have more than one client that wants models at each spot. That's a pretty cool gig, because we're talking about some major sponsors and it's a pretty cool event, and I need models for every round. I need girls that are not just beautiful, but really fit and outgoing. I love it when they love the sport, because it makes it better because they're stoked to already be there.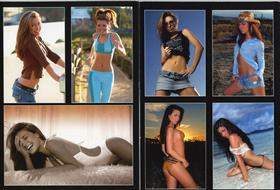 Jamie Miller

What kind of girls or models are you looking for?
I prefer the age range to be between 18-25, just because that's the target. Height isn't as important, but for some clients it is. There's a model I've known that has done tons of movies and work, and she's, like, 5'5", and she's gorgeous! They don't all have to be 5' 10", but I do like them to have more height for the catalog stuff.
And experience is important. This isn't the kind of thing that you'd want to kind of get your feet wet on. It's a lot to handle, and you have to really know how to conduct yourself professionally, because you're there to do a job, not just to be a fan. So it's kind of hard to be able to balance the two. There is a lot of great talent that's not just in Southern California. I'm amazed of some of the beautiful models that are from Oklahoma, Atlanta, and New Orleans. I just got done doing a big job in Vegas last week, and I have to go out there again to do more auditioning—so I always need more models.

What are some spots that we may have seen some of your girls in? Of course we've probably seen some in our magazine, along with Transworld MX and more.
I've had girls shoot for One Industries, Boost Mobile, KMC Wheels, Oakley, Suzuki, Speed Channel, Disney, and KFC. I enjoy having a big role with motocross because I understand the demographics of the sport, so they don't have to tell me what they're looking for, because I already know. Like Boost Mobile and Amp'd Mobile, those two clients are really doing a lot.

How do you manage keeping your models away from some of John's riders?
Oh my gosh, you know what's funny? I always hear "Hook a brutha up!" With the way these motocross guys go through chicks, if I were to hook a brutha up, I'd go through my stable so fast and I'd upset a lot of people. But sometimes I have the guys help me when I have a big campaign coming up. I just get flooded with submissions, and I get some great ones and I get some horrible ones. So we'll sit here around the computer and I let the guys help pick them out. But the guys sometimes have some pretty good input. I have my preferences, but it's nice to get a male's opinion. And my kids also have some pretty good opinions too. One of my daughters has a pretty good eye already. A lot of the girls also send me stuff that's very Photoshopped, which is bad because I want the girls to be beautiful in person, not just in print. And that's something I've come across, and that's why I'm flying to Vegas to do a casting. For a live event, they have to look great in person. They have to look just like their pictures, they have to be fit and be in shape.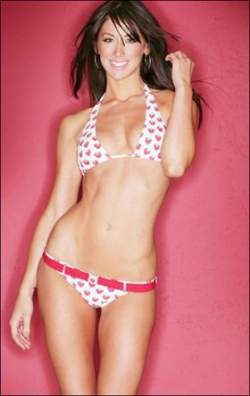 One of Kelly's models - and one of our favorites!


Because you can't carry an airbrush around in your purse, right?
No, and I just got a girl that sent me more pictures, and I'm casting her for one of the supercrosses, and the title of her jpeg was "airbrush version 4". So I thought, Come on, at least take that out of the title!

Okay, so if a girl wants to work one of the supercross races, how can she get a hold of you? Or should she just send you some pics or their card?
Models can send their pictures—I need to have a smiling picture, a full-body shot, and I prefer something that's a snapshot from an event or just being out with friends, because you get a good idea as far as a big smile from there. Also, I would like to know any kind of experience they have. It doesn't have to be a professional resume, but anything that is related to a sporting or live event. I need the contact details, not just the e-mail address; I need to know what area they live in so I know what market they're near, so I can keep that in mind. I also need their age and height. And they can go ahead an e-mail them to me, and I will consider everybody. My e-mail is kelly@theconnectioncg.com.

Anything else?
Yes, make sure they know these are paid events—I'm not looking for freebies here!

Thanks for your time, Kelly.
Thank you, Davey!