Racer X Monday Conversation: James Stewart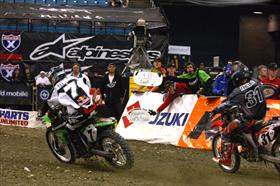 At the halfway point, Stewart gets a pit board that says ";+11." He was keeping his eye on RC and was able to keep a safe distance.

On Saturday, James Stewart emphatically let the supercross world know that this really is a "new beginning." The Team Kawasaki pilot ran off and hid with the second main event of the 2005-'06 Amp'd Mobile World Supercross GP Series, dominating the Vancouver race in even more convincing fashion than he did seven days earlier in Toronto. We caught up with James, who will turn 20 next Wednesday, right after the press conference.

Racer X
: James, two wins in a row here in Canada. You must be excited!

James Stewart
: Yeah, definitely. To come out here and win both of these races is awesome. I think I rode smart both races. It was different getting out front and leading the pack. I could keep my eye on Ricky and judge his speed and ride my race from there.
Let's go over what these races mean to you, but first, let's go over what happened on the track. What happened in the first turn and the first lap of the main?

I kind of got pinched off on the start. I think it worked out good. I kind of snuck around the inside, and I think I came out like in third, maybe in second. Kyle Lewis [who had the holeshot], I remember back in Houston last year, he was going at it, so I tried to get around him and pull out a little bit. Last week I battled all 20 laps. [This time] I wanted to see what happens if I get out front and ride my own race. I definitely felt like I had the speed and I could pick it up if I needed to. Really, tonight I didn't have to use it.
You got away pretty fast and cruised. What did your pit board say—do you remember?

My mechanic, Jeremy Albrecht, he just said "focus." It's different. I haven't been out front for a while. Just to be back out here and out front is a little nerve-racking. I had a couple of bobbles the first couple of laps and then pulled away from there.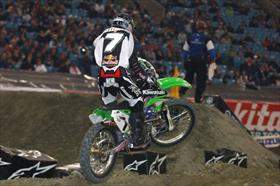 Stewart had some contact on the first lap of his heat race, but he won anyway. He was undefeated in Canada, winning both his heats and both mains.

It's been quite a roller-coaster year for you, with the U.S. Open being a recent low point. How did you get from that U.S. Open situation to back on top so fast?

You could say from rock bottom to back on top. It was a lot of hard work. I'm a racer. I really get motivated when things aren't going my way. I have a great family, and I have been at home in Florida and it's paying off. To come out of here with two victories, there is still a long ways to go. It's a great feeling, but I can't get my hopes up. There are still 16 more races left. We'll see what happens.
Do you think the switch to 450s worked to your advantage?

Yeah, I think so. With them, you have to use more finesse. I think that's why [Kevin] Windham really likes a 450. I know he's been watching the races, so it's probably going to be weird for him. He had a couple of advantages, but now we all have the same kind of bike. I think it's going to be good. I think it helps me out to be finessing around and being smooth on it.
What's going to happen now at Anaheim? Will it be you and Ricky again, or Chad in there … what do you see happening?

I don't know, we'll find out. He's going to go home and work hard. I'm going to go home and work hard. It's a long series, and I can't predict what's going to happen. I'm going to have a great holiday and come out swinging at Anaheim.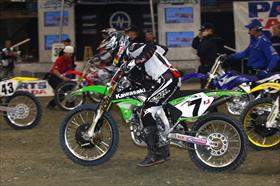 Stewart works on his starting technique in practice Saturday in Vancouver

True or false: Bubba was #259 and #7 is James?
[
Laughs
] I'm always going to be
Bubba
, and I'm always going to be #259. I just made a change, so I guess you can say #7 is James Stewart.
Okay, the bench-racing question of the year—this came up last week. Is 2006 going to be for you what 2001 was for Ricky, when he learned how to catch and beat McGrath?

[
Pauses
] I don't know. I would definitely love it. I would love to win 13 or 14 of them. But if I sit up here and predict the future, I must be God, and I'm definitely not him, so I'm just going to go back and work hard and take it race by race.
Okay, thanks, and see you at Anaheim.

Thanks, Steve.