What a way to start a new era of supercross: We get this great big new sponsor with cutting-edge technology and some clown on Mototalk calls for a boycott of their products and an anti-Amp'd Mobile website because he didn't like the commercials. Welcome to wherever we are….
So what to make of James Stewart's patient, convincing win at the opening round of the Amp'd Mobile World Supercross GP Series? Is the RC era over? Did the Chad Reed era ever actually start? What happened to all of the two-strokes? What about Honda's high-and-low in the 125, er, SX Lites class? And what about those Amp'd Mobile commercials? And did Denny Stephenson find his voice yet?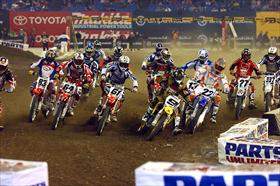 Tedesco pulls the holeshot in Toronto.
photo: Carl Stone
First of all, one race does not a season make. Nor one show or one commercial. But the glimpse of the future we saw on Saturday night at the Rogers Centre was very impressive. Stewart looked just like the rider we have been promised for years and years (and actually delivered up until last year's rookie struggles). James doesn't apparently like to be called "
Bubba
" anymore, which is just fine, because he rode like a man. The #7 took some getting used to, as did the announcers all making sure they did not call him
Bubba
, because really, "
Bubba
was #259," as a vital member of
TFS
's staff told me, "#7 is James." (Yes, TFS has a staff; that's another sign that the sport is growing.)
Stewart didn't look totally smooth on Friday or even in practice, but the race he rode was a work of art. He fell down and we all thought, Uh oh, here we go again….
But then he got back up, took his time, and began a strange battle with Carmichael that seemed to have him pulling more punches than anything. Stewart's definitely trying to learn how to ride behind someone—something he didn't get much practice at as an amateur or a 125 rider. Instead of doing something frantic, he was cool and precise, and he shot by RC for the win as if he had the whole thing planned. It was a fine race by the future himself.
As for Carmichael, is his era really over like a few people are saying (and not even whispering)? Guess that's what happens when a guy doesn't lose a race for seven months—everyone makes like JMB and bails on his bandwagon. Ricky did seem upset about the results, but it wasn't the helmet-throwing, tantrum-glowing "angry little elf" of yesteryear, was it? Has old age—he is all of 26 now—finally mellowed the man?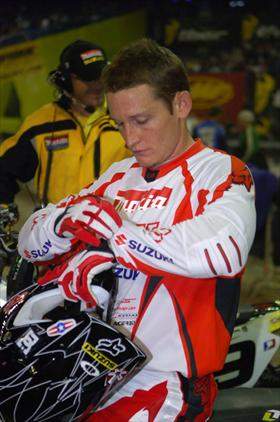 What's up Ricky's sleeve—that Rolex from the AMA or a heart monitor?
photo: TFS
Of course not. Carmichael hates losing now as much as ever, it's just that he doesn't get much practice at it. And after basically a solid year of racing—he kept it going through September and half of October for the MXdN and the U.S. Open, Carmichael was bound to have a letdown of sorts. Toronto was a "new beginning" for Stewart, but for Carmichael, it seemed more like a warm-up race for a very long season to come. As some in RC's camp said, "It's about having the points lead in Vegas, not Vancouver."
In fact, Carmichael was wearing some kind of sports watch/heart monitor on him throughout the race, which is something the riders are more inclined to do during testing and training than an actual race. (And word is, he plans on using the piece again this weekend.) RC needs to go another gear higher, no doubt, but I don't expect to see that until January, to be honest.
Same goes for Chad Reed, who was not even close to the lap-for-lap pace of Stewart and Carmichael. But Reed also may have gone to Canada more for an idea of where he was than to take a realistic shot at winning. Reed's had a tough off-season since he pulled out of the nationals, crashed at the X Games in practice, got hit by a car on a street bike, and then finally got back on the bike. Granted, Stewart's late summer was no picnic either, but he has been on the bike for the most part, which has Reed playing catch-up.
So what to make of Toronto? I would sum it up like this: Stewart is getting more comfortable out front, Carmichael is getting back up to fighting speed, and so is Reed, though RC's a lot closer than CR is. But Stewart's maturity was the biggest revelation of Toronto, which has become a very cool race to be at in its very short existence. And the only era I would dare say is over is that of two-stroke supercross.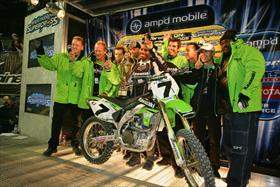 The Kawasaki camp was pumped to see James win the opener
photo: Matt Ware

EJ just checked on a tour around SoCal and Jeff Surwall gave him a glimpse of The Great Outdoors IV and EJ was just blown away by it. Look for a review tomorrow here on www.racerxill.com.
And tomorrow night, don't forget to tune in to Round 2 of the Amp'd Mobile World Supercross Series, this time from Vancouver, which is way out in the northwest above Seattle. That means Jim "Hollywood" Holley and Jason "School Play" Weigandt will be going on Supercross Live! at about 10¨p.m. EST and seven in the evening out West. Go to www.supercross.cc.com to listen.
Also, once again there will be next-day coverage on Speed Channel—6 p.m. EST on Sunday (and check this out: if you missed Toronto, you can watch it tomorrow at 6 p.m. How cool is that?!).
I'm not sure how many of you watched the races, but the new crew of Ralph Sheheen, Denny Stephenson and Krista Voda did an excellent job. Sure, Denny sounded like a loaded-up YZ100 with those burned-up pipes, but his insight was good and the show is only going to get better as these three work together more.
And that brings me to the Amp'd Mobile commercials. Too campy? Too over-the-top? Too mature? Too out-there? I guess it depends on where you're sitting and who you have to explain them to—my son is too young to ask me why the rock 'n roll star was being revived by a Hispanic hotel maid, or why the older man was getting CPR from a lingerie-clad hoochie-mama. They were definitely out there a little….
But were they enough to merit calling for a boycott of Amp'd Mobile products and a website telling them to basically change their commercials "or else"? For some bench racer on Mototalk, they were. What kind of idiot introduces someone to our sport and then immediately tries to show to the exit because they don't like the commercials? Everyone is entitled to their opinion, but say it and move on—don't try to run a sponsor off that's here to help. Please give it a break before they follow your lead and boycott supercross instead.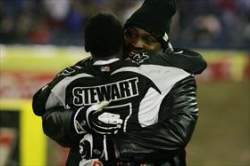 James gave his dad an early Christmas present in Toronto
photo: Matt Ware
Hey Mototalkers: it's almost Racer X Gas Card time (and I hope
Spodeboy
gets a race so I can introduce him to the Amp'd owner). Let's do it sometime next week.
In the Supercross Lites class, Andrew Short was almost as impressive as Stewart until his bike up and died on him. But that seemed to spark his new Honda teammate Davi Millsaps, who ran down KTM's Josh Hansen after a tangle with the other KTM rider—Nathan Ramsey—knocked Ramsey out of the race.
But the really interesting development here was how much banging Short and Millsaps did in their heat race together. It was good stuff!
Millsaps, by the way, looked really different on the Honda. Maybe it's because he's been riding a Suzuki since forever, but he just seemed more busy on the bike, almost Travis Pastrana-like (which he pretty much always has, only more now).
As for Short, his intensity shows whether he's practicing, talking with his team, going for a heat race win or even pushing his bike off the track. Millsaps may be Pastrana-like, but I'm starting to see a lot of
Jeff Stanton
in Andy Short.
Speaking of Pastrana, he raced last weekend too, but not in Canada. Check out our Suzuki Between the Motos interview with Driver #199.
And a special congrats to a couple of Morgantown-area boys who went to Toronto and rode their first Supercross Lites' main events: Morgantown Honda-backed Logan Martin finished 13th and Sport Rider Kawasaki's Duane Evans finished 20th after suffering a flat tire. Good job, guys.
Ebay sale of the week: RacerXRay spotted this.
Let me turn this over to Ping out in California….
According to my best estimate, I have received right around 149 press releases from the BooKoo Arenacross series. The most recent of which stated that their series was going to be right here in So Cal this weekend. So, I am going to head down to Long Beach and find out what gives with all these e-mails. I might just take my bike down there with me. There are going to be quite a few supercross guys taking advantage of the event including Brett Metcalfe and Andrew McFarlane from the YOT team and Richie Owens, a newly signed Motoworld Racing/Yamaha rider.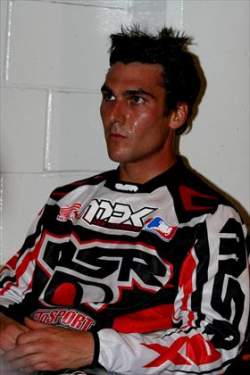 Nick's trip to Canada was last-minute, to say the least
photo: Matt Ware

Randy Lawrence told me about his trip to Toronto with one of the top riders he's working with, Nick Wey. Apparently, the decision for Nick and Randy to go was very last-minute. In fact, the only bike Nick could get was a 15-month-old practice bike that Wey had just brought back from Michigan.
"When he came in from the first practice, there was oil all over the motor," said Lawrence. "We were actually gluing pieces of the gasket together to just get through the weekend. The bike was horrible. So for Nick to go out and run fifth on that bike was really good. We were both happy to get out of there with that on that bike."
If you haven't heard about Ryan Villopoto by now, the Monster Energy/Pro Circuit Kawasaki rider broke his collarbone at the test track this week. According to his trainer, also Randy Lawrence, Ryan had surgery yesterday to plate the bone and is at home recovering. Randy explained what happened at the Kawasaki test facility: "We had just gotten there. I mean, Ryan was only on the track for maybe eight minutes. He did a few laps, but he was going around the whoops because they were muddy and he was just warming up. When he went through them the first time, he got a bunch of wheel spin and his front end dropped and he went over the bars."
The Monster Energy team has been hit with injuries hard this off-season—currently, Grant Langston is the only rider who is able to ride.
And Racer X ace photographer Simon Cudby had his 40th birthday this week. The British photo legend rented out the Competitive Edge Motocross Park for 50 of his closest friends. The boys at Fox made up a pretty sweet jersey for the vet rider. Anyone know how to sign up with the Over the Hill Gang?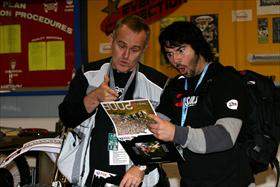 Simon and Dano look at Simon's etchings
photo: Matt Ware
Congrats to motocross rider and Olympic hero
Darren Rhalves
, who won last weekend's Birds of Prey Downhill ski race over Team USA teammate
Bode Miller
, and then finished second behind Miller the next day in the Giant Slalom. Rhalves is a regular at the crossover events, and his friend
Pat Schutte
says that NBC had contacted him for footage of Rhalves hanging out and riding with Carmichael at
Washougal
last summer will be used for the Olympics telecast. Congrats to Moto XXX Racing, which just brought Unbound Energy Drink on board as its "official" drink for the upcoming AMA/Amp'd Mobile Supercross and Toyota MX National seasons, effective immediately. According to their press release, "Unbound Energy Drink's deal makes Moto XXX Racing its exclusive team sponsorship in motocross, with the team of
Kyle Lewis
,
Tim Ferry
,
Josh Summey
and
Juss Lansoo
joining top notable individual motocross racers that run the Unbound logo as
Nick Wey
,
Chad Reed
and
Broc Hepler
.
Got this from the ever-friendly Joanne Pryor on the Supercross Superpass: "The first set of eBay auctions for 'The West' (8 events) will be ending this coming Wednesday, December 12, at 9 a.m. Asterisk's eBay auction program for Anaheim 1 includes VIP tickets, special access, Ricky Carmichael's jersey, pants AND helmet, a tire, and backpack full of apparel, product and magazine subscriptions (including Racer X, of course). Each event has a featured rider so check them all out. It is a great fan experience that supports the Asterisk Mobile Medical Center by providing supplies, staffing, and day-to-day operating expenses. Search 'Supercross Superpass' on eBay to bid. 'The East' auctions begin January 18, 2006."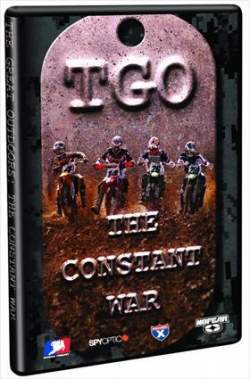 EJ recommends the newest Great Outdoors vid
Did you check out Ping and crew's
Racer X Tested Shootout
on the 2006 450s? He got
Greg Albertyn
,
Joe Oehlhof
,
Regis Harrington
and
Simon Cudby
together out at the highly regarded Competitive Edge MX Park for a daylong session, and then went over how everyone felt and rated the bikes.
Well, everyone but Albertyn. Because he's earned paychecks before from Kawasaki (way, way back in his 125 GP days), Honda (two world titles) and Suzuki (one world title, one national title), he didn't want to be on record rating them, but he did give some excellent input to us on each bike.
And speaking of Competitive Edge, "It's FINALLY here! Competitive Edge MX Park located in Hespera, California, is opening their gates to the public," wrote Kristen Oehlhof of the hot new track in Southern California. "Our grand opening starts on December 17th - gates open at 8am and practice starts at 9 a.m. Two of the seven tracks will be available for practice. The Outdoor National Track and the Kids Track will both be open for public practice. Each track is fully fenced with it's own flaggers, security and medical services. We will be open only Saturdays and Sundays from 9 a.m. to 2 p.m. for practice. We will also be open December 27 thru January 1 for the holiday season (check the website for times).
"Beginning in February 2006, we will open Thursday thru Sunday weekly. Check out our website for directions, membership information and costs. We look forward to having the best motorcycle enthusiasts in town come check us out! www.compedgemxpark.com"
Okay, cool, Fubar just checked in from Vancouver's Friday practice:
"Stewart was the fastest, then RC and Ivan. But Reed did not wear his transponder. Still, he looked ten times better than he did last week. Also, and not sure what's going on with this, but Vuillemin is here wearing Thor gear!
"Davi Millsaps missed the first practice because his luggage never showed up! He didn't want to ride without his knee braces. But it did arrive in time for him to ride in the unseeded practice.
"Fastest in the SX Lites were Short, then Ryan Morais, then Billy Laninovich," added Fubar, who didn't actually say "SX Lites," but I know Steve Whitelock is reading this. "Oh, and Tyler Evans is back on an RM250, so maybe the two-strokes aren't over yet!"
Look for lap times and more from Vancouver on www.supercross.cc.com.
Rick Mitchell sent this next commercial my way: it's a really cool video clip of a Honda ad from England. Turn up the sound and enjoy.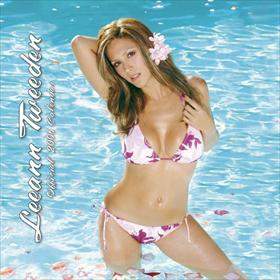 Imagine finding Leeann in your stocking…. Or better yet, her stockings!
Okay, it's that time of the year again: Miss
Leeann Tweeden
, the former Supercross "It Girl" turned supermodel and television hostess—and maybe most importantly, globe-trotting, morale-building, soldier-friendly USO Girl—has a calendar for you to buy your best friends (or yourself) for a stocking stuffer. Check it out at:
www.leeanntweeden.com
.
Oh yeah, I think Leeann is featured in the January issue of Stuff and the Jan./Feb. issue of FHM. Check her out…. But the don't boycott the magazine or the USO or whatever because she's wearing a bra.
Jimmy Button needs your help! I got this from the former Yamaha factory rider: "I have lost 2 of my jerseys from when I was racing. I have lost my 1990 jersey that has number 59 on it; I was wearing Honda TX-10 gear that year. The other jersey I am missing is from 1993, which is a number 25 AXO Suzuki jersey. I was hoping you might be able to post this, and if any of the readers out there have one of these I could buy it from them. I am framing up all my equipment from all my professional years racing and these are the only 2 missing of my 12 seasons."
If someone can give back either of those two shirts for Jimmy, it's worth two VIP press box tickets from Racer X—we're always here to support the riders. If you've got one from Jimmy, how cool would it be to give one back now? Contact me at: Letters@racerxill.com.
Here's another really, really cool gift idea:
Classic motocross prints
from
Charley Morey
!
And if you're looking for something else, like maybe a coffee table book to hook someone up with, you must check out Xavier Auduoard's The Great History of Supercross. Two hundred pages of Marty Tripes to James Stewart—it's amazing. www.mxbooks.com.
File this under When In Canada: Check out the shot of SoCal Racing's Ron Joynt and wife Janeen posing with the big trophy…. No, that's not the one they gave Stewart, but rather Lord Stanley's Cup. The Joynts and Racer X publisher Scott Wallenberg visited the Hockey Hall of Fame while in Toronto.
Ever go to the races and bet your friends on the podium? I was sitting with a diverse group of industry friends in Toronto, including Scott Link and Gabriele from Alpinestars, Smith's Mark Phares, Parts Unlimited's Jeff Fox and his son Justin, and a few others. We tried one of those podium polls in the SX Lites class and every single one of us had TWO of our three riders—Short and Ramsey—DNF the main event. Strangely enough, only one of us picked Millsaps to actually win…. Better luck next time, gentlemen. And each of you still owes me $5 (U.S.).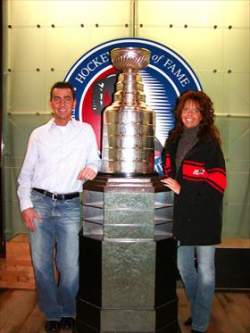 That's Stanley's Cup, not Stewart's
photo: Scott Wallenberg
Congratulations to
Ron Heben
, longtime industry friend and new manager of Team Honda's road racing program. Ron has been with Red Bull KTM for the past several years, but was at Honda a lifetime ago. Good luck, Ron, and don't be a stranger to motocross and off-road!
Finally, and very importantly, Jeff Emig checked in with us yesterday about a Riverside Press-Enterprise newspaper article about the ongoing battle to keep restrictions from being laid down to prevent motorcyclists from riding on their very own property. We got this letter today Bill Kuenzinger, the attorney for Jeremy McGrath and Rick Johnson, each of whom own property in Riverside County, California.
"Jeff is right to be concerned about what's happening in Riverside County, and all other enthusiasts in Riverside County should be as well. We have been trying to introduce the voice of reason in this process for many months now, with varying degrees of success. Although the two currently proposed ordinances have come a long way since they were initially drafted, they still smack of prejudice against the off-road community. The sound ordinance has a special section dedicated to off-highway vehicles, which is more strict than sound limits for other activities. The off-highway vehicle ordinance is, well, directed specifically at off-highway vehicles, and presents very troubling issues from the standpoint of a person's property rights. As Jeff notes, OHV operation will be limited to specific zones, whereas under current law, there is no such limitation.
"Likewise, owners who want to build jumps on their property which either require moving more than 50 cubic yards of dirt, or which are made out of man-made materials (such as Nate Adams' freestyle jumps), will have to get a conditional use permit from the County. The CUP process is extremely lengthy and expensive, costing many thousands of dollars which have to be paid to the County up front. There is no rational basis for this requirement. For many who see these types of things and say it doesn't affect them, they're wrong. Riverside isn't isolated in this issue, and more and more counties throughout the Country are enacting ordinances specifically directed at OHV operation. San Bernardino is going through the same process right now as well.
"So, thanks to Jeff for making the call to David. And thanks to Racer X for printing it. The more people are informed about this issue, the more they will hopefully become involved in the fight to protect their rights."
Okay, gotta go shovel snow. Enjoy the weekend and see you at the races. Thanks for reading Racerhead. Check back Sunday for more on Toronto—and don't worry, we won't print the winners' names in the headline and ruin the TV show for anyone again!