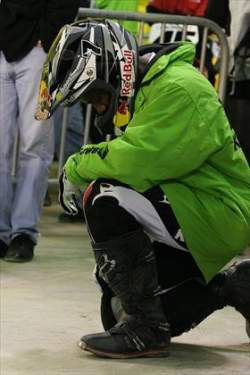 Stewart was focused and fast in Toronto
This was my first reaction after listening (not seeing) to Jim "Hollywood" Holley and Jason Weigandt's live broadcast at www.supercross.cc.com last Saturday night: So
James Stewart
did a RC on
Ricky Carmichael
by pocketing the Toronto main event. But I am not going to make the same mistake twice: I am resisting myself from jumping on the bandwagon. I am going to adopt a wait and watch approach here.
Don't get me wrong, I was one of the first to be genuinely excited about Stewart making it to the 250 class. Count me in among a few millions (trust me, the figure is right) who were rather bored by the Saturday-night-cum-Sunday afternoon annihilations that
Ricky Carmichael
authored. Be it under a dome or outdoors, Ricky would certainly run the table any day for any point of time—unless, of course, it happens to be one wet and un-motorable Anaheim in January.
I digress here. I was certainly rooting for
Bubba
to make it tough fight with RC in the 250 class. Alas, we all know how that panned out. The point I am trying to make is James did put on a wonderful show at Toronto. He took the lead, went down and mounted a fight and methodically grinded RC, crowding his shadow and finally passing him with more brain than brawn and won this race. It's the exact same formula that RC has used on several occasions: to go out and pound out the competition is one thing but to line up at the gate and out-smart your rival by adopting similar tactics to what your bitter rival always relies on, well, that says something.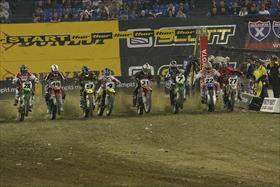 RC got pinched off on the start as the Kwackers of Stewart (7) and Michael Byrne got good jumps
Just wondering what
Bubba
was doing during the break, playing chess? (A confession: I just can't stop myself from drooling over
Bubba
's skills.) Cut back to reality, I am not about to go out on a limb and say Stewart will be the new incumbent to the throne at the end of the indoor season.
First up, the season hasn't started yet and secondly most of the riders would treat these World SX meets as more of a training ground to get them up to speed, fine-tune their bikes, and measure their fitness levels with the others. Rather than working on a private testing session somewhere down in Florida or SoCal, the Canadian races give the riders an opportunity to tweak themselves to "race-trim."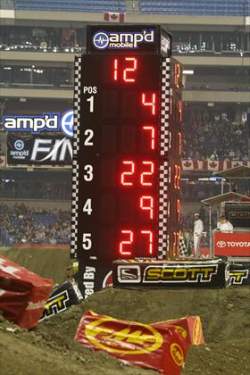 The 12th lap position poll (a cool new addition) shows RC leading Stewart and Chad Reed
If Stewart can hold to such levels of riding and sustain his performance throughout the season, then the sport of motocross is sure to attract more eyeballs, grab its share of ink in the newsprint and also hold the attention of a few talking heads on sports-talk radio. Since everyone's caught up on that
Ivan Tedesco
-
Mike Alessi
slugfest and comparing that to NASCAR's version of Sunday afternoon fight between the Allison brothers and Cale Yarborough, to a certain extent fits the bill. NASCAR's reach and popularity grew bazillion times since the fracas that occurred in the infield of Daytona International Speedway, which incidentally was the first race to be telecast live on network TV. What a strange coincidence…. Granted, a knuckles-knocking, noggins-nodded, free-for-all not only makes for better TV but also it fires the sport up, shakes it to no uncertain amounts.
Similarly, one fight doesn't a season make. NASCAR, after getting its share of the market, ought to have had a good product on the ground (read: competition) to sustain its fan base. In fact, NASCAR produced nine winners in the 1979 season (and that included the current Fox analyst Darrell Waltrip). It's here that motocross needs to capitalize. Now since it has gotten the rude awakening that it has craved for years, the sport needs some nip-and-tuck stuff to woo the casual fan and also those straight-jacketed sports editors in mainstream newspapers.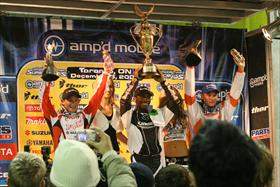 The all-Florida-residents podium: RC, JBS, and Reed
James Stewart picking up a win at Toronto is all nice and sweet but he has to translate his form once the season becomes a grind, like well into March and April. If
Bubba
can manage to hound RC like he did at Rogers Center then the sport is bound to grow in the coming years. It's certainly exciting times ahead!