Bench Racing Ammo: Great Races

An original Anaheim '86 ticket

After the dust settled at the Toronto Supercross this past weekend—an awesome battle between Team Kawasaki's James Stewart and Makita Suzuki's Ricky Carmichael—some of the announcers in the building and on the webcast called the opening round of the 2006 Amp'd Mobile World Supercross GP possibly the best race since the legendary '86 Anaheim SX. That particular race is etched in fans' memories, as they witnessed an amazing battle between Honda teammates David Bailey and Ricky Johnson, with Bailey ultimately prevailing. The Toronto race was definitely one of the best in a long time; it also got us flashing back to some other amazing races in the two decades between Anaheim '86 and Toronto '05….
Atlanta 1989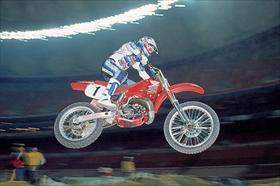 Rick Johnson Atlanta 1989
photo courtesy of Moto Verte
Honda's Ricky Johnson has been dominating the Camel Supercross Series with five wins in a row to start the year. His teammates Guy Cooper and Jeff Stanton battle up front in the old Fulton County Stadium while Johnson works his way through the pack. All three hook up in a duel, and Cooper crashes spectacularly in classic "Air Time" fashion. Then Johnson tries to knife underneath Stanton and washes out in a turn, allowing Stanton, #7, to take his first supercross win.
Seattle 1990

The infamous "block pass" race between Kawasaki's Jeff Matiasevich and Suzuki's Larry Ward. Ward has the Seattle fans on his side and the two riders stop, bump, block, and ram each other all night. Amazingly, they do this while pulling away from the rest of the pack! Ward ends up with his first supercross win and the crowd goes nuts.
Atlanta 1990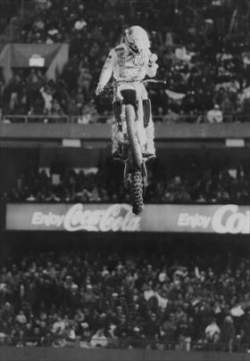 Jeff Ward in Atlant
photo: Dick Miller Archives
The famous "Battle of Atlanta," in which nearly 10 top supercross riders have a shot at the win. Johnny O'Mara gets out front before yielding to Damon Bradshaw; the Yamaha-mounted Bradshaw leads but bobbles, then Guy Cooper takes the lead but stalls. Bradshaw takes the lead again with Jeff Stanton close behind, but Stanton crashes; then Mike Kiedrowski catches Bradshaw and somehow manages to take both out. Cooper leads again, but Rick Johnson—trying to make a comeback from his wrist injury of a year ago—makes another pass on Coop! Cooper strikes back for the lead and a shot at what would be the first SX win of his career. But before Johnson can retaliate, Jeff Ward comes out of nowhere to pass RJ with two laps to go. Then, on the last lap, Ward puts a block pass on Cooper to take the win. AMAZING! (Cooper, by the way, would retire as one of the most beloved heroes in AMA Supercross, yet he would never actually win a race.)
Los Angeles 1990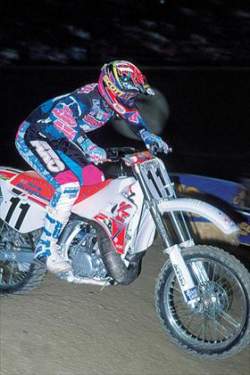 Damon Bradshaw
photo courtesy of Moto Verte
Jean-Michel Bayle gets a very rude welcome to the venerable Los Angeles Coliseum. After starting dead last on his factory Honda, he climbs through the pack to pass leader Damon Bradshaw with one lap to go. But atop the peristyle, in a dark corner, Bradshaw practically parks the Frenchman and then sprints off for the win. One year later, JMB gets his revenge by winning the AMA Camel Supercross title in only his second full year of U.S. Supercross.
Atlanta 1995

Jeremy McGrath wins the first five rounds in 1995, and the supercross win-streak record sits at six. MC goes after it in Atlanta, and he even wears a helmet cam for the ESPN2 broadcast. Early in the race he tries jumping to the inside in a corner and crashes into Honda of Troy's Mike Craig, sending both riders to the ground (this becomes an infamous helmet-cam shot). MC recovers and battles with Mike Kiedrowski and Jeff Emig for the lead, but
Mike LaRocco
, coming through the pack after one of his patented bad starts, passes everyone and takes the win.
Seattle 1996

Damon Huffman is a hot property in the 250 class after winning back-to-back 125 West SX titles. In Seattle, Huffman and McGrath both get bad starts and follow each other through the pack. Huffman is faster in the whoops, but McGrath has a tricky jump combination dialed in. They battle for about 15 laps, until Huffman's clutch begins to go south and he stalls. McGrath continues on in his quest for the perfect season, until …
St. Louis 1996

… Jeremy gets to St. Louis, the next-to-last round of the series. Local product Jeff Emig is fired up and
Mike LaRocco
gets a rare good start, so MC has his work cut out for him (and "Factory" Phil Lawrence is also in the mix). McGrath finally zaps LaRocco and looks to go after Emig, but LaRocco comes back with one of the all-time stuff jobs in a bowl turn. As McGrath said in Cycle News, "LaRocco stuffed the crap out of me!" The pass takes some wind out of Jeremy's sails, and while he is able to get LaRocco back, he can't get around Emig, who ends McGrath's 13-race win streak.
Los Angeles 1998

In a muddy opener at the Los Angeles Coliseum, it's Doug Henry getting out front on the production YZ400F's maiden voyage (Henry having won the '97 Las Vegas season finale on a white, pre-production thumper). Henry leads all the way while an unknown rider on #103 charges from way back in the pack. It's 125 World Champion Sebastien Tortelli, racing in the U.S. as a warm-up for the GPs. Tortelli passes everyone—even the announcers think he is a lapped rider at one point—and then Henry falls and stalls his thumper. Tortelli takes his first (and still only) supercross win.
Anaheim 2 and 3 2001

This is the changing of the guard. Jeremy McGrath wins the Anaheim opener,
Ricky Carmichael
strikes back at round two in San Diego, and then MC outduels RC at round three in Anaheim in a race where RC blocks MC, but then slows and lets the champ back by in a show of respect (sound familiar?). It turns out to be the last win of McGrath's career, because two weeks later, Carmichael runs him down on lap 17 to take the lead and the win at Anaheim 3. Carmichael would end the season with 13 straight wins, tying McGrath's all-time record.
Indianapolis 2002

Midway through the main event,
Travis Pastrana
and
Ricky Carmichael
are battling hard for the lead. RC and Pastrana then come together, resulting in Pastrana going down and the Indy fans erupting on RC in a chorus of boos. RC leads, but he's not out of it yet, and David Vuillemin passes him on the last lap in the funky bowl turn after the finish line to take the win.
Pontiac 2002

The race no one wanted to win. Early in the race,
Ricky Carmichael
loops out and looks to be out of contention. His Honda teammate Ernesto Fonseca leads the first half of the race before fading a little, handing the lead to Yamaha's
Tim Ferry
. Ezra Lusk then gets past Ferry briefly while they fight for the lead, but he falls in the whoops and drops to eighth. David Vuillemin makes it as high as third but has trouble and loses his momentum, finishing fourth.
Finally,
Nathan Ramsey
, who had fallen over early in the race, finds himself in the lead when the checkered flag flies. RC roars back to second, right on the rear fender of Ramsey's CRF450R (marking the first time a Honda thumper would win a main event). Jeremy McGrath finishes third on his Chaparral Yamaha.
Dallas 2003

The race is a rematch of sorts between Carmichael and Reed. The two have arguably the best AMA Supercross race of the 2003 season at Texas Stadium. The riders swap for the lead close to a dozen times during the 20-lap final. Reed finally opens up a small gap in the latter stages of the race.
Anaheim 3 2004

Chad Reed
and
Kevin Windham
battle for nearly the entire race, until Reed washes out in a turn trying for one last pass. Windham wins.
Indianapolis 2004

Mike LaRocco
pulls the holeshot and leads all 20 laps for an upset win in front of his incredibly loud hometown crowd, holding off a determined
Chad Reed
, who had fallen off the start. People in attendance claim it is the loudest crowd they've ever heard.
San Diego 2005

After leading almost the entire race, now-Suzuki-mounted RC succumbs to Chad Reed on the last lap, with defending champion Reed taking his first win of the season. The duo set such a blistering pace that they lap everyone except third-place
Mike LaRocco
(and they are maybe one turn away from doing that).
Atlanta 2005

After pulling the holeshot,
Chad Reed
loses the lead to RC on lap four. Ricky then washes out in a corner and drops to third behind Reed and Windham. After an aggressive pass on Windham, Carmichael puts his head down and does what many thought wouldn't happen: reels in and passes Reed for the win.
Pontiac 2005

After getting a third-place start, then getting passed by James Stewart, Yamaha's
Chad Reed
stays in the fight. Stewart crashes, then Reed passes Carmichael and battles with
Kevin Windham
for several laps before taking over the lead for the win.