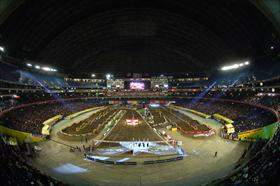 The Toronto SX was well-attended both in terms of fans and top riders, the TV got good reviews, and the racing was great
Some wins in supercross are just routine; some are a launch to a whole new era.
Toronto may just have been that. First, it was a new era already since nearly all of the top riders had switched to four-strokes. And Amp'd Mobile had come on board to sponsor the series. And this was Toronto, Canada, the first round of the Amp'd Mobile World Supercross GP, and most of the top riders were making their debuts here instead of waiting for Anaheim. Change was in the cold Canada air.
So we knew Toronto would be historic just for those reasons. But something even bigger might have happened—it may have ushered in the
James Stewart
era.
Or maybe not. This was billed by many of the riders as just a warm-up race. A chance to get used to 450s. A test. And it's a long, long season. Anything can happen, and there are only two riders out there with proven track records over the long championship haul in supercross, and
James Stewart
isn't one of them.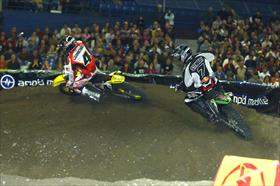 Stewart won the best main event since Atlanta. He made a pass that stuck with only two laps to go.
But. It was
Bubba
's first race on a 450 and his first race back from the strange illness that took him out of the U.S. Open and some of the AMA Motocross Nationals. And yet he had speed no one could match, and most of all, both the smarts and endurance to use it. On this night, at least,
Ricky Carmichael
and
Chad Reed
had no answers. James is saying it's a new beginning for him. So look out.
We'll know by May if the Toronto Supercross will be one to remember forever. I'm sure Carmichael and Reed are working really hard right now to make sure it isn't.
Here's how it unfolded. Stewart was fast in practice both days, but he crashed in the final session on Saturday (shades of Phoenix) while Carmichael set the fastest time. Reed wasn't quite with the pace, and he just didn't look aggressive. But he won his heat after a strong early challenge from new Makita Suzuki recruit
Ivan Tedesco
.
Ricky and James were up for heat two, but
Bubba
had the stuff to get out front and hold on for the win. Floor announcer Terry Boyd asked him if he had some more in reserve to show in the main, and
Bubba
smiled wide and said, "I guess you're about to find out."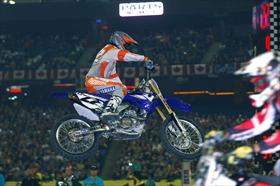 What happened to Reed? He has an off weekend, and he will regroup and be ready for Vancouver.
All of the riders mentioned how rough the track was, as the ruts were some of the worst they had seen in years on a supercross track.
The KX450Fs of Stewart and his teammate
Michael Byrne
got to turn one first in the main, while Carmichael had a bad start but amazingly climbed to second in one lap. Then Stewart washed out in the first turn and gave the lead away, which wasn't a surprise, considering how his career in the big Supercross class has been going.
Reed couldn't hang with Carmichael, and with Stewart recovering from a crash, it looked like business as usual for the defending champion. Reed bobbled and Stewart got into second, but he was 4.5 seconds behind RC.
But he was going faster. About halfway through, he was right on Ricky's rear wheel. If recent history was any indication, this would be the part of the race where James berserked it and went into win-or-crash mode trying to beat Carmichael.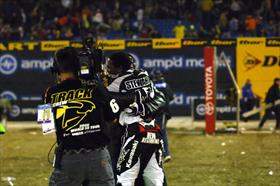 Stewart and Big James celebrate
Instead, he slowed up and relaxed. He knew he had the speed to win, so he rode calm and patient. This was the lesson everyone has been waiting for
Bubba
to learn, and he was doing well, shadowing Carmichael everywhere but not even trying to make a pass. In fact, he even slowed up on purpose in some sections, just to make sure Ricky stayed ahead of him.
After the race, Stewart explained that he was just trying to learn from the greatest rider of all time, and he didn't want Ricky to see his lines. Others would say, simply, that
Bubba
was just toying with RC (that's what Carmichael said, for example). Either way, the crowd was on its feet and going crazy, until lap 17 when
Bubba
decided it was time to go. The same slow, inside line he had been taking in turn three was suddenly the place to go, so he grabbed a handful of throttle and jumped past Ricky, soon pulling away in rapid fashion.
We all knew Stewart was fast, but now we know he's smart enough to use it only when he needs to. Look out.
Carmichael took second, admitted James was faster, and said he learned a lot. Reed just never looked comfortable and took third, with Tedesco fourth and MDK Honda's
Nick Wey
fifth. Reed echoed that this was just a warm-up race for the title Yamaha really wants, the Amp'd Mobile AMA Supercross title.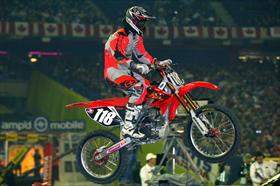 Milsaps saved the day for American Honda. With Short out, he passed KTM teammates Ramsey and Hansen for the win.
Stewart had a huge celebration after the finish, with his dad and the relieved Kawasaki crew joining him on the start straight. It's been a long year for those guys. Let's see if they can survive an even longer one.
In the Lites division,
Andrew Short
had a win seemingly in the bag until something happened to his bike—he was seen pushing it back to the pits. Behind him, his Honda teammate
Davi Millsaps
and Red Bull KTM riders
Nate Ramsey
and
Josh Hansen
were battling. Millsaps passed Ramsey and Ramsey made a rather dumb move and ran right into Davi's rear wheel, so he crashed. Millsaps then caught Hansen, bobbled, then regrouped and caught him again. They put on a brief show, setting each other up and cutting underneath each other in every turn, just like what happened a few times last year. Eventually, Millsaps got the lead and pulled away. That's quite a debut on his new Honda.