Team Kawasaki's James Stewart reinvented himself in the last two months, and it worked. He showed up at round one of the Amp'd Mobile World Supercross GP in Toronto—his first out-of-the-country professional race—with "New Beginning" on his pants and a fresh outlook upstairs. When the weekend was over, Stewart was the victor, winning a thrilling Supercross main event over Ricky Carmichael.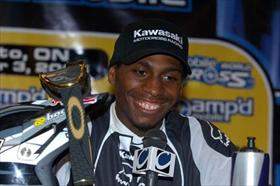 The New Beginning? It sure looks that way so far.

Just two months after he unexpectedly pulled out of the U.S. Open with what turned out to be a chronic digestive-tract infection, Stewart was recovered and healthy, and he also had a new bike, the KX450F, a new #7 replacing his trademark #259, and no mention of the old "Bubba" nickname that he wants to leave behind.
With Stewart, Carmichael, and Reed (and just about everyone) making the switch to four-stroke 450s in the premier Supercross class, Toronto (and Vancouver in a week) took on a new importance as "warm-up" races for Anaheim. Stewart won the first battle, but there are 17 to go.

Racer X: James, first of all, what a night, huh?
James Stewart: Oh, yeah. Definitely. It was a good weekend. I kind of struggled through practice. I went down a couple of times and just asked myself, "What are you doing?" I felt that I was really strong tonight, and I proved that. I'm really looking forward to next week, then going home and working. The best part about it is, we still have a long ways until Anaheim.

I want to talk about your "new beginning" a little bit, but first some more on what happened on the track. When you got here, what did you see? Was it a track that you thought would suit you and your new 450?
I didn't know. I knew the track was going to be really rutted tonight, so it was going to be tough. There were a lot of tricky lines out there. It looked like it worked out. I think this was the hardest track for a 450 right now—really tight corners and a lot of ruts. I feel that I have a lot of improvements to do. I feel good, and I'm ready to get the ball rolling.

What's the story on 450s now? It looks like everyone made the switch, and a month ago we weren't even sure. Is this a four-stroke 450 class now?
I guess it is. I know the reason I rode mine: I feel that it's the best bike Kawasaki has ever made. These guys busted their balls to build one that we could race. It has been a great, uh, one race, I guess [laughs]. I'm really looking forward to moving on. It's the 450 class now.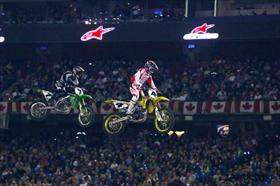 Stewart and RC were this close for eight laps!

What did you think when Ricky Carmichael said you were the fastest guy out there tonight?
I don't know. I know it was hard for him to say that, and I know he's going to go work hard. It just feels good to be on top. I was real happy tonight, but once I get on the plane tomorrow, it's all business. Then Monday morning it's time to get back to work.

How did you tip over in the first turn after a couple of laps? Did you think there was no chance you could get up and make that up?
If I would have thought there was no chance I would have won the race, I would have never done it. Right now, I really believe in myself and I really believe in my team. I feel like I did my homework this off-season. I hit a rock going into that first turn. The track was really rocky and I just leaned over and hit a rock and just pushed it out but never stalled. I got back up and got focused.

This "New Beginning"—you have a new number, a new bike, you cleared a health problem, and some new things. What prompted you to reinvent yourself, if we can call it that?
I felt like last year, what I did worked for the 125 class. I really learned a lot in this last season, especially outdoors, being sick and everything. All that stuff I could still pull off in the 125 class, you can't do it now. It was just a new beginning for me, and it's just how it sounds. It is a new beginning. It's time to work, and it's not over—it's a long ways from over.

On the health thing, how did you get over it? Antibiotics?
Yeah, a lot of those. I really have to thank my doctor back home. He really got me ready for this race. I need to keep the ball rolling. It felt good.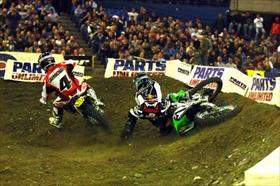 Two laps into the main at Toronto, it appeared Stewart just handed RC a gift when he lost the lead on the second lap. It was just the beginning of a thrilling main event.

How did it go between yourself and Tony Haynes when you discussed switching your number to 7, and was that number switch important to you?
I've been thinking about it for a while now, and it just seemed that this was the right time. The conversation was good. Tony is a lifelong friend and always will be. With the new bike and the new number, I just thought it was the right decision for now. If I ever win a Supercross championship, I will wear that #1 plate for the fans. I want to be that guy that steps up and does it.

Before this, you hadn't done a lot of extra or warm-up races. I guess you're glad you made the trip now?
Oh, yeah, I'm definitely glad. Clear Channel put on a great race. I just want to thank my team and the new KX450F.

We'll save the Motocross des Nations question for the summer!
[Laughs] Okay!

Thanks for the time, and congratulations.
Thanks, Steve.