Thursday Rev-up: Thrill Bill Volume 1
Hello, everyone, and welcome to the Rev Up—a day late but just in time for supercross. You know, its times like these that make me reflect on my favorite quote from Ferris Bueller. It reads, "Like moves pretty fast. If you don't stop and take a look around once in a while, you could miss it." Can we really be on the cusp of another supercross season opener? It seems such a short time ago that we were watching Ivan and Mikey-boy roll around in the Glen Helen sand. And if you listen hard enough, you can still hear the echo of air horns and chainsaws from the Motocross of Nations in France. And I bet when the janitor at the MGM Grand Garden Arena took to the floors of the arena this morning, he could still smell the premix (from the mini class, at least).

Be that as it may, the calendar on my watch reads December 1st. As you read this, a track is built in Toronto! The press conference is already finished! And there will be 17 more tracks just like it on this year's thrill-bill (18 if you count the new and vastly improved Daytona event). Practice is soon to start! Waiting in the wings are the best supercross riders on the planet. The warning shots have been firing for a couple of weeks. We've seen flashes of supercross bikes on Speed Channel commercials, The Motocross Files history documentaries on the same channel, and interviews in USA Today featuring Ricky Carmichael and James Stewart. For all of you supercross fanatics, have no fear; flying time is here! Here comes the Rev Up!

There is so much to write about as we enter this all-important season for our sport. There is more global awareness than ever before. A TV deal is in place and we will have next-day coverage of just about all of the SX races. All of these things have been manifested from a simple source. This energy we feel is the result of an unbalanced equation. This equation has been desperately trying to balance itself out for the past 2 years. The question is simple, "Who is the best Supercross rider on the planet?" The variables have been, for the most part, narrowed down to three possibilities. As the clash of combat draws near, let's go back to the basics. Let's take a closer look at these three possibilities—all three of whom are in Canada right now—and break down their individual art of racing.


Chapter 1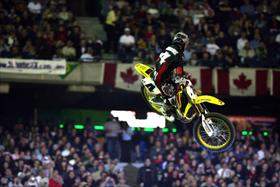 RC in Canada last December. This time, he's
not alone.
Simon Cudby
This could be the beginning of the end for
Ricky Carmichael
. That may sound cryptic, but this is more than likely the last time we will # 4 compete in an entire supercross season. Ricky has a chance to do what very few, if any champion has ever done—RC has a chance to race his way into (motocross) retirement as the undefeated (outdoors at least), all-conquering Champion of the World. For 9 years, Ricky has never lost a title defense. Yet he was supposed to be washed up after blowing out his knee. He was supposed to finish 3rd to
Chad Reed
and Stewart in 2005. Supposed to suck on a Suzuki…
Turns out he wasn't washed up. Turns out he came into last year with more speed and determination that he had ever shown and won the AMA Supercross title with one round remaining (and the world title with maybe a month remaining). There is nothing more for RC to prove; no more records to break or doubters to quiet. He is the GOAT. But put yourself in his shoes. After all of those years of training, and winning, and giving it 100%, how hard would you work for one last effort? You are only as good as your last ride, right? Okay, not really. But Ricky wants you to remember him as the best there ever was. He is the best there ever was. And if he wins his 5th SX title in 2006, he can take the next step towards being the best there ever will be. Jeremy is, was, and will always be the King of Supercross, but RC's broader attack and much larger trophy case makes him the best all-around.

Chapter 2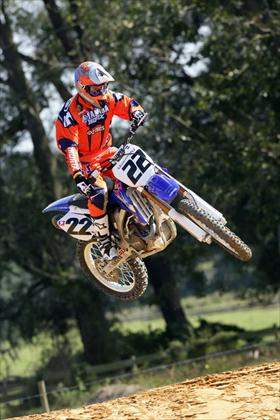 Reed has been putting in endless laps his YZ450F around his private SX in Florida.
Simon Cudby
Chad Reed
will change roles this year. As last year's defending champion and preseason title favorite, # 22 will arrive in 2006 with a new mindset and a new machine. There has been very, very little talk about the prowess of the new factory Yamaha YZ450. There has been even less footage shot of it in action on a SX track. What we do know is that less than a week after its introduction,
Chad Reed
committed himself to the machine for supercross. Chad is already the best whoop rider (read: steadiest) in the game, and this new tuning fork-adorned thumper may further his abilities in the great equalizer on the indoor tracks. Reed needs a little confidence if he wants to regain the mojo that saw him dominate the second half of last year's series. A win here in Toronto, would deliver just that. There is a lot of grey area surrounding
Chad Reed
. One thing is for certain, he has what it takes to make things more black and white, and checkered, for him.
Chapter 3
-Revenge is a dish best served up cold
Bubba will be out for revenge, folks. After riding through what had to be the biggest pressure cooker of all-time, James Stewart is probably the happiest rider in the world to see the end of 2005. Since Stewart was 7 years old, he has been a champion. In fact, he hadn't so much as been challenged since then.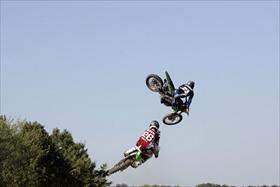 Next picture you see of Bubba, he will be
wearing #7.
Chris Tedesco
James rode a wave of admiration, attention and success all the way to the watery starting gate of Anaheim 1 on January 8, 2005. Not long after, the wave broke. A lot happens to a rider when he moves to the 250 class; immediate success is very uncommon. Even more happens to a person when they are 19 years old. Again, making the right decisions and doing and saying the right thing is very uncommon.
To say a lot has changes for James for the 2006 season is a gigantic understatement. He will be riding a new bike, he has moved home to Florida, and he will be riding without the # 259 for the first time in his professional career.* James appears to be making some big moves to change his aura. He needed to. It was too much too fast for the Floridian, and 2005 did a painful job of slowing things down. James may not be alone in the "I have something to prove category" category (see Chapter 2 above). And in my opinion, he has everything to prove. There are no more excuses and no more room for error. Is James the chosen one? A lot of that will be answered this weekend. I have a feeling we are going to see something very, very frightful. Bubba riding supercross on a 450? Look out.

The time has come. Hark, the air horns in the distance. Feel the thunder roll. There are more top pilots than the three I mentioned above that will jump to the front line this weekend, and their story will be told in volume 2 next Thursday. Until then, listen to the races on www.supercross.cc.com, watch the races come Sunday afternoon on Speed Channel, and don't forget to check back later for DC's take on it all in Racerhead.

Thanks for reading, see you next week.

-andy