After a year-and-a-half-long hiatus due to injury, 20-year-old WMA Pro rider April Hodges is finally back on the motocross track. We spotted her at Gatorback Cycle Park last weekend during the Winter Olympics, where she was on a brand-new bike wearing brand-new gear. We talked to April this week to see how she's been and where she's going. Check out her website, www.aprilhodges.com, and be sure to show her and her sponsors some support by clicking on the logos/links at the bottom of the page.
Racer X: Let's start off by talking about the Winter Olympics. How did that race go for you?
April Hodges: Well, it went good considering I've been out for a year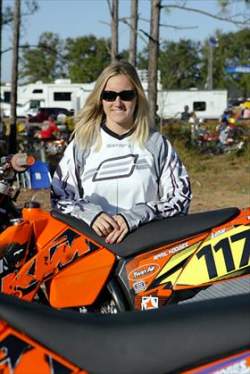 After over a year hiatus, April Hodges is back to racing motocross.
photo: billsmxphotos.com
and a half, but I was hoping to do better. But I know now what I have to work on and how much speed I have to gain to be back up at the front. But my bike blew up in the first moto, and I was running, like, sixth at the time. And in the second moto I had to ride a two-stroke, so I got a bad start but I worked up and did well considering that.
How do you like the KTM250SX-F?
I just got it and I absolutely love it—it's a nice bike.
Well, why were you out for a year and a half?
I broke my leg at a regional for Loretta's two years ago and I had a rod and four screws put in. My dad didn't want me to race until the rod was taken out, because of the risk, so I had two different surgeries on it. It was pretty bad, but I'm 110 percent right now and feel really good. I've been going to the gym and I'm preparing myself to be back up front again. I just started riding about a month before the Mini Os, so I wasn't on the bike that much before the race.
Give us some background about yourself. How old are you, where do you live, and what do you do besides motocross racing?
I'm 20 years old and I'm from Palm Beach, Florida. I just hang out with Tarah Gieger a lot. We ride and surf together all the time. And I also film for a reality TV show. It's called 2 Xtreem and it's on the Sunsports Network, but it's going to hopefully go on other networks pretty soon.
What's that show about?
We have different projects, like this one time we did something to a street bike, modified it and then took it out and rode it. We then have pros come and do the builds with us. We had a couple road racing pros, Jason DiSalvo and Aaron Yates, come down. And then we had some Enduro champions come down and help us. We do a lot of motorsports projects and we also go and attend events. It's a really cool show and a lot of people enjoy it.
It sounds cool. So, where do you practice?
Well, Okeechobee closed down and that was my closest track—it was, like, 45 minutes away. But there are a couple tracks within an hour and some private tracks I can ride at.
I'm always interested to hear how women racers get started in the sport. What's your story?
My dad used to be a pro back in the '70s, and he didn't have a boy, so I was his boy! [Laughs] We just kind of went with it and I don't think he thought I'd stick with it. He got me a four-wheeler when I was 3 and I started racing a PW80 when I was 8 and I just stayed with it. We traveled so much and my dad is really supportive and takes me everywhere. Without him it wouldn't possible.
Is your dad your mechanic as well?
Yeah, he works on my bikes. He wants to do everything so it's all done correctly. He's been doing all my bikes since I was younger.
It definitely helps when you have a lot of support from your parents. Speaking of support, you used to be a Team Green rider, right?
I rode for Team Green for three years, I think. My last couple years on an 80 and my first year on the 125.
What made you switch from Kawasaki to KTM?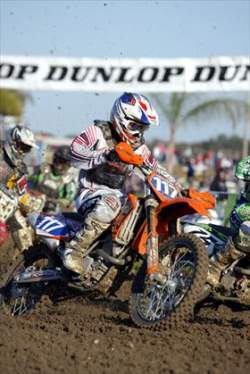 April back in action at the 2005 Winter Olympics in Gainesville, FL.
photo: billsmxphotos.com
Well, when I broke my leg I just decided that when I came back I just wanted to do everything new. I was given a really good offer from KTM and my dad and I decided to come back with a new image, so I changed everything, including going from Moose gear to Shift. So I changed everything and started fresh. My dad then said, "Do you want to change your number?" And I said, "No, let's not go that far!"
What's the significance of #117?
A long time ago I always wanted to be #7 or #17, and so did my friend Kyle Meeks, so we decided to do something different and use two #1s and a 7. So I took #117 and Kyle took #171. My cousin also did it and he was #711, but he quit. It was kind of cool and I grew to love it and I never wanted to change it.
Yeah, I never thought Bubba would switch his number. You know he's #7 now, right?
Did he really? I didn't know that! Wow, he's been riding #259 forever! I remember racing with him in the Mini Olympics on 60s and he crashed in front of me and I ran him over in the first turn! He was running #259 then!
Funny. So what are some of your past major accomplishments?
I was the WMA Amateur National Champion in 2003, right before I broke my leg, and then I won several off-road FTR series championships. I got sixth at Loretta Lynn's in 2002, I think.
How do you think you would've done at Loretta Lynn's the year you broke your leg?
Top five, for sure. I was training hard with Tarah and we were traveling everywhere together. I was getting pretty good speed by riding with her, so I think I would've been top five, for sure.
Do you think growing up in Florida is an advantage?
I think so, because we have nice weather year round and we have a lot of good riders and I'm friends with a lot of them, so we always ride together. And our tracks are really rough here and they're all sandy, so when we go to another track that is rough it doesn't really bother us because we're used to it.
Do you have a favorite track?
Southwick and Millville are my favorites.
Wow, you're definitely a sand rider. What are some of your goals for the future?
I hope this show will take off and that I can branch off and do different things and get opportunities. I would definitely like to stay within the motocross industry. I'm currently taking marketing classes at Indian River Community College for a marketing degree, so hopefully that will help me get into the industry.
I'm sure it'll help. Well, in closing, what can you tell us about your website, www.aprilhodges.com?
Oh, Bill Harmon made me a website in February of last year just to kind of get my name out there and for people to keep up with what I'm doing. I have my schedule for my show on there, too.
Thanks for your time, April. Who would you like to thank?
Definitely my mom, dad, and boyfriend for all of their support. Wes "Toast" Corbett, because he's been a lot of help, and also all of my sponsors…. Thanks!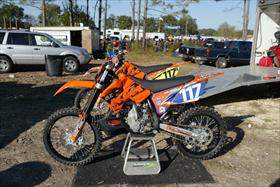 April is very happy with her new KTMs.
photo: billsmxphotos.com

April Hodges' sponsors: