Did you happen to catch The Motocross Files last night? It was an incredible half-hour documentary on Speed Channel about "Bad" Brad Lackey, America's first World Motocross Champion. The show was made by Todd Huffman and friends, and it's quite possibly one of the best motocross shows we've ever seen. So we rang Todd up as he was putting the finishing touches on next week's show (Tuesday, December 6, 10:30 p.m. EST on Speed), which will feature Marty Smith.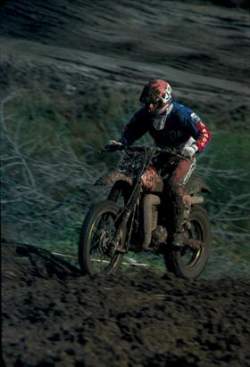 Brad Lackey was the featured legend in the first edition of The Motocross Files
photo: Kinney Jones

Racer X: Todd, first of all, I don't know if I should thank you or be mad at you. On one hand, you just gave us 30 great minutes of the first motocross files, but we're on a deadline, and when the whole office came to a standstill to watch the show, I had no choice but to join them!
Todd Huffman: [Laughs] Well, thank you! We hope we did the subject matter, Brad and Lori Lackey, justice on their story and hope to do the same for the remaining four guys, and maybe more after that. We'll see.

I had heard bits and pieces here and there about The Motocross Files and even spoke to you guys and contributed some old photos, but I was truly amazed and impressed by what I saw. That was like the Sports Century story on Walter Payton – it was really well done.
Well, we have a great team – but a very small team – of freelance people that work for other production houses and work out of their bedrooms and whatever, that have special talents when it comes to putting some of those sequences together. And of course you guys and some of the other publications, and people with old footage and Terry Good from www.mxworksbike.com was a tremendous supporter and contributor to the piece. And we wish we had an hour, because there was a lot of good stuff that didn't make it into the show.

I can only imagine, but I've got to tell you that there was a lot of good stuff that did make it into the show. Brad Lackey's story is a very complex one. He's right there at the birth of motocross in America, and he becomes the U.S. champion and then becomes the World Champion and then a vintage regular. It's hard to get 30 years of superstardom into 30 minutes, isn't it?
Yeah, that was the hardest part, and we kind of summed it up at the beginning of the show that these are the stories that were never heard before. We didn't want it to be just a recap show of results. And stories of Brad and Joel and the guys in that first Edison Dye trip in 1967, it started from there and then he went to Czecho. A lot of people knew he went to Europe but didn't know the details of what went on behind the Iron Curtain. And we had just enough good still photos that Brad and Lori supplied to us that kind of made the piece come alive. But traveling in Europe, raising kids and just never giving up – I think that was probably the biggest part of the story. And skipping ahead a few years to get into the meat of it to get him to that Luxembourg race in 1982, that was quite a challenge.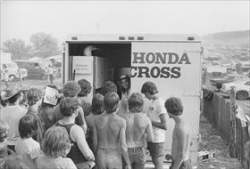 1970s superstar Marty Smith will be the topic of the next show

I'll admit that I wasn't able to watch it last night, but we're lucky enough to have a TiVo here in the office, and whenever I first walked in someone said, "Hey, who was Andre Malherbe?" I was like, "My God, it's been years since someone younger than me asked me that question!" So to see that come alive and the footage and everything – nice piece of detective work. I know you have a lot of sources, but someone has to identify all of that and pull it all together. As the producer visionary of all of this, it looks like a labor of detective work almost as much as it was a labor of love.
I've got to give a lot of credit to three people in particular. First would be Rick "Super Hunky" Siemen for kind of believing over two years ago that this was worth doing and hooking us up with Brad. And of course Brad and Marty Smith, the two guys that said, "Yeah, let's start shooting this thing." And then Brad and Lori opened up their house to us and said, "Here's all of the photos and videotapes." So we started looking through them and we'd be like, "Wait a second, there's a clip of Brad right on Andre Vromans' tail.…" Just finding these pieces, you have to give a lot of credit to the subject's themselves, because they have the best archives of information.

You said you didn't want it to be just a rehashing of the results, but it was almost like a "Who's Who" of motocross. Off the top of my head, and I know I'm going to forget someone, but I saw Hannah, DeCoster, Rick Johnson, Bevo Forti, Roy Janson, Danny LaPorte, Dave Arnold, Jim Felt … there were so many people. You definitely covered the bases there.
Well, even to dig out Brad's first CZ sponsor—the guy who sent him to Czecho—to sit down for two minutes, that was fantastic.

You mentioned Marty Smith. Can we expect something similar to this maybe next week?
I think so. I'm elbows-deep in Marty Smith right now. And him, as well as Roger DeCoster, are logging tape. And Marty has his own story and we're getting a lot of great footage from folks and still photos from people. It's a tight deadline for all of us. We're all up till midnight every night working on this thing and putting it on the airplane at the last minute and keeping our fingers crossed that everything is okay.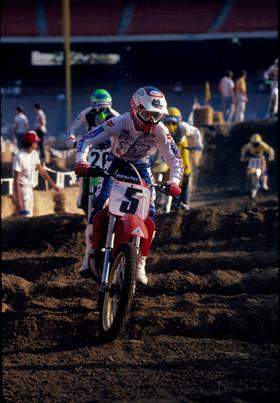 The King of the 1980s, Rick Johnson, gets his own show
photo: Dick Miller archives

From what I saw and with Speed getting behind Amp'd Mobile Supercross right now and maybe the outdoor nationals and GP's – I just think that this is a perfect fit. What about industry support? I saw some awesome Troy Lee ads with Jeff Ward wheelie-ing a mini bike and Lucas Oils. Are you getting good vibes from the industry?
Well, it's a little too soon to tell, but we got some nice kudos this morning from people. And I'll be honest, Davey, it's been a struggle for a couple years to get people interested in this. A couple of them got on early on, but unfortunately it's Speed's account so we can't officially get them involved with the show. But it was really Lucas Oil and Troy Lee right behind them that said they wanted to be involved and believed that the history of motocross should be told and that no one else is doing it and it's different enough from just a pure event-type racing show. So we hope to get some more support in the future once people see what the response was.

Well, there's some really big companies out there that I hope will read this and take a look at the next show, because this is the kind of thing that I think motocross needs, and I know I'm not alone in thinking that. If Super Hunky believes in it then we as an entire movement believe in it, because as Tracy Chapman says, "You don't know your past, you don't know your future."
Yeah, and it's hard to believe that we're covering stuff that is 30 years old. These were the guys that were my heroes when I was a kid and maybe there is some partiality of who we chose just based on my own roots in the sport.

You can't go wrong with "Bad" Brad, Marty Smith, and Roger DeCoster. Tell us when the last two guys are.
We have five shows, but everything is already in the can. Marty Smith is next week, followed by Roger DeCoster and Rick Johnson. And then we're finishing with Bob Hannah.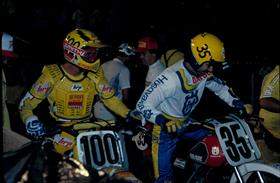 Huffman says the Bob Hannah show will be amazing
photo: Dick Miller archives

As far as truly retired guys go, that's pretty much the Mt. Rushmore of American motocross. And the content we have for Mr. Hannah is pretty unbelievable. I just wish Speed could give us an hour on Hannah, because he not only opened his house and live to us up in Boise, but he let us walk away with a ton of still photos, family clippings, stories, and even footage of him today. We can do a whole half-hour show of what Bob Hannah does today! It's just very classic stuff.

That reminds me, it's about time that Eric Johnson checks in with the man. "What About Bob?" has sort of been an annual hot-button topic here for us on Racer X Online. But I will say in one day more than the entire industry in a year. Todd, if people want to see it, is this first show going to re-air with Brad Lackey?
Yes. Actually, we'll do a run of five weeks with the shows and then they'll repeat on the same Tuesday. So Bob Hannah is the last of the five and airs on December 27 and then we'll start the following week with Brad Lackey again. And the Brad show may be just slightly different because we want to improve and have a couple things we'd like to fix on it.

Congratulations again, because I know you put a great deal of time and effort and probably a sizable amount of your own bank account into this. On behalf of motocross fans everywhere, I thank you – this is pretty cool.
I really appreciate that, Davey. And thanks to Racer X and all of your readers and fans that allows people like us to see the end of a couple years of work and effort. Not a whole bunch of money at the end of the day, but I think the future looks bright. A big thanks to all the people with still cameras, video and 8mm cameras who shot stuff way back then and are digging it out to contribute it to the show. We don't have a big budget to buy footage, but it's working out so far.

Thanks for your time, Todd, and we'll surely be tuning into Speed next Tuesday for the next episode of The Motocross Files.
Thank you, Davey.