5 Minutes with … Josh Hansen
he anticipation for the new supercross season is boiling over, as we are just a few days away from a glimpse of what is to come. All the talk is mostly over the "big three" this weekend in Canada, but the SX Lites class is set to be just as exciting this season. We caught up with Josh "Li'l Hanny" Hansen, since we haven't heard much from the Red Bull KTM rider who actually tied Grant Langston last season since his early departure last season.

Racer X
: Josh, what's up?
Josh Hansen
: Nothing at all. No, just kidding. I'm on my way to the Ellsinore supercross track.
You're about to be back in action after a long break. How's the body?

The body is good and I'm ready to go. Everything is going according to plan: The bike is good, and I'm well too. I'm just eager to get the series started.
Before we talk about this season, you took some blows about missing the outdoors. Lay it out to all the critics.

I think a lot of people thought that I skipped outdoors because I don't like it. Anyone who knows Larry Brooks or Kurt Nicoll knows they came from outdoors. I blew out my knee at the end of the supercross season. I finished out and it only got worse. On top of that, my wrist was messed up the whole time, so when I had it checked out finally, there were ligaments torn. We made the decision to take care of both injuries, and it took me out for a long time. That was that—I sat around healing. Now I'm ready for this season.
KTM threw you into the U.S. Open at the last minute and it worked out—well, pretty well besides the drama with Mike Brown. You had to be happy to come out with a second overall.
It definitely worked out good. It was very last-minute. I had only been riding a couple of weeks, so it was kind of "show up and race." I've never been a big fan of the U.S. Open with it being more or less an arenacross, but I did well and it helped me prepare to be ready coming into supercross.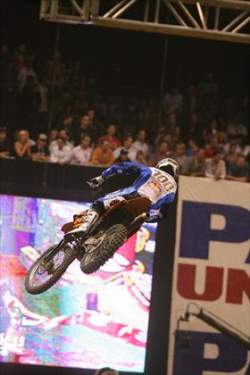 Hansen at the U.S. Open

I know you're back at the test track pounding out laps to make an assault on the Lites supercross championship that you almost had last season. Is the orange machinery running full speed ahead?
Yeah, KTM has made a big improvement from last year. In 2005, it was kind of the beginning for the 250F. Other teams like YoT and Pro Circuit have had 250F teams going before us. We worked the bugs out fast for just getting started and were strong all the way through. There are no excuses, and now I'm even more excited.
Are you looking forward to heading north to Canada to get your feet wet again this weekend?

Yes, I am going to Canada to get started so we know were going in the right direction. It's nice to have some races that don't count, for sure.
Not everyone is showing which coast they're riding, so what's it going to be?

I guess I'm ready for either one, but it's up to KTM, wherever they want me to go. I would rather race East Coast, though. It will probably end up that way, because I don't want to just let Millsaps win—and especially Langston!
Anything special in your program for 2006 that's different?

Same old routine here. I'm sticking with motos and my workouts.
Larry Brooks posted on MotoTalk that KTM is going to field a 250 team at a couple of rounds this year, then go big in 2007. Are you part of these plans?
Nope, I am strictly a Lites guy this year. My focus is on a championship right now. Maybe in 2007. I'm leaving the premier class to the big #800.
Last thing: You have spoken to me about the tracks, and you feel that there needs to be a little change.
I think they need to go back to being more difficult. Back in 1999 or 2000, you wouldn't see a Lites bike doing both triples, although there are four-strokes now. There was always a rhythm section or whoops which separated the men from the boys. That's just my feelings, so hopefully the message boards don't rag on me now!
Thanks for giving us the lowdown, Josh.
Later, Dono.