Tyler Evans
November 28, 2005 12:09pm
Tyler Evans, age 25, is an anachronism in modern-day supercross. While the new season—the new era—sees big corporations lining up to throw down their money for series title rights, team sponsorships, and rider-endorsement deals, our beloved sport is doing pretty well. But like anything, with all that money and wherewithal comes professionalism and NASCAR talk: "My Goodyears were really hooking up good tonight…."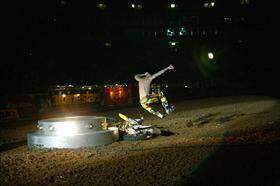 Tyler Evans has made a name for himself being supercross' bastard child

Done up in tattoos and befriended by bare-knuckle fighters, life-on-the-margins musicians, and the Metal Mulisha, Evans has his own way of doing things. And don't think his way is lost on the fans: When it comes time for the Applause-O-Meter at any given supercross, the native of Salinas, California, gets about as big a hand as any rider not up on the podium.

Racer X
: Tyler, what are you up to today?
Tyler Evans: Right now I'm actually heading to an L.A. Lakers game.
Nice. How have you been feeling?

Kind of shitty, actually. I had knee surgery again during the off-season. I was supposed to race the entire Australian Supercross Series, but I got hurt at the third round. So it was off to the doctor and my second knee surgery in two years.
How is the knee now?
It's at about 75 percent. It's not at 100 percent. I'm bummed I have to start the season like this, but I've been working with my old trainer and doing a lot of rehabilitation.
Have you been on the bike much?
For the last two weeks. I feel pretty good, but we're really up in the air on whether I'll ride the two-stroke or four-stroke. We're back and forth. All the guys are going to the four-stroke: RC,
Bubba
… I just heard
Nick Wey
is now going to ride one now too. A lot of guys are making the switch. I could race a 250, but I can afford to let everyone get a jump on me off the starts. My starts are shitty enough already. I can't get out of the gate in 15th when RC and
Bubba
are already gone.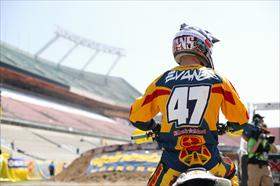 Evans tied James Stewart for tenth last year in the final rankings

Do you know what bike you'll race in Toronto and Vancouver?

I'm going to do the two Canadian races on the 450.
Have you been able to test the bike on the Suzuki track in Corona?

No, Suzuki won't let me ride on their track.
Why not?

Roger DeCoster, man. I was the Privateer of the Year last season, and I can't get anything from him. It's typical. I get my bikes and parts from Suzuki Support, so I guess it's a different deal.
Now are you a member of this new Rockstar Energy Suzuki outfit?

Here's the thing—and I want to make sure I get this straight—I have my own team, and it'll be called team Bloodshot/Rockstar Suzuki. I'll pit right next to the Rockstar Suzuki truck but work out of my own truck, like LaRocco and Windham do with the Factory Connection Honda team. I'll run the Rockstar logo on my bike, but I'm not a part of the four-man Rockstar team. I want to do it my own way with my own guys. I like having my own team. I do better that way.
With all the hype and drama going on at the races, at times I think people forget how competitive it is to just be in the top 10.
I know. I was the 2005 Clear Channel Entertainment Privateer of the Year. I had two goals in 2005: to be the Top Privateer and to be in the top 10 in the final supercross points. I accomplished both. I mean, I tied
James Stewart
for 10th in the points, but I consider that top 10. Hopefully everyone else does.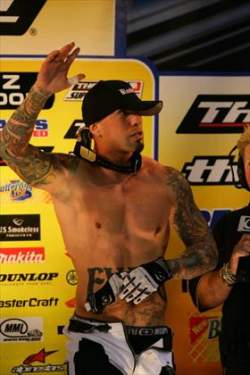 Suzuki-mounted Tyler was top privateer in 2005, but he's not welcome on the Suzuki SX test track

When you were younger, you got into more than your fair shape of scrapes with the SX establishment. Now you're a big part of the show.

Clear Channel Entertainment treats me really well—especially over the last two years. They share my vision: It's not just all about guys riding bikes. I try to hype things up more. Clear Channel likes it and lets me run with it.
You'll be inside the Rogers Centre in Toronto in less than five days. What's the game plan?

[
Laughs
] Just to survive! I just want to get through the next two weeks. Things are not together at all. My bikes and equipment still have a ways to go. I just want to get through these two races and get to the regular-season opener at Anaheim.
It's hard to believe the new supercross season is five days away.

I'll tell you what: I wish the season was two months away. It really creeps on you. And for all the guys that rode the nationals over the summer, man, they didn't even really get a break.
What do you hope to achieve in 2006?

To be in the top 10 when it's all over with and to get a few top-five finishes. That's the plan. There are a lot of good guys coming up into the class, but you know what? It's the same thing every year. Every year it all gets hyped up and it ends up being the same thing. I've been racing against these guys since I was 16 years old. Nothing has changed.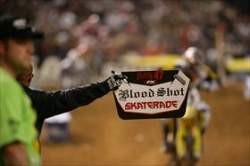 Tyler's main sponsors include Bloodshot

You'll have one of the best seats in the house, so what do you see playing out way up at the front end of the pack?

I hope
Ricky Carmichael
wins it. I have a lot of respect for all the guys. I've heard this is RC's last year. I know he's been training harder than ever so he can go out a champion. Regardless of what happens, though, he'll always be a champion. All I can say is, all those other guys better step it up if they want to beat him.
How have you been doing? Are you making a living at this?

I'll tell you what: 2006 will be the best season ever for me as far as money goes. Last season I started to make some money, where before I was spending everything I had to race. For the last three years, things have been getting better and better for me.
Who'll be helping you out this winter?

Suzuki Support, Bloodshot, Rockstar, Fly Clothing, and Rockford-Fosgate.
And the Metal Mulisha?

For sure. You know that? It's always been that way with those guys and always will. They aren't going anywhere.
Good luck in Canada, and be safe.

Thanks, Eric. I'll see you up there.