The holidays are always tough around here. Thanksgiving is just the start of the season that seems to get more and more busy with each passing year. It's not because there are more races to go to now—like the Winter Olympics, A Day in the Dirt, and the upcoming Amp'd Mobile World Supercross races—but because there are more kids, more homes to visit, more pages in the magazines, and more event programs to put out. So this week was a busy one, and thus the 24-hour delay on posting this "special edition" of Racerhead.
But really, the only thing that makes it so special is the fact that it's late. I once promised Chris Hultner when we were starting the magazine that I wouldn't miss a day of Racerhead. So sorry, Chris, and I hope it's a hell of a lot warmer at your new digs in Oklahoma than it is here in West Virginia.
Having complained about the weather and how busy we've been, it's only fair to mention how lucky we are to not be in the predicament of some families. There are men and women stationed all over the world who missed Thanksgiving with their families because they are fighting a war. We should all be thankful for them.
Which brings me to this note from
Andrew Lourake
:
"Just a quick note to let you know the weather here in Washington, DC, cleared up enough on Wednesday for us to load up the Wounded Warrior Project van at Walter Reed Army Medical Center with some patients and family to go to Travis Pastrana's home for a little R&R. Travis and Robert Pastrana were, as always, the most gracious of hosts. The crew got to see a freestyle guy from South America master his backflip skills in the foam pit, then out to the dirt area to watch him land one there. Travis even landed one on dirt on an 80 after a challenge from one of his friends. Travis also had a very special guest, a young boy who has cancer and was there through the Make-A-Wish Foundation. He was having the time of his life taking pointers from his idol. As the evening rolled in, we all went up to his house to watch his new video Nitro Circus 3. If you haven't seen it yet, it is a must for the collection!
"It truly was the highlight of their time here at Walter Reed, a time that for many is the worst in their lives. Travis simply made their time here more bearable by giving them a positive memory to look back on. You still can't wipe the smiles off their faces. Thanks again to Travis and his father Robert for taking the time to make everyone feel special."
Travis is an idol to many, of course, and so was a man named George Best. Arguably one of the greatest soccer players in the history of the sport, the Manchester United and Northern Ireland player pretty much finally drank himself to death this week. Having had a liver transplant three years again, Best went back to the pubs and ultimately paid the steepest price of all for his inability to control his own drink.
"Unfortunately there is no solution to alcohol, you can't make it go away," Best wrote in a recent update to his second autobiography, Blessed. "Drink is the only opponent I've been unable to beat."
Why bring up George Best? With three lads in the company, soccer comes up often, and so did the great George Best.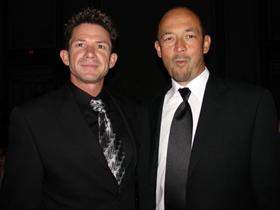 Chuck Graves and Mike Gosselaar at the AMA Banquet
photo: Miriam Deitcher
The annual AMA Pro Racing Banquet was a great party on Sunday night. The big news was the announcement of Toyota as the new AMA Motocross Nationals series title sponsor. This marked a hopeful turning point for the outdoor series, which did not have a title sponsor this year, nor a very helpful television package. But Toyota seems very aggressive and should be a great partner for AMA Pro Racing.
To read more about the new sponsorship package, check out our Suzuki Between the Motos conversation with AMA Pro's John Farris from Wednesday.
Before announcing the new partner, the AMA handed Ricky Carmichael yet another AMA Pro Racing/Speed Channel Rider of the Year, for the fourth time. RC was on hand to accept the new Rolex that came along with the award, and he was gracious enough to pay his respects to all of the other nominees—AMA Superbike Champ Mat Mladin, dirt track legend Chris Carr, AMA Pro Honda Oils Supersport champ Tommy Hayden, and RC's new Suzuki teammate Ivan Tedesco, who of course won both 125 titles last year—then he and his trainer, Aldon Baker, headed back to the airport. RC was in town for less than 24 hours, because he's got some racing to so this coming weekend!
It's hard to believe that the Toronto Supercross is literally right around the corner. Exactly seven days from now, RC will line up against Chad Reed and James Stewart in what promises to be a glimpse into the immediate future of U.S. Supercross. Pretty much every top guy will be on a 450cc thumper at the SkyDome, and the only guys who will still be on two-strokes full-time—BooKoo Honda's David Vuillemin and seven-time champ Jeremy McGrath, the part-timer for Team Honda—will not be racing in Toronto.
As far as Jeremy goes, there's been some talk on the boards that he may in fact be switching over to four-strokes after all—his close friend and former team manager Larry Brooks hinted at that possible scenario over on Mototalk. All I know is that when I spoke to Jeremy yesterday for another magazine project, he didn't mention anything about switching, though he did say that this coming week is his "hell week," where he has to pull everything together and get focused on Anaheim 1. So if a change is gonna come, we'll be hearing about it soon enough.
Stay tuned all week long to Racer X Online for news and updates from Toronto, and also keep an eye on
Racer X Canada
as supercross heads to their neck of the woods.
Who do you think will win in Toronto? That's the subject of this week's Troy Lee Designs/Racer X Online Poll. Vote now!
You will be able to see the Amp'd Mobile Supercross race next Sunday afternoon at 6:00 p.m. EST on Speed Channel. You can also listen to former WSX Champ Jim Holley and Jason Weigandt as they do the live webcast on Saturday night over on www.supercross.cc.com.
This is only a guess, but with Reed and Stewart and more following Carmichael to Canada, fans up there can look forward to a long-term extension of the race dates in Toronto and Vancouver.
Larry Brooks, now the Red Bull KTM manager, also offered some insight into the rest of the 2006 Amp'd Mobile Supercross Series on Mototalk: "I think this year is going to be tough, for sure. Last year [2005] the Lites class was stacked and now this year is going to harder. We are going to have a fun year with all the competition. There are some hard-charging racers and everyone is wanting to win…. KTM will field a 250 [premier class] at a couple of races in 2006 and then go big in 2007; we will have to wait to race the big class. The way the AMA has named the two classes [Lites and Supercross], sponsors don't want to race in the Lites class and only in the Supercross class. Bad call by changing the names of the classes. It is making the Lites class like a lesser support class. It is spilling over into the TV coverage. This is a Bad Deal for the 125 teams!!! So we are having to change our views of class choices."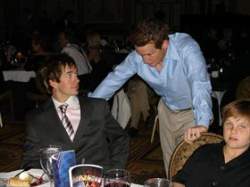 Tommy Hayden and RC
photo: Miriam Deitcher
McGrath, by the way, is planning on doing six races at the minimum in 2006. After that, he will assess where he is and what he and Honda want to do from there. Jeremy and his wife,
Kim
, are also expecting a little girl come December 14, Kim's due date. He is totally ready but also totally getting nervous!
In other relationship news, Nick and Jessica may have broken up, but Michael Byrne and his girlfriend, Therese Clarke, just got engaged last week while on a helicopter ride over Los Angeles. Congrats to Michael and his fiancée!
Back to Las Vegas. I didn't attend the first EnduroCross last fall, which was won by Ryan Hughes, but I did hear that it was a pretty cool event. Well, after having attended last Saturday night's amazing event at the Orleans, I have to say that it's beyond cool—it was just an incredible night of racing!
EnduroCross is not supercross—not even close. Rather than a jumpy, vertical motocross racetrack, it's a slow obstacle course laid down on the floor of an arena. There's no way anyone got out of second gear, and there was hardly any airtime at all. But the racing was intense, as the riders challenged the track as much as they challenged one another. The sold-out crowd of maybe 6,000 absolutely loved it.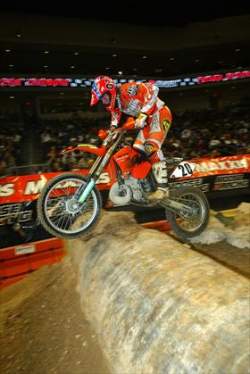 David Knight dominated the 2nd Annual EnduroCross
photo: Jonty Edmunds
Hughes was there again and seemed like he would win again, especially after posting the fastest qualifying time and then winning an exciting heat race over fellow former motocrosser
John Dowd
. But in the main event, Ryno made a mistake while chasing after
David Knight
, the big KTM rider from the Isle of Man, and couldn't get his rhythm back. He fell a bunch more, and Knight rode off with another big win, adding EnduroCross to his '05 collection that also includes the ISDE overall, the Erzburg Rally, the World Enduro Championship, and the Red Bull Last Man Standing competition. This Knight guy is really, really good.
Ping checked in from the West Coast, but with just about everyone hunkering down for the Toronto SX, not to mention getting through the first big holiday of the season, or even flying off to Florida for the Winter Olympics, there's just not much going on in the supercross world:
"The big event out here this weekend is the Day in the Dirt," wrote Ping on IM. "It is at Gorman's I-5 MX this year. The course is apparently amazing. It's super long and much more of a Grand Prix than the course at LACR. Bring your mittens, though, because the high is only going to be 50 on Sunday."
There's also a supercross race going on over in Northern Ireland. To learn more about that, check out www.belfastsupercross.com.
Down at the bottom of this column, there are a bunch of photos that we had left from the Milan Show in Italy last week, so make sure you scroll down through them. But the last thing I've got here is the very cool program that French MXer Pierrick Paget has put together for 2006-'07: 12 big events in 24 months that he hopes will prove how fit a motocross racer really is. I will let him explain the rest:
"For the first time in history, a pro motocross rider will compete in 12 major different sports. The goal is to prove the average condition of the motocross community, the mind open spirit and the parallels between our sport and the others famous French sports. From January 06 to December 07, 12 events, 12 goals, and 12 great experiences through the hardest sports...

-February 06 "Enduro du Touquet" , 3 hours beach race GNCC type.

-April 06 "Marathon of Paris", 42 km through the French town

-May 06 "Elite MX" an event of the french MX championship

-June 06 "Mont Blanc climbing" , stairway to the highest european mountain

-July 06 "SX Tour" an event of the french SX championship

-July 06 "Tour de France stage" , 200 km of a mythic stage during the rest day of the Pro

-August 06 "Triathlon long distance" 100 km of Swimming, cycling and running

-September 06 "Roc d'Azur" famous moutain bike race in south of France

-November 06 "Shark Extrem" running, cycling, river rafting and night Extrem enduro

-February 07 "Transjurassienne" 76km of snow skating through the french mountains

-June 07 "Transvesubienne" 80 km of mountain bike through the Alpes

-August 07 "Embrunman" simpy the hardest Ironman Triathlon on earth

-November 07 "Marathon of New-York"

"You will be able to follow that adventure from the first of January on a website. You will have pictures, physical program, note book and thoughts—plus a television crew to record the whole endeavor. Stay tuned!"

That's it for Racerhead—sorry again for the delay. See you at the races next Friday in Toronto. Thanks for reading.


Milan photos by Scott Wallenberg: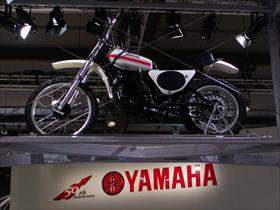 Brand-new 1975 YZ250 on display at the Yamaha booth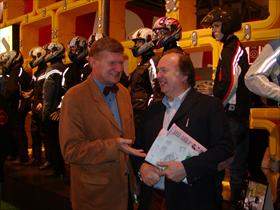 Franco Acerbis at the Acerbis booth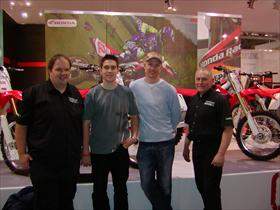 Gordon Crockard will be on Honda in 2006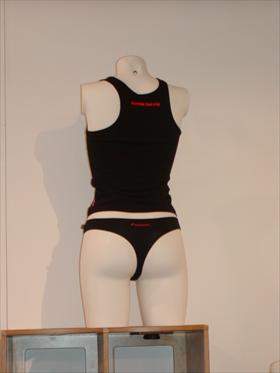 Official Honda thongs!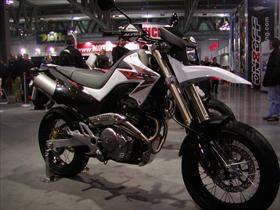 Honda has a bike called FMX, though it's obviously not a freestyle bike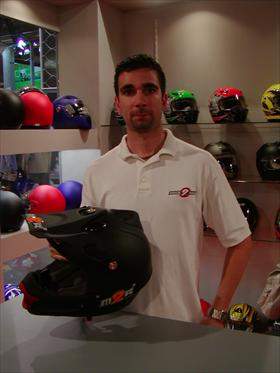 M2R's Ryan Raymond debuted their new motocross helmet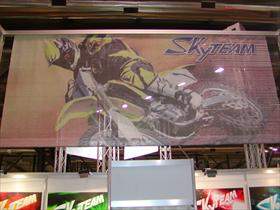 Team Sky booth! No mention of Ping anywhere! (With an action photo of a Suzuki, which was strange.)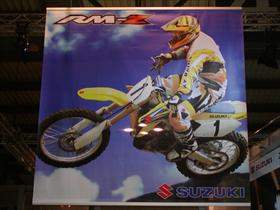 Fly Racing is now the official apparel for Suzuki and was featured in giant murals in their booth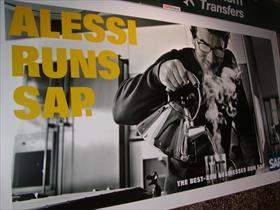 Milan airport billboard