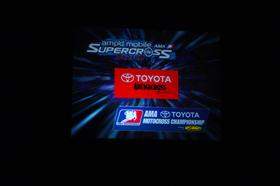 Starting in 2006, it's AMA Toyota Motocross presented by FMF
photo: TFS

AMA Motocross racers and fans got some great news on Saturday night: Toyota has stepped up as the new title sponsor for the AMA Motocross Nationals! The announcement was made at the end of the 2005 AMA Pro Racing Banquet, Toyota's arrival signaled by two new trucks being rolled out in the middle of the banquet, followed by Vegas showgirls and some very cool Toyota commercials and video pieces that hinted at some of their future plans for the partnership. So for this week's Suzuki Between the Motos feature, we tracked down John Farris just before he and his family went on their Thanksgiving break in order to get the lowdown on the new deal and what motocross can expect from a progressive company like Toyota.

Racer X: John, congratulations on the new title sponsorship to Toyota. How stoked are you and everyone at AMA Pro to have landed such a key automotive company as Toyota?
John Farris: Thank you, and yes, we are totally pumped to bring Toyota on board for AMA Motocross. It is going to be a great, great relationship for the sport—including both riders and the fans.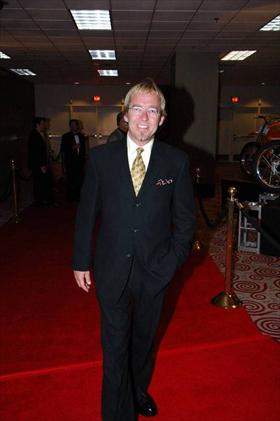 AMA Pro Racing's John Farris
photo courtesy of John Farris

What are some of the things that Toyota brings to the table?
Well, Toyota is very thoughtful company that is keenly focused on expanding their share of the American truck market. They have committed resources to their truck product development plan and are supporting the product line with a very strategic marketing approach. When they enter a category, such as Two-Wheel Motorsports, as they define it, it is with a long-term vision that establishes credibility for their company as a participating sponsor in the sport. They don't just sign-up for the sponsorship, they include a budget to bring it to life and make the sport better.

Our sport has been fortunate over the years to have had ties with other automakers, most recently Mazda, then Chevrolet, and now of course Toyota. What makes our sport a good one for the auto companies?
Yes, automakers—and in particular their truck brand marketers—are usually aware of motorcycle racing as a marketing platform. Motocross (or dirt bike riding) indexes quite high with truck buyers as a recreational activity. This, factored with the need to have a truck in order to participate, along with the sponsor loyalty data that AMA Pro Racing compiles, certainly makes the sport attractive for consideration.
But really, let's face it, there are few things in this world cooler than an AMA Motocross National and the marketers that "get this" want to find a way to associate their products with such a rockin' environment.

Toyota started out as an event sponsor with the Thunder Valley National, and then seems to have grown out from there. Was the success of that first-ever national event key to their signing on for so much more?
AMA Pro Racing has been in contact with Toyota since December of last year, providing information about the sport, explaining Chevy's departure and working to get them engaged in learning more. Toyota has also been involved in the International Motorcycle Shows and was the Official Truck of AMA Supercross a few years back and has always bought a lot of print advertising in motorcycle publications.
They have a next-generation Tundra pick-up truck that will launch in 2007 that is very important to the company and they have platform defined as the "Adrenaline Sports Strategy" that includes The Dew Action Tour property that is integral to the marketing of the Toyota pickup truck line [Tacoma and Tundra].
The Thunder Valley event, through the efforts of David Claybaugh and Scotty LaLonde was very helpful in elevating Motocross as a sponsorship opportunity that Toyota should consider.
Following Thunder Valley, AMA Pro Racing was invited to make a presentation to the Toyota executives about AMA Motocross which went really well (obviously!). From there we hosted a group from Toyota and their Ad Agency at the final Glen Helen National and they were blown away by the crowd, the trucks they drove, the paddock/teams/riders and the gutsy competition of AMA Motocross. We were able to give them behind-the-scenes access to the top riders and teams – who were incredibly gracious with their time and which made a super-positive impact on the Toyota folks.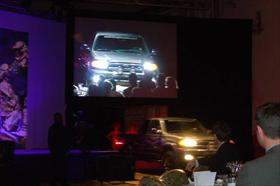 The new partnership was announced with great fanfare - showgirls, even! - in Las Vegas
photo: TFS

Are the guys you're working with there motocross enthusiasts?
Yes, they are. Getting a major company to sign-on to a new program like a motocross sponsorship usually takes an enthusiast and a high-ranking advocate within the company no matter how perfect the opportunity. The top Toyota executives involved in this initiative, Brian Smith—head of Truck Operations—and Doug Frisbie—head of Events and Promotions—are both are enthusiasts. I have ridden with Brian a few times and he's really good both in the dirt and on a road-race track.

Toyota held an after-party as soon as the AMA Pro Racing banquet was over—what was the vibe in the room? Did the industry people seem receptive?
The after-party was very cool, typical Vegas and very Red Bull-esque. Interestingly, it was Toyota's idea to throw the party and their lead agency team on this program is run by a couple former Red Bull agency folks. As far as the industry being receptive, I think anytime you keep a nightclub open till 1:30 a.m. and offer free beverages your going to have "receptive" people!

Strange question, but a reader sent this one: Now that there is a title sponsor, will the outdoor classes be called Toyota Motocross and Toyota Motocross Lites?
Good question, you've got some thinking readers. The series will be branded as the AMA Toyota Motocross Championship presented by FMF. The classes will be AMA Motocross Championship and AMA Motocross Lites, both bikes will have Toyota branding on the front number plate.

Brian Smith, the Corporate Manager—Truck Operations from Toyota, called the title sponsorship of AMA Motocross "the foundation for our involvement in motorcycling." What other involvement do they have so far, besides the AMA/Toyota Arenacross Series and their sponsorship of AMA/Amp'd Mobile Supercross? Will they be working directly with any teams or riders that you know of?
Toyota also sponsors the International Motorcycle Shows and has for years. I know they have given a lot of consideration to sponsoring a team or rider(s), I'm not sure it is part of their current plan.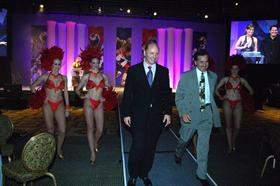 AMA Pro Racing's Scott Hollingsworth and Toyota's Brian Smith
photo: TFS

Finally, is there a commitment in the amount of years–can we expect a nice long relationship with this company like we were fortunate enough to have with Chevrolet?
There is a multi-year commitment and Toyota has a real genuine attitude about being a long-term partner on these types of initiatives.

And speaking of Chevrolet, having worked there when the deal came together before, how can your past experience on both sides of the table help make this relationship better and more fruitful for both companies?
I'm pretty sure that the results, research and learnings that we [AMA Pro Racing] provided in our proposal helped get this relationship off to a great start. Certainly five years of managing an automotive sponsorship on our end will be beneficial to Toyota and will help Toyota get maximum results from the program.

Thanks for working on the deal and getting the whole program in place, John.
Thank you.