Bench Racing Ammo: Knighter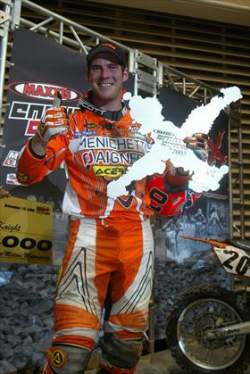 David Knight celebrates his EnduroCross win
photo: Jonty Edmunds
You're probably used to us raving about what a phenomenal 2005 MX and SX season Team Makita Suzuki's
Ricky Carmichael
has had in several of our past bench-racing sessions, but it's hard to overlook the amazing season that England's David Knight has had in the world of off-road racing.
Knight was born on the infamous Isle of Man, which lies in the Irish Sea, between England, Scotland, Ireland, and Wales. His first motorcycle event was the Isle of Man Trials at the age of 4, and he has since progressed into quite possibly the best off-road rider in the world.
In 2005, this 6'4" KTM-supported rider won just about every competition that he entered. Here's a list of wins for Knighter:
2005 Achievements:
• 1st E3 class World Enduro Championship
• 1st HellsGate Extreme Enduro, Italy
• 1st E3 Class and Overall International Six Day Enduro Slovakia
• 1st Tough One Extreme Event, Wales
• 1st Erzberg Extreme Enduro, Austria
• 1st Red Bull Last Man Standing Enduro, Texas
• 1st Las Vegas Maxxis EnduroCross - AMA #1 Plate Holder
That's an amazing run. The WEC title in the E3 class is one of the most coveted in all of off-road racing, and Knighter's incredible ride at the ISDE, where he won every single special test, is one of the most dominant in that event's long history. He sprinkled in some wins in hard-core races in Europe, like the infamous Erzburg Enduro up the mountain in Austria (the same one that
Travis Pastrana
always tries).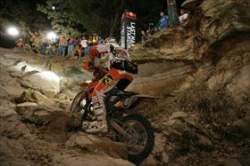 Knight also took the win at the Red Bull Last Man Standing
photo: Rich Van Every
With his season in Europe complete, Knighter took a little vacation here in the States, winning the inaugural Red Bull Last Man Standing last week in Texas and grabbing $10,000 for the win. Then he headed to Vegas for the Maxxis EnduroCross, hoping to avenge last year's second-place finish in the event behind Ryan Hughes. And he did just that, winning the EnduroCross by a large margin to take another $10,000. Not a bad week!
Rumors are swirling that when Juha Salminen returns to Europe in 2007, KTM will send Knight to the States to take Juha's place in the GNCC Series. He's got some big shoes to fill, but it seems like he's ready for the challenge.
For more information about David Knight, check out his personal website at
www.knighter.net
.