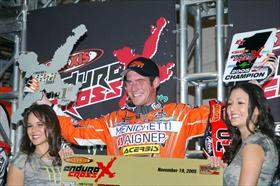 Knight has been doing a lot of damage in the off-road world this year

David Knight, the most dominant rider in world off-road events, can add the Maxxis EnduroCross to his already impressive list of accomplishments this year. For Knight, 2005 has been unbelievable. He is the world enduro champion, and he dominated the special tests at the ISDE and was the top individual rider there. Just one week after winning the Last Man Standing in Texas, Knight just kept on rolling and won in Las Veags. He almost didn't, though: In his heat race, he got pounded into the ground hard in front of six other front wheels and was lucky to escape injury. He came back, with a sore arm, to win his semi and the main.

We stopped the 6'4" giant after his podium appearance and photo ops to see what was on his mind after this wild event.

Racer X
: David, what a weekend! Tell us what happened.

David Knight: Yeah, this was absolutely awesome. Last week, we had the Last Man Standing in Texas and I won that, and this is such a bonus, to win this. A lot of people expected me to win, but I know how fast these American guys are, and I know they want to win. Tonight I had a big crash in the first race in the start. My arm has been real sore all night.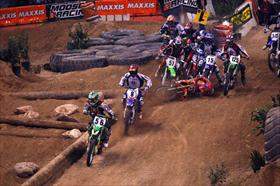 Knight's first-turn crash understandably shook him up a bit
In the second race [the semi] I got a bad start but got away and passed everyone. I was riding pretty fast. I had confidence then that I could win the final, but the start was so dangerous, I just wanted to get off the start in any position and I could try and pick my way through. That's what I did. I got off the start and went from third to second and then got into the lead. That was it. Then the only problem is, you don't know how fast the other guys are going, if they are closing on you, or are you pulling away. I just tried to stay focused. This was incredible, physically hard. It's absolutely over the moon with winning, you know. I have had an absolutely unbelievable year. The only problem now is, having a year like this, next year is going to be so difficult.
Let's talk about your background briefly, for the people who don't know. You were introduced at the show opening as the man in ISDE and world enduro.…
Yeah, I won the ISDE overall this year. I won the world championship in enduro overall. Last year I was second here, I won the Last Man Standing last week, and now this. I can't take it all in.
How does this stack up as an off-road event—the crowd, the atmosphere, Las Vegas, all that?
Well, for us, it's not an important race like a world championship, but when you get here and there are all these people…. Last year there were not so many spectators, but this year it was absolutely full. The American crowd has been unbelievable, noisier than anywhere else, more hype.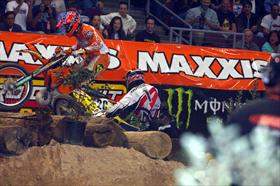 Knight's plan was to take it easy on the start and just try to work past anyone ahead of him. Here he slips by Ryno.

What are you going to do with that $10,000 you just won?
I told Speed TV that I would go and put it on black in the casino [
laughs
]. No, not really. I had 10 grand last weekend from Last Man Standing and 10 grand from this weekend. Twenty thousand dollars in two weeks is a nice trip. You know, I sacrificed winning the British championship on this race today. The last round is tomorrow [Sunday]. It's impossible to get that, but I have had such a good year, I just wanted to come here and have fun. If I win, I win, and if I don't win, who cares?
How were the Americans to race with?
It's certainly different from Europe. The Americans seem to be a bit more … really aggressive. You just have to be really careful. The first corner was the worst part.
[
At this point the interview gets paused for some picture-takers that want to pose with Knight, then more, then more, and it seemed like a good time to let him enjoy it!
]
That's enough—thanks, and congratulations!
[
Waves while being squeezed by photo-seekers.
]