It's Friday in the a.m. and I am in "flyover country," better known as Ohio, or Illinois, or maybe Kansas. It's not an insult, just what the people who frequently fly call the middle United States. I'm on my way to Las Vegas for another motorcycle-themed weekend in Sin City. This time it's the AMA Sports Banquet tonight, followed by WORCS race qualifying in nearby Mesquite tomorrow morning, then back to Vegas for the 2nd Annual EnduroCross on Saturday night at the Orleans, then back to Mesquite for the real WORCS race, then finally the AMA Pro Racing Banquet on Sunday night at Paris Las Vegas. Like I said, another bikes-in-Vegas weekend.
Speaking of AMA Sports, sitting across the across from me is Ryan Holliday, the new MX go-to guy for AMA Sports. Ryan is a former Pro-Am racer from District 5, an MX Sports data man, and now is on the fast track in Pickerington. He's a racer at heart, and he has worked hard to get so far so quickly in this industry. One thing he seems to lack, though, is either the ability to read or count. Let me explain.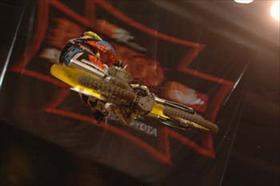 The BooKoo Press Release Series?
photo: Tony Scavo
Everyone at the
Racer X
office is engaged in an office pool, guessing just how many press releases have come out for the BooKoo Arenacross Series since
Mike Kidd
announced it earlier this summer. Taking full advantage of this trick new medium known as the internet, the BooKoo people have put out more press releases than, well, there really is no comparison—they are in a league of their own!
They're working hard to market their new series—marketing being something Kidd is an industry leader in—but we're going on BooKoo overload only two races into the series. I mean, I could have sworn I got a BooKoo press release about another press release that was yet to come.
All joking aside, my personal guess is 80 press releases since April, but I haven't checked my e-mail today, so I'm probably on the low side. At the other end is Jeff Kocan, with the nice, round number of 150. Ryan Holiday's guess? Twenty. Maybe he's still on dial-up.
As soon as the intern catches up on the calculator, we'll let you know the count, as well as the office-pool winner. First prize? A case of BooKoo, of course!
One of the awards up for grabs at the AMA Sports banquet is for Broadcast Journalists of the Year, and one of the nominees is DMXS Radio and their film subsidiary, GK Films. They're the ones responsible for MX Sports Center, the daily highlight shows from Loretta Lynn's. I mention this because the guys also made a couple of videos celebrating Loretta Lynn's-backed Team USA's win at the 2005 Motocross des Nations. The AMA Pro Racing folks will show a two-and-a-half-minute version on Sunday night; look for both that version and a longer one right here on Racerxill.com come Monday morning. They are very cool pieces, featuring race footage from Youthstream, plus the amazing race photography of Simon Cudby. Visit us again Monday for a glimpse at one beautiful day for Team USA.
Looking ahead to Vegas, TFS popped up some very cool shots of the EnduroCross course that will face the likes of defending champ Ryan Hughes, incoming Euro talent David Knight and Ivan Cervantes, former Mxers John Dowd and Ty Davis, and top off-roaders like Barry Hawk, Mike Lafferty and Nathan Woods.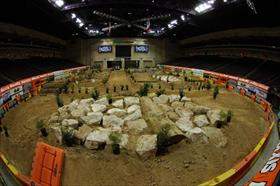 The floor of The Orleans now looks like a movie set!
photo: TFS
Who do you think will win the EnduroCross on Saturday night? That's this week's
Troy Lee Designs Poll Question
. Make sure you vote!
"The assault of a minor in France by an adult is punishable by four years in prison...its that serious!! The Alessi family will have a zero tolerance policy against this kind of behavior!"
When I read that on Alessi Weekly last weekend, I was perplexed, as they must be at least familiar with this type of behavior after all that's gone done in the last year since the Alessi family last visited Paris. My first impression was an oh-no-here-we-go-again…. But then I dug up the events of last weekend at the 22nd Annual Paris-Bercy Supercross to find out what kind of trouble followed Mike, Jeff, and Tony to France. I was relieved to discover upon further inspection that they didn't bring the trouble this time—it was there in France waiting for them.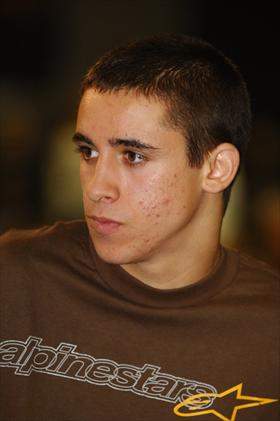 "Mikey Boy" acted like Mike the Young Man at Bercy
photo: TFS
The Alessi boys basically got jumped last weekend by a pair of returning-home French racers who just seemed to get caught up in it all.
Steve Boniface
and
Eric Sorby
are no strangers to the rough-and-tumble world of stadium motocross, and neither are Mike and
Jeff Alessi
. But according to just about every account I've stumbled upon—including Sorby's own—the Alessis were the recipients of unsportsmanlike behavior this time around. After some of the usual Bercy banging, Boniface decided to punch the face of podium-finisher Mike last Friday night. Then on Saturday, after Jeff and Boniface crashed hard together, and the always-classy
Sebastien Tortelli
missed his brake pedal and tipped over in a turn, Sorby took it upon himself to avenge everyone and park Mike in the tunnel under the stadium for an impromptu scolding.
Now, I like Eric Sorby a lot. I think he's a good guy who has worked hard to make something of his career. But parking another rider—one competing for the win—well, that's something that we're used to seeing other people do (ironically, most recently it's been Mike Alessi himself). Eric should have taken up his grievance later, because the time and place he chose were almost as ill-conceived as Mike's first-lap, last-turn takeout of Ivan Tedesco at Glen Helen.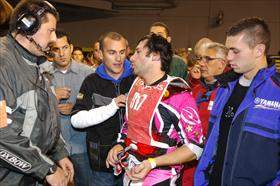 Eric's vigilante actions were not a great idea
photo: TFS
Sorby's action brought
Jeff Alessi
into the picture. Having battled with Boniface earlier, Jeff saw his big brother being mugged in the middle of the race, so he stopped and dropped and got into the act. Was he out of line? As out of line as
Matt Walker
was (or wasn't, depending on how you feel about helping brothers and/or teammates in need). The action cost
Jeff Alessi
his spot on the starting gate Sunday, but when he got on the airplane home, I'm hoping he held his head up high, because he did what a lot of us would have done.
In fact, I remember my big brother, Tim, stopping and clocking a regular rival named Ricky Clemence at Motordrome one night back in the day after Ricky and I tangled and I got the short end. Dad disqualified all of us, and we were friends again by the end of the night, even though we had all be sentenced to picking up the garbage in the pits after everyone else left.
What's your take? Mark Kline of Prior Lake, MN, wrote me this e-mail: "If Sorby and Boniface were my employees I would fire them. If there were my kids, all there bikes and equipment would be sold or given away on the spot. These two pukes need to learn a big lesson."
I wouldn't fire them, but someone would get a good talking-to about sportsmanship. Imagine what kind of an uproar this would have caused if it had been someone other than the Alessis that they were banging on? I'm guessing there probably would have been much more of an uproar.
Here's Racer X reader Iain Dorset of England's take on it all: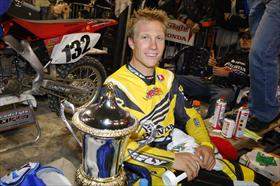 Short hasn't lost a main in France since 2003
photo: TFS
"It seems to me that the public are looking for any excuse to dish the dirt on riders. First it was Stewart and now that his story has gone cold they moan about the Alessis—Mike in particular. We all know that the Alessi family has been through some bad times and done some stupid things but we need to remember he is only a teenager. Someone sent in a letter ages ago saying that people shouldn't badmouth riders if they aren't as good and even, though it was about Stewart, but it still applies here. I think people are jealous of Mike's talent, skill and speed on a motorcycle I believe this because I sure am! By the way I'm not going to cancel my subscription because he has a column in your magazine. I respect the reader's right to do just that but it does seem a bit petty (and Mike's column is great and if I was in his position I would have stood on Tedesco's bike and done whatever it took to get up first, even though I respect Tedesco and I'm sure Mike does too). The sport needs people like Carmichael to be a role model to others but it also needs people like Stewart and Alessi to give it some controversy and it also needs people like
Jason Lawrence
to give it some jazz and excitement!"
Anyway, to read more about the whole Bercy affair, check out our Suzuki Between the Motos piece with Eric Peronnard, the co-organizer of both the Bercy SX and this weekend's Maxxis EnduroCross.
Did I mention that Andrew Short absolutely dominated the racing in Bercy for the second year in a row? The Honda kid from Colorado cleaned up all three main events, winning his fourth, fifth, and sixth Bercy mains in a row.
Want to watch some international supercross this weekend? Here's a note I got last night from European journalist Bernd Dietrich: "The inaugural Vienna Supercross will be streamed live. Featuring Jeff Alessi and recent Stuttgart winner Jason Thomas. Austrian TV channel TW1 will air Saturday's race action from inside the 'Stadthalle', the country's biggest indoor arena. Check out http://www.tw1.at on Saturday, 19 November, between 19.00 (that's about two in the afternoon EST) and 22.45 CET, to see how Alessi and Thomas hold themselves up against fellow countrymen Evan Laughridge, Clark Stiles, Eric Nye, Donnie McGourty and Dylan Lord…."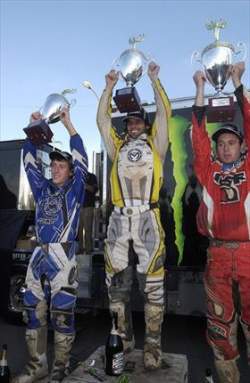 Hughes is already making the most of his new off-road gig
photo: Kinney Jones
In other racing action last weekend,
Ryan Hughes
, that born-again factory rider—this time born to off-road—came from an early off-course excursion to win the Lake Elsinore Grand Prix. Hughes crashed his Suzuki RM-Z450 over a cliff off the start and needed about three minutes to get back into the race. Fortunately, it was a 100-mile race, so Ryno had plenty of time to shake off the cobwebs (and all of the course-marking tape he gathered) to win the overall.
The Lake Elsinore GP, organized by Goat Breker, definitely had some of that old On Any Sunday vibe that the event had going for it back when Malcolm Smith was an off-road racer and not a motorcycling icon. Just like in the movie from 1971, there was a guy out there racing with a dog named Opey as his front-seat passenger. The whole town seemed to come out and watch, and from the looks of things, a good time was had by all.
In one of the most amazing sidebars to the Lake Elsinore GP story, Ricky James—the once-promised amateur motocross star who became paralyzed after a tragic crash at Lake Whitney a year ago—actually competed in and finished the ATV race!
Our managing editor, Bryan Stealey, got the following e-mail from Ricky's father:
"Just wanted to drop you a line and let you know that my son Ricky, who was paralyzed last March 10th while competing at the Lake Whitney amateur motocross national, competed in the Lake Elsinore Grand Prix this past weekend on a quad while still paralyzed from the middle of his chest down—two days after his 8-month anniversary of his accident. Pretty amazing. He finished the 45-minute event in 9th place."
Mr. James is right: That's amazing.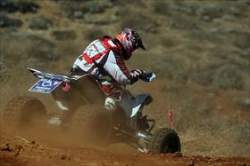 It's hard to keep a good man like Ricky James down
photo: Rick James
Last weekend was also the Red Bull Last Man Standing race in Texas. The event was all about survival, as the riders raced in four segments that measured 40 miles each, with participants being eliminated as the race wore on. Day turned into night, and the last two segments were basically run in the dark! David Knight emerged as the overall winner, but anyone who finished must feel like a winner. Check out one participant's take on it all:
"I cannot begin to find enough adjectives to describe what went on at the Red Bull Last Man Standing. Extreme, gnarly, brutal, un-freakin-believable, overwhelming, and many others have been used in my 'during' and 'post-race' conversations. In the beginning, I was honored to be one of the original '200 toughest riders' selected for the race and now that it is all said and done, I am completely stoked to have been one of just 14 guys who made it to the end. In my career, I have been very fortunate to win many races and championship. Finishing this one event though, ranks extremely high on my list of achievements."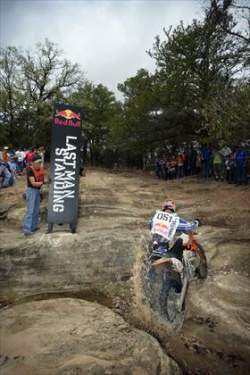 Imagine 160 miles of this stuff!
photo courtesy of Red Bull
That's 12
th
-place finisher
Steve Leivan
. To read his full report on the madness,
check this out
.
Shifting gears to Canada, James Stewart and Michael Byrne are officially IN, according to both Clear Channel and Team Kawasaki. That's great news for Amp'd Mobile World Supercross fans in both Toronto and Canada. Stewart joins defending champion Ricky Carmichael and Chad Reed, among others, in what's starting to look like genuine U.S. Supercross races.
Three years ago, when Clear Channel embarked on the whole World Supercross GP path following the debacle that was the AMA Pro Racing/Jam Sports breakaway, I was critical of the idea of sending top riders all over in the world in the middle of December in order to run coexisting series, even suggesting that the only way it might work is to hold the races in North American locales like Canada and Mexico City—especially after top-rider turnout was very light in 2003, the second year of the Europe trip. Fortunately, someone at Clear Channel had the same idea, and now there's rapidly growing interest and participation in these two Canadian races. With almost all of the top stars lining up in the premier class, plus a nice squadron of SX Lites racers on their way north, the Canadian races are gaining traction by the day. To keep up with all of the news from north of the border, keep an eye on www.racerxcanada.com.
Carmichael, who used last year's Toronto and Vancouver races to get a leg up on everyone else, is now in full lockdown as far as his training goes, according to our sources down in Florida. RC took last Saturday off to celebrate his annual championship party—Tallahassee-style—and the theme was "something yellow."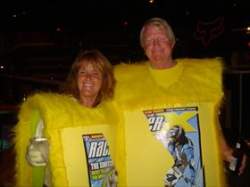 Mama and Papa C. went to Ricky's party as, well, us!
photo: Scott Taylor
To check out
Scott Taylor
's report on the party, plus a whole bunch of funny pictures, check out
www.foxracing.com
and look for RC's championship party report.
Racer X reader Doug Taylor from Albany, OR, wrote us this note:
"Last year there was an amazing amount of hype for 'the Perfect Storm.' Now there is no real hype floating around, even though we are less than three weeks from the 'Bwaaaah!' heard around the world. Why?"
Doug, though my guess is that everyone was so humbled by RC's early drive last year, combined with Reed's late start and Bubba's bad breaks, that no one wants to get too amped up just yet. But I have a feeling that, by the time those guys all line up in Canada, the whole supercross world is going to be ready to seem just how it all starts out.
By the way, keep your eyes open for more updates on how to get linked up with the Amp'd Mobile handsets and exclusive supercross video channels and all. That should be a big leap forward for our sport.
Who's got the most insight on what's going to happen in 2006? I usually think of Marc Peters as the ultimate insider, since he's the man who preps and services all of the factory teams' SX tracks out in SoCal. On any given day, he's going back and forth between Kawasaki, Yamaha, Suzuki, Honda, and KTM, working the soil while no doubt sneaking a peek at who's going fast.
Well, this week Simon Cudby might have him covered. Simon's on a weeklong photo shoot down in Florida, where he will visit pretty much all of the big-hitters' practice tracks while shooting various projects. And the week before, he was out at Castillo Ranch with Team Honda for their annual photo shoot. What did Simon see? Ever the professional, he's not even telling me! (There goes your day off for Christmas, mate.)
Also keep an eye on the Busch Car Series down in Florida this weekend. That's where Clint Bowyer will be trying to make up the 64 points he trails Martin Truex by in this last race of the season. "It will take nothing less than a 1992-style Jeff Stanton vs. Damon Bradshaw at the L.A. Coliseum-type thing for it to happen!" says big brother Andy "Rev Up" Bowyer. "But then again, remember how that deal went down in '92? I do."
Thorpe's RC500
photo: Rob Kinsey
A note from
Racer X
contributor
Rob Kinsey
:
"Thought you might be interested for Racerhead in this photo of Dave Thorpe's Honda RC500 works bike that was presented to him by HRC after he won one of his three world championships. It was on display at a motorcycle industry trade show here in England…."
Looking for some nice new wallpapers for your computer? We featured some of Kinney Jones' archived 1980s photos on Thursday and now we offer some nice (and more recent) work from Chris Tedesco.
Another note from a reader, this time Keith Clemente:
"In Andy Bowyer's Rev-Up yesterday, there is a picture of Jeff Stanton at Gainesville (last picture on the page) that says 1990. However, it looks like a '93 Cr250 and Jeff had the #1 plate in '93 as well. Just wanted to double-check."
Keith, I think you're right. I shot that photo myself, but I honestly didn't remember what year it was, and I just assumed it was 1990. My bad!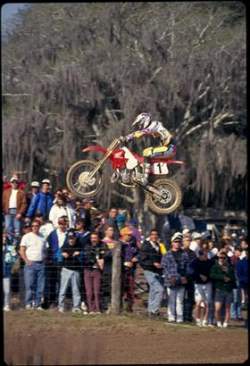 On second thought, maybe that is 1993...
photo: Racer X Archives
Just got a note from
Eddie Cole
at
SixSixOne
with some good news:
Phil Alderton
is now handling Export Sales and helping with Motorcycle Product Development.
Former factory star Ezra Lusk will be at Bremen all weekend in support of the DMXS Clay Mathis Charity Ride. He will be giving a school on Sunday, with all monies raised going to Clay. Clay was injured a few weeks ago and remains at the Shepard Spinal Center in Atlanta. For more info on this great cause, check out www.dmxsradio.com.
Want to check out some of Chuck Ball's best pics of 2005 stuff? You can find 'em right here.
And late-in-the-afternoon congratulations to the entire LaRocco family, as Mike's wife, Elizabeth, gave birth yesterday to Parker Anthony LaRocco, who weighed in at 7 lbs. 7oz, and lays 19.5" long. He was born yesterday afternoon, Nov. 17. According to OMS' Sharon Richards, "Mom, dad, brother Ryder, and baby are all doing fabulous."
Finally, I'm in my hotel room at The Orleans, which seems to be located somewhere between the Vegas Strip and the 1970s. Let me turn this over to Ping, who just e-mailed this:
The Alessis just keep stirring up trouble. By now, everyone has heard of the brawls at the Bercy Supercross. It was kind of like West Side Story, only without knives and all the fruity dancing. But what most people haven't heard is what happened a week earlier in Genoa, Italy. According to another rider who was there, the Alessi clan showed up Friday afternoon as everyone else was putting their bikes together for Saturday's race. The story goes that Tony paid the promoter to let his boys ride the track that night. After most people had left, Mike and Jeff suited up and rode the track at around 11:00 p.m. You have to admire their do-anything-to-win style. It's admirable, and then it gets nauseating. I don't think they'll be able to buy off Steve Whitelock at Anaheim.
The annual Metz Fest went off as planned last Saturday. The festivities included a minibike supercross, several freestyle demos, a live band, and all the lifted trucks, trucker hats, and Metal Mulisha T-shirts you could shake a stick at. Metzger's functions are always a good time. I scored a double victory in the 50 and 110 Pro races, which is kind of like leading a Shriners procession with all the little cars. Only we don't have to wear the funny hats and I went home with $700 for leading the procession.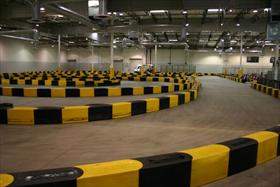 Pole Position Raceway's car track
photo: Ping
I met
Greg Albertyn
,
Grant Langston
, and
Sean Hamblin
at Pole Position Raceway in Corona, California, this week. Albee, who is an investor in the company along with
Jeremy McGrath
,
Steve Hatch
,
Trevor Vines
,
Dick Burleson
,
Ken Faught
, and several others, gave me a tour around the facilities. The place is impressive. There is a food court, video games, pool tables, a lounge, and racing memorabilia from motocross, car racing, hill climb, and off-road stars. The electric carts are surprisingly fast, and the course is a blast. Although, racing with a dozen motocross riders is anything but congenial on the course. I was getting smashed into like I was racing against
Halle Berry
and
Lindsay Lohan
. After each race, a complete printout is given to each driver showing lap times and finishing position of everyone on the track. If you live in Southern California, you have to check this place out. It is amazing. For complete info, check out
www.racep2r.com
.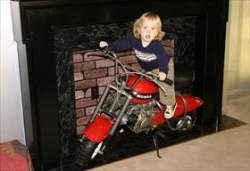 Julian Stealey's new ride...
photo: Laurel C. Allen

Ernesto Fonseca had a scare at the Honda test track this week. The Costa Rican, who recently switched to the 450F, had been looking great during practice. Ernesto was knocked out in the crash and injured his shoulder. No word on the severity of his injury.
Finally, check out
Troy Lee's new Range Rover
. Wow.
That's it, time to head for the EnduroCross. Thanks for reading Racerhead, and happy early Thanksgiving to everyone. See you at the races.