Zach Ames
November 17, 2005 11:34am
Over the years we've seen several fast young riders come out of the state of Ohio, from Brock Sellards, Jeff Gibson, Willy Browning, and Joe Oehlhof to Rupert X. Pellett and 17-year-old Prospect native Zach Ames. Zach is a junior at Elgin High School and a sophomore in the National Arenacross Series, where he is currently sitting eighth in points. We caught up with this young F&S-sponsored Suzuki rider while he was on his way to Charlotte, North Carolina, for round three of the Toyota National AX Series. Be sure to show Zach and his sponsors some support by clicking on the links at the bottom of the page.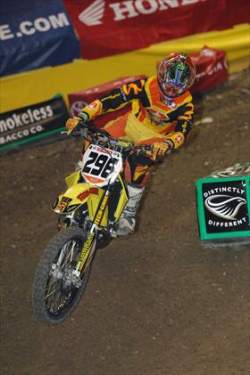 Zach Ames

Racer X: Zach, how's the riding in Ohio these days?
Zach Ames: It's going pretty good now, but it's starting to snow a little bit, so we may have to go down South.
It's pretty common for us Northerners to head south. Do you go down South often?
I didn't really go that much last year, but I'm going to try a lot this year.
Although the winter weather is pretty bad for motocross, Ohio has produced some great riders in the past. Are there any riders from your home state that you look up to?
I look up to David Hill and Scott Metz. They're a couple of privateers, but they always give it 100 percent.
Those two guys are definitely two of the hardest-working privateers in the sport. Let's back up a bit. Tell us how you got started racing dirt bikes?
My dad was a drag racer and I grew up around that sport. He then took me to a motocross race around my house just for fun, and I wanted to try it, so he got me a PW50 and it just progressed from there.
How old were you when you got that PW50?
I think I was, like, 3.
You're racing professionally now, but tell us how your amateur career went.
On 50s I got second at Loretta Lynn's. And the last year that I was an amateur racing 125, 250 B, and Schoolboy, I won all three championships at the U.S. Open of amateur supercross, which is the same weekend as the U.S. Open of Supercross. I was the first rider to ever do that. Tommy Hahn did it before me, but he only won two championships.
It seems like you really favor arenacross racing more than supercross or motocross.
Yeah, I really like it a lot. It's like a big sprint. I'm really good at the whoops too, and I've just always liked indoors.
You're currently competing in the Toyota National Arenacross Series. How's that going so far?
It's going good. At the first round I got both holeshot awards, and I finished sixth on Friday and fourth on Saturday. That put me fourth in points behind Dowd, and he wasn't going to race any more, so really I was third. I then went to Des Moines, Iowa, and in the first main event I was running fourth and passed up to third but then crashed in the whoops and got knocked out. And then on Saturday I was winning my heat race in front of Brock Sellards, and I got to the end of the whoops and went over the bars and broke my front forks. So we had to change those, and I struggled to get into the main. I then started in the second row, and about five laps into the race I was sixth, but then it got red-flagged because someone got hurt. And then we had to restart single-file, because that's the AMA rule, and I went around the first lap after the restart and Brock's bike cut out on the face of the triple, so he cased it and I landed on top of him. And then Shawn Clark ran into us, so that set me back a little bit.
Wow, that sounds like a crazy weekend.
Yeah, so I think I'm sitting eighth in points right now.
What's your top finish in an arenacross?
Last year in the 125 class in Columbus I got second behind Darcy Lange.
Are you intimidated riding against guys like Sellards, Schnell, and Chad Johnson?
Last year I was intimated, but this year I feel good. I rode with Brock a couple times, and, I don't know, they put their pants on the same way I do.
What's your goal for the season?
I want to get top five in the series, that's my main goal.
Who travels with you to the races?
My mom and my dad so far. And my sister went to the first race too. But this weekend on our way to Charlotte we're going to hook up with Scott Metz and go with him.
Do you have your pro license, Zach?
Yeah, I got my pro license last year, but I didn't get to race any nationals or supercrosses. But I hope to do a couple East Coast rounds this year, and maybe a few of the local nationals.
What's the toughest part about being a privateer?
Not having the same equipment that the top guys do. We're getting helped out a lot by F&S Suzuki in Dayton, Ohio, so that helps me a lot. I also want to thank my parents.
Right on, Zach. Well, good luck this weekend in Charlotte.
Cool. Thanks, Billy.
Zach Ames' sponsors:

Fass Gass