Eric Perronard is a busy man this week. He lives in Florida, but he's straddling the Atlantic Ocean, having gone from the Paris-Bercy Supercross this past weekend, which he helps organize, to the EnduroCross in Las Vegas, of which he is the co-promoter. I caught Eric on his cell phone outside the Orleans, where he was helping put the finishing touches on this coming weekend's big event.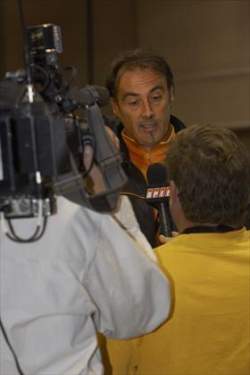 Eric Peronnard

Racer X: Well, Eric, it's always a pleasure to check in with you, but this time we've got two things to talk about because you might be the busiest man in the global motorcycle industry this week.
Eric Perronard: Absolutely. I'm one of the organizers of the Paris SX, and then this week Tim Clark and I are working on the EnduroCross, but let me tell you that it's been a rocking four weeks.

Well, let's look ahead, because I have a feeling when we start talking about what happened in Bercy, there might not be enough room on the internet to get it all in there! How are things looking for the second annual EnduroCross?
It's looking fantastic! The dirt is in, the rocks are coming, and we have a fantastic lineup of riders. I hate to jinx myself, but it almost guarantees that it's going to be a sold-out situation. So we only have a few hundred tickets left, and they've been going quick. It's the best pace that the Orleans Arena ever saw for any kind of motorsports event.

It's going to be a good weekend in Vegas, because you have the AMA Sports Banquet Friday night, the EnduroCross on Saturday, followed by a WORCS race right up the road on Sunday. And then, of course, Sunday night the weekend finale with the AMA Pro Racing banquet. It must be nice for you that those events kind of all worked out when they did.
Yeah, it's no accident. There was a lot of work involved, and it's not pure luck. Yet we're very, very grateful to have the opportunity. At the same time, I think we bring a lot to the AMA picture as well. People are excited to see a show and a banquet as well. It's kind of like killing two birds with one stone.

The Orleans doesn't take odds on the race yet, do they?
Unfortunately not. We tried and they would not, as excited as the people were for the U.S. Open when it was under my ownership.

If you were going to set odds, who would you say the favorite is? Ryno, the defending champ, or David Knight?
I would always say Ryno because he wants to win this race more than anybody else on the planet. His heart is definitely making up for the lack of enduro experience compared to David Knight or an Ivan Cervantes. Speaking of whom, I don't know if you know, but Ivan Cervantes won the Barcelona indoor enduro last weekend, and David Knight won the Red Bull Last Man Standing in Texas, and Ryno won the Lake Elsinore race. So we have three guys coming that won a big major off-road race on Sunday!

It's a shame you couldn't get Andrew Short to come over from the Honda test track!
[Laughs] Andrew was thinking that it would be brutal. He was the luckiest guy because he stayed away from everybody for the weekend in Bercy.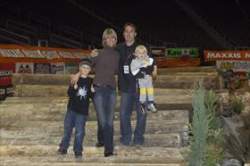 Peronnard and family on the EnduroCross track

That brings us to the second part. Andrew Short won all three main events for the second year in a row. He's really got a nice love affair with Bercy and the fans, but behind him it sounds like all hell broke loose.
Pretty much. Andrew was the sunshine and it was a dark storm everywhere else. On Friday night we had the first boxing round after the race between Steve Boniface and Mike Alessi, which turned out to be pretty ugly, and we had a lot of patching and fixing to do after that. Xavier [Auduoard] was mostly in charge of fixing night one between Boniface and Alessi. There's no question that Boniface was out of line. I mean, you should never punch somebody, regardless of their age or what they did on the track. It's not a good way to sort problems out. There's no question that Boniface was the one at fault, and Xavier did a great job to make peace and allow the race to go on, because we were really afraid that Alessi would not race the next day, because he was really, really upset. Rightfully so.

Then comes round two.…
Saturday night, which is always the big night in Bercy, what we had witnessed was quite unbelievable. In all of my 25 years around motorcycle racing, I never saw anything like that, but there was a lot of tension created by the night before. As you already know, Eric Sorby and Steve Boniface are really good friends from when they were five years old—they're kind of like brothers, to a point. So it was the Alessi brothers against the Sorby/Boniface brothers. It was a lot of tension, and then the racing went on and during the final race, unfortunately, Jeff Alessi and Boniface tangled up and both crashed. It was a pure racing incident; there was no malice in it. Even Tony Alessi agreed with me, during countless hours of talking throughout the night, there was nothing that was planned. And Eric Sorby was just behind those two guys and witnessed Jeff Alessi and Boniface on the ground. And then Jeff Alessi had a pretty good pass on Tortelli and Sorby claimed that he saw it, and that it basically drove him mad. He thought the Alessis were taking out everybody, which was not the case, but it was what he understood. At that point he basically blew a fuse and decided to have a talk with Mike Alessi in the infamous Bercy tunnel.

When people see that, like Jason Weigandt and TFS wrote on their weekend reports, there was a run-in "in the hallway," and you talk about the "infamous tunnel," it's not like they were just walking down a hallway; they're racing down the corridors of the stadium. So Sorby decided at that point to …
… to have a talk with Mike, during the race! So Andrew Short was long gone at that point and Mike Alessi was second. Nobody was in Andrew Short's league. Tortelli was actually the second-fastest, but a couple of crashes and a mechanical failure kept him off the podium.

I saw the photographs on Alessi Weekly of Jeff Alessi, who was really upset. From what I've heard from different people, if anything, he pulled a Matt Walker-type move to help his brother.
Exactly. That was really where a lot of people don't know everything. We only had access to part of the footage, and the cameras, obviously, were placed to show a race, not a fight. So what happened is, I was watching the race with a couple people, including Allison Turner, who is Alessi's agent. And suddenly we notice a crash between Jeff Alessi and Boniface. It wasn't looking good. And then Alessi went underneath of Tortelli; Sebastien just missed the turn and crashed on his own. That was the end of his race. Sebastien told me that he missed his brake pedal at that point.
So Andrew Short comes back through and there is a 30-second gap and we all look at each other like, "What's going on?!" Then we look at the screen and we see somebody holding Sorby's head under his arm, trying to wring his neck—easy to spot because it was a pink helmet and it wasn't something that everybody was wearing!
We still had no idea what happened, because it wasn't filmed. Later on, we saw what happened, which was Sorby being muscled by Jeff Alessi. Finally, a production truck was showed what happened, which showed Sorby slow down in the tunnel at the last turn. He waited for Mike Alessi to come, and he ghost-rode his bike into Mike Alessi to block him. He just wanted to talk to him [laughs]. He basically blocks the track with his bike, gets Mike Alessi to stop, and he starts yelling at him, but of course we didn't hear what he said.
At that time, Jeff Alessi, who was lapped after his crash, stopped next to his brother to see what's going on. Suddenly the anger goes from Mike to Jeff. Meanwhile, Mike was not stupid and realized that it was his way out, so Mike takes off and goes back to finish second. Meanwhile, Jeff Alessi and Eric Sorby start a regular wrestling match, and all of those things were not visible until the next day, when we got the production crew to get all of the footage they have and we could see that, because we really didn't understand. For instance, the FIM people basically excluded Alessi based on the fact of wrestling Sorby, but they had not seen everything until the next day.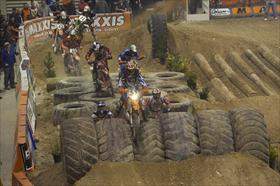 Action from last year's EnduroCross. MXer Ryan Hughes took the title in the race's debut year.

You mean they disqualified him because they only saw the aftermath?
They only saw the fact that Alessi and Sorby were wrestling. And then Jeff Alessi was so mad when he came back into the pits that he wanted to fight with Sorby. So those two things got him disqualified right away. But then everybody was completely taken by surprise not to have Sorby disqualified, because nobody saw him ghost-riding his bike and blocking. So the next day, at that point, Mike Alessi didn't want to race anymore and wanted to leave. We knew something was missing because Jeff was telling us the story, but nobody saw that. So we finally got the Federation to lock themselves in the room, and they saw the entire story. That's when they disqualified Sorby as well. By doing that, the Alessi family got a relief and went on racing. After that it was just boring racing [laughs].

Sunday must have been anticlimactic after all that!
It wasn't as much fun as the EnduroCross will be!

Sooo….. Can you still get the Alessis to come to the EnduroCross?
[Laughs] They are coming to watch.

All joking aside, did the Alessis get a bad rap on this one?
I would say, unfortunately, yes. It didn't help them, especially being with French riders. It's something that will be forgotten in a few days, but I really wanted to state that they really didn't do much harm. It's more the aftershock that was wrong. On the track, they didn't do anything wrong, put it that way. If Jeff Alessi wouldn't have been vocal in the pits after his incident with Sorby, I would've felt really bad about him being disqualified for the last day. On the track, he just ended up seeing his brother being blocked by Eric Sorby, and hey, you don't want to see anyone doing that to your brother.

That's a lot to digest.
I just want to explain that the Alessis didn't do much wrong—they were just at the wrong place at the wrong time. If Andrew Short was passing Tortelli like Alessi did, nobody would've been reacting about it. People just want to see bad when they see the Alessis. They don't deserve the bad rap.

Looking ahead to next year, when is the MiniMoto SX?
The Mini Moto SX is on Cinco de Mayo, which is the day before the final round, as always. We have a lot of excitement with Pingree and Gosselaar and Gibson, who are all big MiniMoto guys who can't wait to do it again.

As far as the tickets go for the EnduroCross, what if someone reading this wants to hurry up and grab a ticket?
You can get your tickets at the Orleans Arena or www.orleansarena.com.

I appreciate it, Eric. Go take a nap.
Next week!