Andrew Short
November 14, 2005 12:38pm
For the second year in a row, Team Honda's Andrew Short is the King of Bercy. Short swept the main events in all three night of racing in Paris, finishing ahead of Mike Alessi, Sebastien Tortelli, Mike Brown, and a full program of invited supercross riders from all over the world. Short also swept all three mains just one year ago, so he now has a six-night winning streak going in Bercy.
This year's race had more controversy than just about any race anyone could think of, with Steve Boniface punching Mike Alessi at the end of the first night, and then Eric Sorby ambushing Mike in the hallway portion of the track (during a main event!) the second night, followed by Mike's brother, Jeff, stopping to do the Matt Walker thing and help his teammate out. Boniface apologized, Sorby apologized, and Jeff Alessi and Sorby were suspended from the last night of racing. With all this going on behind him, Short just focused on racing and winning.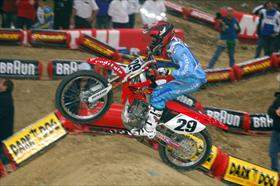 Andrew Short rode perfectly in all three mains at Bercy, extending his win streak to 6 nights - three in 2004, three in 2005

Racer X: Andrew, you are the King of Bercy for the second time in a row. How does it feel right now?
Andrew Short: It feels good. I didn't think it was going to go this well again. I knew it was going to be hard to do what I did last year and win every race. It didn't start off so well when I got third in the first heat on Friday night. I rode kind of like a squirrel in that first race, but it ended on a good note.

Just to recap the racing, you didn't win that first heat race Friday but you won everything else, right?
Yeah. I got a horrible start in that first race. I rode like a squirrel. I just about crashed a few times. People crashed in front of me. After that, I put myself in a good position by getting good starts and moving up really quick each time. I would try and put in a few good laps in the beginning and try and check out and just be solid from there, and it worked.

Did you worry yourself a little after that first race since it didn't go so well?
It was a reality check. Last year it went so well, it made me realize I would have to be on top of my game to win like I did last year. I was pretty mad that Mike Alessi beat me in that first race. I didn't want that to happen again. That gave me motivation for the rest of the week.

What was the overall level of competition like over the weekend? Was it one of the tougher Bercy trips that you have done?
For sure, it was tough. Mike Alessi, for sure, was not as strong in supercross last year—it was one of his first races. [Mickael] Pichon then got hurt halfway through and had some issues last year. This year Tortelli was on his game. He just had some bad luck and didn't have the best of starts. Alessi was stronger and getting more experience in supercross. There are a lot of other guys that could do really well, like Sorby did in that first qualifier of the week. I think it was a lot tougher this year than the previous year. That's to be expected, I guess. Everyone is learning and getting better every year.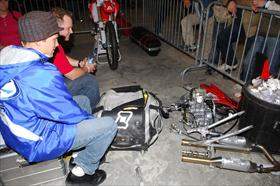 American Honda sent Short and his mechanic to France with suitcases full of parts

You now have two King of Bercy titles in a row. McGrath just had one, Vuillemin had four—the all-time high. As a two-time winner, are you establishing yourself as a powerhouse here?
[Laughs] I don't know about that. I'm American and use this race to get ready for Anaheim. Last year it didn't mean so much when I won here and came out to Anaheim and didn't do so hot. I like this race a lot. There is a good purse and the promoters treat us really well. It's a lot of fun to come over here. It's real easy and American-friendly to race this race. I enjoy it, and I would love to come back again.

Considering the controversy between some French and American riders in the first two nights, when you walked out of the stadium toward the hotel on the second night, a crowd outside cheered. Where you a little surprised about that?
Yeah. I would like to say that I race, but I race pretty smart, and I'm not afraid to go on the inside of someone and stuff someone. But I'm not going to kill myself or the guy that I'm racing against for one position—unless it's the last corner of the last lap or something like that. I would like to think that they respect that and I race hard and I'm here to have fun, and that I enjoy everything that they have here.

Any crazy road-trip stories or anything like that? Or anything weird happen to you, burning cars or anything?
No. It was definitely a lot different back home on the news, compared to how it really is. I haven't seen anything. It's been more normal than in the past for me coming here. It's been a nice trip, and everything has gone really easy. The promoters make it great for us.

How did you monitor the news as the race approached, and what kind of things made you decide to go ahead and make the trip?
[Laughs] I was scared to come. We were doing our photo shoot at Castillo Ranch before coming here. People would come to the track and go, "Hey, did you see the news? Are you still going?" Then I heard some people were backing out. Then my agent, Sharon Richards from OMS Sports, did some calling around. She called Sorby and Vuillemin and it was like, "Hey everyone, it's fine." So I was kind of leery, but once we got here, it was a whole different deal. Like if you go to L.A., and you go to Compton, yeah, you're going to see something scary. It just is what you make of it. I'm happy the trip has gone as well as it has. It's a lot of fun. It always is. It couldn't have gone any better.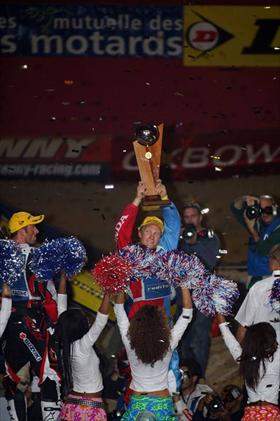 Team USA won the France-vs.-USA-vs.-Rest of World competition again, and Short has a lot of trophies to take home

It's been normal for you, but it's been a madhouse between the Alessis and Sorby and Boniface. What's your take on all this insanity around you?
Wherever [the Alessis] go it seems like it's there, and that's their deal. I came here to race and to get ready for Anaheim and see where my speed is. I'm doing the best that I can. Those guys are on their own program, and that's fine. I don't care if they're getting more hype or whatever. I just want to be ready for Anaheim and be ready for the challenge.

It seemed like people forgot you won, there was so much going on. Were you tempted to, like, start a fight or something?
[Laughs] No! That's the last thing I want to do here, start a riot in Paris! The fans here are really passionate, and they love their racing, and they love their hometown boys and you have to look up to them for that.

So there is no "Evil Andrew" on the horizon or anything?
[Laughs] I hope not. If there is, you can smack me.

What's Honda's feeling about this trip? Is it something they're into, or do they just let you go?
They support me 100 percent. They sent over a lot of parts and a great bike, and my mechanic. In that sense, they support me a lot, but they don't get anything out of it. They are American Honda. They are concerned about Anaheim, but this is going to help me there. I went off the gate probably eight times this weekend, and that's eight times more than everyone else back home riding the test track. I got some real race experience, and it was a good check to see where I am. It was just a good self-evaluation.

What's you next race?
I'll be racing in Canada. I try to race once a month. October was the U.S. Open, November here, and December will be in Canada.

Toronto and Vancouver?
Yes, Davi Millsaps and I both.

250s?
250Fs.

Congratulations, and see you in Toronto.
Thanks, Steve.