Kawasaki Race Report: Paris-Bercy Supercross
Do you want the short story or the whole one? Because the short story is the Short story, as in Andrew Short simply dominated the 23rd Annual Bercy Supercross, winning all three nights with ease. So the results show Short as King of Bercy, with Mike Alessi second and Mike Brown third, which means that Team USA also won the Team Championship over France and Team Rest of the World.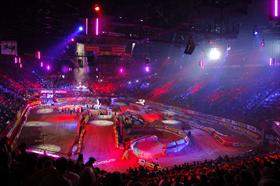 The legendary Bercy show openings are still awesome to see, even after 23 years

But the results are in no way indicative of this weekend. First, this race puts on a huge show beyond the racing, with killer music, wild announcers, pom pom girls, freestyle and tons of other stuff going on. And the crowd is unlike anything you've heard at any other supercross. They're loud!

But this year they had a lot to scream about. For the full report on what went down, check the Friday and Saturday report we posted earlier. Basically, Steve Boniface and Mike Alessi collided on the first lap on Friday, and Boniface got mad and punched Mikey in the pits after the race. The French riders really, really want to win this race – and the pressure they put on themselves makes strange things happen, especially when mixed with the Alessi recipe for controversy.

On Saturday, Mikey was battling with Sebastian Tortelli. It was awesome seeing Seb getting huge cheers, running up front and looking like a contender. But his brakes went out and he crashed. Then Boniface and Jeff Alessi crashed into each other. Sorby saw all of this and believed the Alessis were taking people out, (but they weren't), so he reacted and ghost rode his bike into Mike like he was Johnny Rivera in the famed 1980's supercross movie Winner's Take All. Then Jeff rode up to his brother's rescue and the fight was on between Sorby and Jeff.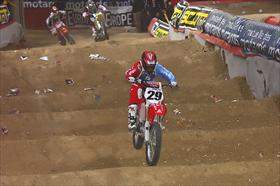 Short leads Brown and Alessi through the whoops. He was untouchable in three nights of racing.

In the aftermath, a few facts have changed: apparently Steve Boniface was not involved in the Sorby/Jeff Alessi dust up. Jeff thought Boniface was involved, but he must have been mistaken, as Boniface had already crashed out of the race and was parked on a hay bale with a wounded leg. Boniface was unable to race on Sunday.

Also, Jeff Alessi and Sorby were both banned from competition on Sunday. It was a shame because they were both riding well and brought major excitement to the show. Sorby was hyper aggressive as always, and Jeff looked like a totally different person than last year. A year ago Jeff couldn't even qualify for the main, and this year he was a sure podium contender until he got all mixed up with the Frenchman.

So that's the controversy part. As for the racing, Short got good starts every time, and then killed everyone in the whoops, so he was able to make passes when needed. On night one, Tortelli reeled in Mike Alessi and took second. The crowd was stoked because Tortelli was a contender, but his brake problems resulted in a DNF on Saturday night.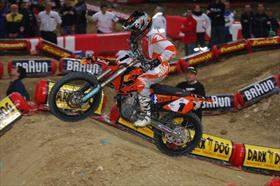 Spills in two out of three mains cost Tortelli his chance to keep up with Short

There was still hope that Tortelli would win on Sunday. Jeff Gibson got the holeshot and Seb was up there, while Short started in about fifth. The fans were going nuts, but then red flags came out due to a big first turn crash. You could hear everyone groan in unison. And of course, when they restarted it, Seb didn't got a bad start. Brown got the holeshot, and Short passed him a few laps later and took off. Tortelli passed Brown for third, leaving one last battle with Alessi for second to settle the weekend. But then Tortelli made a bobble on a tabletop section and hit the dirt.

So Short has now won all three nights at Bercy for two years in a row. Alessi wasn't on his pace, but he fought hard and finished second all three times. Tortelli was probably the second fastest, but bad luck and crashes did him in (sadly, that's the typical Tortelli tale).

Brown ended up third overall. The Rockstar Suzuki team only had one set of works suspension with them, and it went to Sean Hamblin at first. But then Hamblin crashed out on Friday, so they played musical suspension until Hamblin injured his foot on Saturday. After inheriting Hamblin's suspension, Brown rode much better.

The event program for the Bercy supercross explained the event as 100 percent race and 200 percent show. And that's exactly what it was.