They say the Paris Supercross is all about the show. And if you want to put on a good one there is really only one option: The Alessis. Yes, promoters pay big money for backflippers and freestyling, but the controversy the Alessi clan brings to the races is really priceless.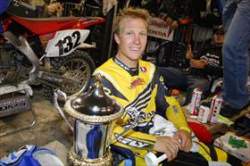 Andrew Short is dominating the races here, but it's as if he's not even the show. There is so much controversy, people are leaving Short alone.
photo: TFS

These first two days in Paris have probably created more controversy than the previous 23 years.

By the way, Team Honda's Andrew Short has been completely dominant so far, nailing starts, whoops and anything else in his way with a dominant 1-1 score so far. But as one would expect to be the case, the controversy here involves the French v. The Alessis while the super-nice Short rides away from it all.

In practice on Friday, Mike Alessi popped his shoulder in and out of the socket. He didn't even crash, but he walked off the track holding his shoulder. But Alessi was still going to race. That's all he does. Hey, for years we were reading in Alessi ///////// Weekly about Mike racing his heart out at such big events as the Wednesday night Kalamazoo Country Fair race in Podunk Nowhere, MI. This was the Paris Supercross, so he was racing!

The show begins with a half hour of opening ceremonies, with by far the most raucous crowd you will ever hear at a supercross. They don't run the really crazy stuff I heard they used to run - like Ricky Johnson being lowered into the stadium in a UFO that was being eaten by Godzilla, blown up by explosives and then doused with fine French wine – but it was still good.

The racing begins with a race just for French riders who weren't automatically seeded into the program, and the familiar #917 of Eric Sorby won it. He even through in a few classic Sorby "unnecessary aggressive moves" for good measure. He was definitely feeling it, and he even beat Short and Alessi in a heat race a few minutes later! Then Sebastien Tortelli won the other heat, so the fans were super pumped up.

Short grabbed the holeshot in the main in front of Alessi. But Sorby was right there in third, and when he moved to the inside of Alessi through the whoops you just knew a classic Sorby block pass was coming … but unfortunately red flags came out.

Tortelli was stuck in the first turn, so they had to red flag this one. Actually, David Phillapaerts was stuck in Seb's rear wheel (like Seb was in Tedesco's wheel at the des Nations) and since they were still on the track, they had no choice but to restart.

But just before the riders got to see the flags, Sorby put the huge block pass on Alessi anyway, which was probably worth the price of admission for everyone there. The crowd was fired up for the next start.

Alessi got the jump but Short passed him through the whoops. Sorby and Tortelli were further back. Steve Boniface and Alessi came together out of a corner heading to a triple, and Boniface went down. It looked like nothing more than the standard racing you get on the first lap on a tight track.

Short pulled away while Alessi ran second and Sorby was shoving people out of the way. As he closed in on Jeff Gibson, you could see his block pass coming from a kilometer away. This was a telegraphed, autographed, signed sealed and delivered Sorby move, and he went inside and slammed Gibson so hard that they both went down. Gotta' love Sorby!

Tortelli was the man on the move down the stretch, and the crowd kept getting louder as he closed on Alessi for second. Alessi was really struggling through the end of the whoops with that shoulder, and the fans sensed the pass coming. But as always, Mikey is a fighter, and he made it tough on Seb, who was being way, way too nice. Tortelli finally passed him on the last lap, and the place erupted. At 11:55 p.m. the freestylers were out doing backflips and not a single seat was empty. (But TFS just told me it's because no one is parked here so there's no 'beat the traffic' syndrome. Oh. Europe is crazy!)

But the real action was back in the pits. Boniface was pissed about the hit he took from Alessi. He slowed up on the second lap of the race while getting lapped so he could take Alessi out, but he missed. So he got his revenge in the pits, actually throwing a punch and slugging #800 right in the face! And remember, this is 20 minutes after Alessi had hit him on the track. Plenty of time to cool down, and yet Boniface was still going nuts.

The rumors started flying: the Alessis are pressing charges and Boniface is going to jail for striking a minor; the Alessis have demanded Boniface be removed from the Saturday and Sunday lineup; etc. It was basically every race the Alessis have ever run come to life once again. Only Vince McMahon could script this kind of action.

Cooler heads have prevailed coming into night two, and everyone apologized. But Friday was just a warm up….

On Saturday everyone was cool through the heat races. Short won one, while Boniface calmly passed Jeff Alessi, no big deal. Tortelli beat Mike Alessi in heat two.

In the main Short took off again, and Alessi was in second with Tortelli all over him. The battle was on, but then Tortelli's brakes went out and he blew through a berm. But that was the trouble: Sorby came around and saw Tortelli off the track, and he assumed Mikey boy had taken Seb out.

Also, Boniface and Jeff Alessi had crashed into each other, but it was just incidental contact. But the blood was beginning to boil. Boniface crashed again in the back tunnel, so he and Sorby apparently decided to park back there and wait for Mike to come around. Then Sorby ghost rode his bike into #800! Then Boniface came out and helped Sorby double team Mikey, pinning him against the wall to allow Tortelli to go by. Are you reading this? Two French guys taking on the American in the back of the arena so the third French guy could get ahead. It was unbelievable!

So then Jeff Alessi shows up and stops, gets off his bike to help, and now he's in the mess with Sorby and Boniface! While they wrestle two-on-one, Mike was able to get away in third place. Later, Tortelli dropped out with bike problems, so Mike was able to hold on and finish second, despite getting double-teamed by Sorby and Boniface.

Please go back and read the last two paragraphs again, because you will probably never hear about something like this happening at a motocross or supercross race again.

But that's the kind of stuff that follows the Alessi clan.

Best of all, everyone gathers each night for a big buffet dinner at the hotel, so Sorby, Boniface and the Alessis were all in there creating tension. It was a wild atmosphere and a situation that is still waiting to be resolved. Who is getting fined? Who is getting suspended? Did 16-year-old Jeff really hold his own in a fight with two Frenchies?

I had no idea this race would be this good of a show.