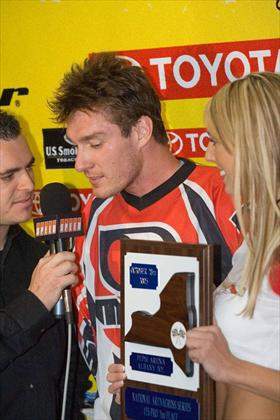 Damien Plotts
photo: Ray Gundy

Some of you probably recognize Damien Plotts from seeing his name in the results of the opening rounds of both the BooKoo and Toyota Arenacross series. But just a few years ago, Damien was on the DKNY-backed Fast by Ferracci Husqvarna team, wearing national #44 in AMA Supercross and Motocross. Since then, Plotts has shifted his focus from the AMA Nationals to local events. He has also raced for a Honda support team in Germany over the past few years. But for the 2006 season, Damien is going to compete in an entire series here in America—a first for this 31-year-old Pennsylvanian. We caught up with him while he was headed to round two of the BooKoo Arenacross Series in St. Charles, Missouri. For more information or tickets, visit www.racearenacross.com. Be sure to show Damien and his sponsors some support by clicking on the links at the bottom of the page.

Racer X: Damien, two weeks ago our brand manager, Mike Farber, said he saw you in Albany, New York, at the opening round of the Toyota Arenacross Series. And then our assistant photographer Matt Ware said he saw you in Fort Worth, Texas, at round one of the BooKoo AX series. So tell me, which one of those guys is lying to me?
Damien Plotts: Neither of them are, actually, I was at both!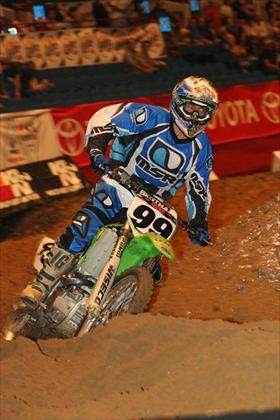 Damien Plotts is racing the entire 2006 BooKoo series aboard Kawasakis
photo: Matt Ware

Wow, how did it go?
They both went really good, although I did have a couple little setbacks. I wasn't quite as prepared as I wanted to be, but overall, both weekends were real successful. I'm doing the whole BooKoo series, so I was really wanting to leave there top five in points, and I accomplished that in the 250 class. But in the 125 class I failed to qualify for Friday's main event, so that kind of blew me out of the points. And as far as Albany goes, I got second there in the Arenacross Lites, but that's a limited class and there wasn't a lot of competition. In the Arenacross class I left there fifth in points.

So do you have any sort of deal to do the BooKoo series, or are you just doing it on your own?
Yeah, about three weeks ago something finally came together. I'm riding for a local shop back home in Pennsylvania called Crossroad Powersports. I just got my new Kawis and basically went to Albany to see how the bikes were and to get a race under my belt. The 450 just came out and I broke it in, but I didn't get to do any starts on it or anything. So I went up to Albany, and my times were great but my starts were so off that I couldn't get myself up into a podium position. So I then packed up for our trip, and I didn't get to ride the bike again before Fort Worth, so my starts were terrible once again. I left fourth in points, but still, the way my times were in practice, I should've been up on the podium.

Your phone is breaking up a bit—where are you right now?
Well, we're out in the middle of nowhere. I'm, like, an hour away from Little Rock, Arkansas. We're probably an hour or more from a highway, and I'm surprised there are even people out here [laughs]! But my buddy here has a replica arenacross track, so this week we were just practicing starts and riding all week long, so I'm really looking forward to this weekend.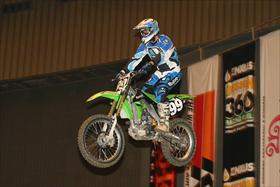 Damien is currently sitting 10th in the BooKoo AX Championship points standings
photo: Matt Ware

So are you staying on the road for the entire BooKoo series?
Well, we're going to be living out of a motor home throughout the Denver round, and then we have a weekend off for Thanksgiving, so I'm flying home for that and then flying back and staying on the road until Christmas. The last six rounds I'll probably do out of my van, because they're all on the East Coast.

How was the BooKoo show from a spectator's point of view?
The BooKoo series did a few things differently, like racing for gate position by your transponder times. I like it, and I think the spectators like it a lot too.

Well, let's back up a little here. A few years ago you were a factory Husqvarna rider wearing national #44. Now you're on a privateer KX450F wearing #99. What's been going on?
Well, the year I rode for Husky, up until that time I never rode supercross at all. When I signed the deal, I was very excited about it, and I was signed to race 250 SX. I jumped in there with no experience at all and almost killed myself. I then went into the nationals injured, and I was a little behind the ball going in, so it was just a losing battle. After that, I got on the Honda 450 and I focused on more regional money races. Supercrosses are great, but for me, going in with no experience, it was hard. The nationals, even if you're doing great, you're still not doing great financially. So I kept it low-key, and I find myself doing better financially. I was doing better and getting hurt less. But from 2002 till now, I got a really good deal on a Honda team in Germany, so I started going there every winter. And just from that opportunity, I started really improving and got a lot more confidence in supercross. And now I'm to the point that I feel that I'm almost a better indoor rider and feel that I'm having more fun with it. So I feel I'm going to really focus on the indoors, and it'll help prolong my career. Like last year, I came out and qualified for two 250 SX mains and people were coming up to me like I just came out of the woodwork when, heck, I've been around for a while. I just can't make it to each round. So I just made it a point to concentrate on one series. And at the end of the series, my goal is to be in the top three so people can take notice of me, so next year I can maybe get on a good team.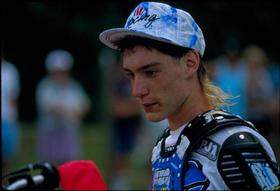 Damien Plotts has been around for a long time. How long? Well, if it's any indication, that's a real mullet, circa 1992.
photo: Fran Kuhn

What kind of deal do you have right now? Are you a Team Green rider?
Yeah, it's a Team Green deal through my shop, Crossroad Powersports. It's funny, because they've been offering me a Kawasaki deal for three years now and I've been turning it down just because I didn't want to ride a two-stroke.

How does the KX450F compare to you Honda 450?
Actually, it has a little more torque, and it turns better, but other than that it feels pretty close.

After the BooKoo series ends, will we see the #99 in any supercrosses or nationals?
Well, if I accomplish the goals that I want, my plan is to keep my momentum going, and I'm going to jump right into supercross and finish out the rest of them. But I'll probably do that out of my van unless something comes along that's better. At the end of May, honestly, I'll probably just take some time off, because I've been hard at it for a while now. I might race a few of the tracks that I really enjoy, like Unadilla or Broome-Tioga.

Well, I hope your season goes as planned, and from what I hear, it sounds like you're on the right track, Damien.
Thanks a lot, Billy.


Damien's Sponsors: