Josh Woods is in a three-way tie for the lead in the BooKoo Arenacross Championship Series, and he wasn't even supposed to race it! The K's Motorsports/Maestro Suzuki rider was at his home track, right next to Davi Millsaps' in southwest Georgia, when he got a call last Thursday afternoon. Buddy Antunez's Fun Center Suzuki team had just lost a top rider due to an injury on press day, and Buddy wanted to know if he could he fill in. Josh packed his supercross practice bike and drove all night to Ft. Worth, Texas, and signed up. When the racing was over, he had won both 450 Pro mains, made some money, and suddenly became a series contender. That's arenacross!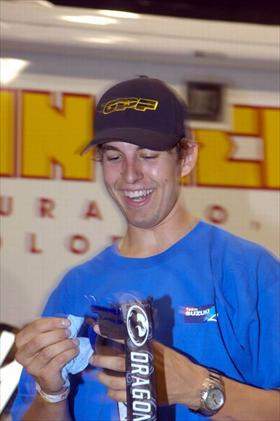 Josh Woods

Racer X: First, tell us how this weekend even happened.
Josh Woods: It was an unexpected weekend. I got a phone call late Thursday night to come here and ride Brad Hagseth's bike and fill in for him because, unfortunately, he got injured [a broken leg on press day]. I made the trip all night long to get here. I was really nervous about racing here and how it was going to work out. One thing for sure, though, I felt really comfortable on my 450 Suzuki. I've been practicing supercross a lot on it. I knew I had a good chance of winning the main events with it.

I also had a lot more fun than I expected to doing this series. My past experience with arenacross wasn't the greatest. That was about five years ago on Kawasakis, back in my Team Green days!

You rode both classes on four-strokes, a 250F and a 450F, right?
Yeah. There weren't that many 450s out there. On a track like this, it was a big advantage in those whoops and stuff. If I have one thing to work on after this weekend, it's the 250F, and maybe my starts. It's been a while since I rode a 250F, and I struggled a little on that bike, especially Saturday night. On Friday night I had the speed, but the second night I made some mistakes and just didn't feel as comfortable on it as I needed to. I'll have to sit down and consider doing some more [arenacross]. I'll have to sit down and talk with Buddy Antunez and Cole Gress in the next few days.

So sometime next week we'll know if you're sticking with arenacross?
[Laughs] If I show up, I'll race! I imagine I'll be there next weekend no matter what, and as far as the rest of the series, we'll see how it goes. I'm definitely up for a few more races and to see if I can stay in the points chase.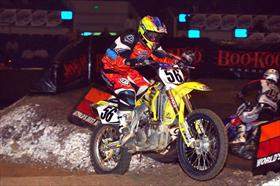 With an RM-Z450 set up for supercross, Woods was the king of the whoops at Ft. Worth

Were the Fun Center Suzukis all dialed in for arenacross when you got here, or how did you find things?
I used my own 450 with my supercross suspension. I raced my practice bike, actually. I think that's why I felt so comfortable on it. On the 250F, it was set up for Brad, so it was a little bit soft for me. I think I weigh about 15 pounds more than he does. I struggled a little bit with that bike, and I think a lot of it had to do with suspension.

What did you find when you got here, compared to what you expected?
The track was pretty much what I expected it to be. These layouts are pretty similar all the time. The whoops turned out good. They were easy at the start of the night both times, then they got slippery and ate up a little bit and more difficult. That was my advantage this weekend, for sure. On that 450, I was pulling a little bit of time on everyone there. The track turned out great. It was a little slippery, but it was fair. I liked that sand in the first turn. It broke things up and made things interesting. Hopefully we'll see some more stuff like that this year.

How was the overall event, the show and the organization?
I think it was great. Mike Kidd did a great job with this series, and of course the payout is awesome. It's almost more than supercross, really. It's great as far back as they pay and everything. I'm glad to see there's another series for these guys to race and make a living at. Unfortunately, the NASCAR race drew a little of the crowd away. Hopefully next weekend they will get a good crowd and we can put on a show for a few more fans. The fans were great, and they cheered for us the whole time. That made it fun for me.

Do you have any crazy arenacross stories? Anyone fly across the track in front of you or anything?
I got taken out a few times, but that's expected in arenacross. I learned a little bit on how to ride smart with these guys. It's different than supercross, for sure. There's contact, and these guys know how to ride it. They know how to block their lines and stuff. It was a little bit of a quick learning curve for me. But I think I did pretty good with it, and it's only going to get better.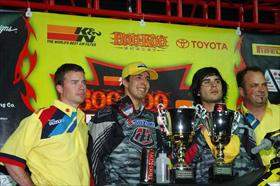 Fun Center Suzuki has two riders - Woods and Bess - in a three-way tie for the series lead

What's your impression of the arenacross guys' skills at this point?
They're good. Shane [Bess] and Tiger [Lacey] were amazingly consistent. I don't think either one of them won a main, but they have the same points as me. It's all about consistency. Its going to come down to that and no DNFs—ride smart and don't get hurt.

You totally blocked Shane in that turn just before the start gate.
Yeah, Shane was riding a lot better Saturday than he did the first night. He was fast in the whoops. He was taking my line down the inside. I was having a hard time passing him. I wanted to make a pass early, before anyone had a chance to catch up to us. I had to make a little bit of an aggressive move—hopefully I didn't cut him off too bad. I think he knows that's arenacross and we try and ride clean. I don't think there was any rubbing in that pass. I had to do what I had to do to get in front and pull a little bit of a lead and ride my own race.

Thanks for the time, and keep us posted on your arenacross plans from here on.
Thanks a lot, Steve.