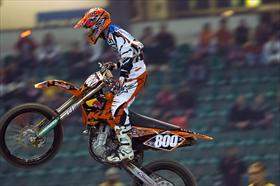 photo by Mario Marini

At the IP Genoa SX, there isn't an overall winner after the two day-race program; each day has a different winner. But theoretically, the overall winner was Mike Alessi. In fact, the Californian was absolutely the fastest out of the gate; he got the holeshot in both main events at the Genoa Fiera Palasport. But on Saturday he lost the lead in the last lap to a determined Billy Laninovich (who eventually won the first final). On Sunday his win was never in danger, despite having an extremely smooth and fast Josh Hansen behind him for the whole race and a number of lappers in front of him during the last stages of the main event.

Racer X: Mike, two great starts for two different results. How did it go?
Mike Alessi: In the first night I got the holeshot, I started pulling away and tried riding consistent, then Billy [Laninovich] just started sneaking up on me. On the last lap he made a pretty good pass, pretty aggressive, clean and not dirty at all, and then I was nine-tenths behind when we crossed the finish line. It was close!

What could you have done to win that race?
I could have pushed a little harder earlier in the race, I think, in order to make it more difficult for Billy, but it's okay. Tonight my plan was to take the holeshot and check out just like I did. The lappers where really bad tonight, and trying to get around them was hard. Josh [Hansen] kind of sneaked up on me just like Billy did on Saturday, but this time I kept it together. I just kept pushing really hard. That was the only thing, and beside the lappers, it was a really good race.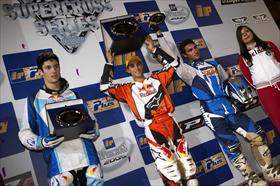 photo by Mario Marini

Your SX debut in US is coming up soon. How many supercrosses have you raced in your pro career?
Let's see ... I did Sheffield two weeks ago, then Bercy last year, then Cardiff and Dortmund. And now I also have these two races in Genoa. I won Cardiff, Sheffield, and tonight. The others, Bercy and Dortmund, I got second in both of them.

Not bad at all. You talked to me yesterday about your debut in Anaheim, where you'll start your West Coast adventure. How is your testing and practicing program going?
Supercross testing is going pretty good. Most of November I'll be testing and training a lot. I'll be trying to go into Anaheim and be consistent right away, like top three. Actually, my goal is to be consistent in the entire supercross series. I don't know if I can get the championship; it's tough to say since it's my first season, but I'm gonna give my all like I did in the outdoor series this year, where it came down to the last moto. I'm gonna give all I have and see what happens, you know? The key to do good is to get good starts, and I usually do, so it should be good. I think my teammate Josh Hansen is going to be the guy to beat.

It seems you like traveling to Europe.
It's a benefit to my experience and a good warm-up for supercross.

Anything else you want to add about this race?
I want to say thank you to all the KTM guys, to Alpinestars for the nice new gear they gave me here, Smith goggles, Shark helmets, my mom and dad, my girlfriend, and definitely all the fans here in Italy for cheering me on in my own country - because I'm Italian! So thanks again, everyone!