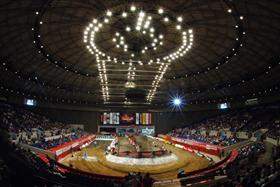 The BooKoo Arenacross Championship kicked off its series in Ft. Worth
A brand-new racing series kicked off this weekend in Ft. Worth,Texas, known as the K&N Filters presents BooKoo Arenacross Championship Series Powered by Toyota. The tour is run by Advanstar's Mike Kidd, the founder of the AMA National Arenacross Series, who left Clear Channel (to whom he sold his series in the 1990s) a little over a year ago. It retains the format from years past, which features two mains per night, but they were renamed 250 Pro and 450 Pro.
Rider turnout was very good, but spectator turnout was disappointing, possibly due to a NASCAR race running nearby. There was no fee to sign up to race, which was popular with riders. The show opening featured a tribute to former arenacross champions Dennis Hawthorne, Jason Langford, Robbie Reynard, Jimmy Gaddis, Buddy Antunez, and
Josh Demuth
.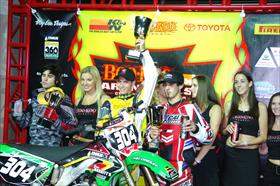 Bradley Ripple won both 250 Pro mains (250Fs) on his Babbbit's KX250F and earned about $13,000 for the weekend
Arenacross racing is always close, and this weekend was close enough that Josh Woods, Shane Bess, and
Tiger Lacey
finished the weekend tied in points. Woods was filling in for Brad Hagseth on Buddy Antunez's Fun Center Suzuki team. Hagseth hurt his leg on press day, so Woods drove all night from Georgia with his K's Motorsports/Maestro Suzuki RM-Z450 with him (his supercross practice bike). Josh won both 450 mains with it.
Some new names turned up at Ft. Worth, most notably 17-year-old privateer Dennis Jonon. Dennis won two heat races, one ahead of Shane Bess and the other ahead of
Josh Demuth
. This was his first pro race in the U.S. (he raced a Canadian arenacross the weekend before).
The start featured a kicker going into the first turn, which was all sand. It looked a little sketchy but actually wasn't, and the top riders seemed to like it.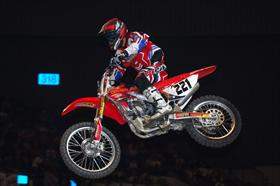 Tiger Lacey is going to be a title contender this season
On Friday night, Bradley Ripple, on a Team Babbitt Nexus Kawasaki, won the first 250 main (250Fs) after a holeshot and a strong ride. His teammate
Josh Demuth
worked his way through the pack for second, and Tommy Hofmaster was third.
Friday's 450 main was mayhem. Woods was leading on his Maestro RM-Z450 (with Fun Bike Center graphics), and
Tiger Lacey
was racing with Jeff Willoh for second. Lacey passed Willoh for second, and Willoh was trying to take it back by hitting a triple into a rhythm section. Willoh slipped on the face of the jump, came up short, cased the landing, and stalled in the middle of the track. Ripple ran into him, Riley Kurosky was knocked to the ground, and the pile claimed Demuth as well. The race was almost red-flagged, but officials kept it going. Woods won, Lacey was second, Bess third.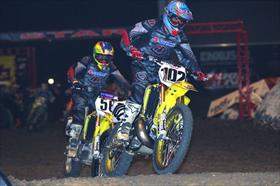 Shane Bess (#102) and Josh Woods (#56) were teammates for a day on the Fun Center Suzuki team
Saturday's 250 main looked a lot like Friday's for Ripple. He turned another holeshot into another win. Lacey was second and Bess third.
The Saturday 450 main wasn't as crazy as Friday's. Bess led the early laps, with Woods right behind him. Woods was making up time in the whoops on his RM-Z450, which was set up for supercross and working really well. But Bess was leading and took his line, so Woods had to make a pass somewhere else. When the two jumped into a tight 180-degree turn, Woods went wide and dove in hard to cut Bess off. It was a pretty aggressive move, but hey, that's arenacross.
Woods went on to win, Bess was second, and the hard-charging Lacey was third. All three are tied for points at 65 each.

The BooKoo series moves on to St. Charles, Missouri, for round 2 next weekend.