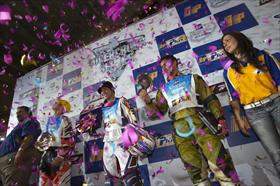 The Saturday podium in Genoa
The first night of the IP Supercross of Genoa was a great non-stop mix of SX and Freestyle. The race was sold out and, in a typical Euro fashion, the crowd was so noisy and warm all race long. The Genoa SX is the race that, before anyone else in the early '80s, brought the American SX concept to Europe. Georges Jobe, who is here for KTM, reminded me that he won the first edition (circa 1980) ahead of Danny "Magoo" Chandler (I still remember watching that race on TV and remaining with the mouth open for the tricks Chandler was able to do on his bike—that day I understood that I was in eternal love with SX). The race is pretty carefully organized. Here the sponsors display the biggest banners ever seen in a supercross race, and the presentation is great and impressive. The lineup is pretty good in both SX and FMX.
Billy Laninovich
won an exciting main event.
Mike Alessi
immediately took the lead and kept it for most of the race. Billy came strong from behind, put pressure on Alessi, and made the pass with just a lap or a little more to go. Third was a really good Sebastien Tortelli, here debuting on a KTM in SX. Despite a little mistake in the second lap, he was consistently in third place and enjoyed it a lot. In the press conference he gave us many details about his testing process on the 450cc prototype he'll use next year in the MX1 GP class. (The bike has been sent to the U.S., where he'll test and ride it till March, when he'll travel back to Europe before coming back to U.S. for a few Nationals.) He's pretty happy with the way things are going, and it's always great to see the smile on Seb's face, considering the troubles he had to deal with in the recent seasons.
Josh Hansen
crashed and
Jeff Alessi
finished fourth. Good speed for French Antoine Meo, who debuted on the Martin Honda (he crashed in the main event but was fast). The FMX contest was really good, with two ramps. Jeremy Stenberg won the best-trick contest, and the crowd went crazy for him. He deserved the first-night win for sure. Nate Adams ("Feels weird being back here," he commented regarding the "crime scene" of the bad crash he suffered last year over here with the broken femur), Kenny Bartram, and friends offered a good show as well. It's not over yet; there is one more day of racing at Genoa.
(This report originally appeared on the MotoTalk message board.)