Thursday Rev-up: Bullring Ballet, Part 2
Hello, everyone, and welcome to the Rev-Up! I am writing to you from the Lone Star State herself, more specifically, Adden, Texas. The BooKoo Energy Drink world headquarters lies just two blocks away from my current residence at the Best Western Hotel. They say they do everything big in Texas … well, BooKoo has stepped up big as the title sponsor for the new Mike Kidd Arenacross Series. That's right, ladies and gentlemen, Mike Kidd is back!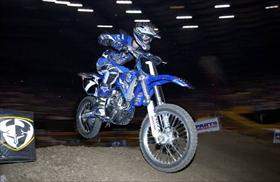 Josh Demuth makes his return to the arenas this weekend
TFS
With the NASCAR boys sandwiched in between two of the most action-packed nights of racing on two wheels, this is arguably the biggest weekend of the year for Texas motorsports. You can smell the race gas in the air from the Oklahoma state line! Let's take a look at the BooKoo AX Series and get Rev'd Up for all of the great racing action that is heading our way!
Mike Kidd is the founding father of arenacross racing. His little series grew from a small, half-dozen-round, largely Texas-participated event into the U.S. National Arenacross Series. In fact, I still have my poster from the original Rad 'N Bad Series with Fred Andrews on the cover. Names like Dennis Hawthorne, Jason Langford, Cliff Palmer, and Jimmy Gaddis provided racing thrills throughout the mid '80s and into the '90s. Then Kidd sold his Fort Worth business to Clear Channel and the tour grew even bigger. Not too long ago, Kidd and CCE parted ways, and after sitting on the sidelines while CCE continued with the original series, Kidd decided to go back to the very beginning. No, not to his AMA Grand National Champion Dirt Track days, but to Fort Worth to start a whole new series, this time backed by BooKoo. And kicking off Friday night's racing action, Kidd is having a special ceremony to honor some of those great arenacross riders who helped him grow the sport into the two-headed monster it has now become.
Now let's take a look at the competition for tomorrow night. Riding for Team Babbit Kawasaki, Josh "The Sheriff" Demuth is making his arenacross comeback in front of his hometown fans. As a two-time champion, Josh is my pick to steal the lion's share of the purse money. But the going will be tough for Demuth, as he has a gate full of some of the biggest names in arenacross stepping up.
Tommy Hofmaster
, riding for Motion Cycle Sports/Shogun Racing, is another veteran arenacross racer and will also be very tough to beat. Tommy gets great starts and is one of the most savvy whoop riders in the arena business.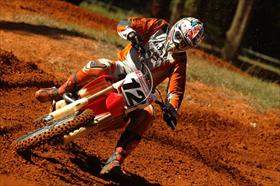 David Vuillemin on his new BooKoo/Holigan Racing Honda
Tony Scavo
Suzuki's team of Brad Hagseth and Shane Bess are going to be putting some canary yellow on the side panels of the competition all weekend long. If you are within driving distance of Ft. Worth, get your ass to the arenacross races tomorrow night!
I have to cut this edition of the Rev-Up short as your favorite Thursday moto-author is worn slick. I spent the day with David Vuillemin and his new Team BooKoo/Holigan Racing Honda. You know that saying "Sometimes change is a good thing"? Well, that saying has been stuck in my head since this afternoon, when I stood beside the whoops at the team practice track and felt the ground shake as he pounded though. Texas's newest citizen is carrying the mail, folks! He looked as happy as he was fast this afternoon on his brand-new red machine.
In closing, I urge all of you racing fans out there to please cheer on my little brother Clint this Saturday at 2:00 EST in the Busch Car Series. He is fresh off a dominating win last weekend, and he is looking to once again win in his racecar in the same state that he once won on his motorcycle.
Thanks for reading. See you next week.