As amateur racers get set to make their big debuts into the pro class, the inevitable hype that surrounds them always draws attention as they prepare to make the brave step up. However, 19-year-old Lindsey Jelitto was unknown in Vegas as she lined up behind the gate at the U.S. Open alongside some of the fastest women in the world. So what can a local rider from a small town in Colorado accomplish at the U.S. Open? In Lindsey's case, first place. I ran into Lindsey at the RMXA State Championship here in the Mile-High State and spoke with her about her impressive finish and racing plans for next year.
Racer X: Lindsey, congratulations on your awesome finish at the U.S. Open, taking first place against national riders like Sarah Whitmore and Ashley Boham. Did you ever expect to win?
Lindsey Jelitto: Thanks! Actually, I did. I've been training so hard, my confidence was up, my bike was running good, and I just felt like I was going to do great. I knew they were going to be fast, but I also knew that I could be just as fast, so I gave it my all and rode a smart race.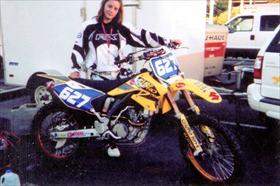 Lindsey Jelitto
photo: Mike Fisher

What was it like to compete at the U.S. Open among the fastest women racers in the world?
It was very intimidating, but it was an awesome experience. I've always hoped to get an opportunity like that. Those girls were all real cool too. We gave each other hugs on the podium and everything.
When you took over the lead on the first lap, did you think you could hold on to it?
I knew I could do it, but I thought I was going to make a mistake or go down because I was so nervous and excited to finally be up there.

What went through your mind when you crossed the finish line?
I was totally shocked that I actually won! My family was in the stands jumping up and down, shaking and going crazy. I wanted to cry, I was so happy! It was definitely the best feeling I've ever felt.
You sure have a lot of people proud of you. Tell us a little about yourself. What do you do when you're not on the track?
Well, after training and riding, I basically just hang out with my boyfriend and my friends. I like to go bowling and play basketball all the time.
How did you get into racing?
My dad had an old Yamaha something with a steel gas tank sitting on our property when I was younger. He fixed it up one day when he was bored, so I started to ride it and I began to get faster. He then bought me a '93 Kawasaki KX125 and got himself a brand-new 2000 KX250, which I didn't think was very fair, by the way [
laughs
], and I started racing in the women's novice class when I was 14.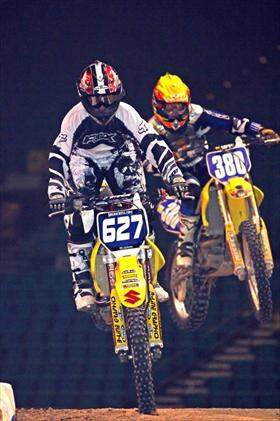 photo: TFS

Many women choose to race in the vet class, but you have always opted to race in the 125 C, 125 B, and now 125 A class. Why is that?
I wanted to race those so that I could get faster since it's more competitive. Plus, the younger boys give you a harder time than the old men [laughs]!
You must have had your fair share of injuries over the years as well.
Yeah, but I've been lucky so far, knock on wood. I've broken both collarbones twice and I also dislocated my shoulder which was a problem for a long time. It put me out for the whole season and was the worst feeling I've ever experienced.
I'm not so sure if breaking both collarbones twice is what I would consider lucky! What other national races have you competed in this year?
I raced the Lakewood national here in Colorado. In the first moto, I got a bad start and worked my way up to ninth, and then right before the second moto, the front sprocket on my bike fell off during the parade lap. I was so devastated, because I had high hopes for moto two.
Your front sprocket fell off? Talk about some bad luck. Why haven't you raced many other big races?
I don't have a dependable bike, money, or transportation. Being a privateer, my parents and I can only do so much that I have to pick and choose which races to race.
What are your racing plans for next year?
My racing plans for next year are to try and race all of the WMA races, go to Loretta Lynn's, and finish up with Cycle Ranch.
Will we see you at any RMXA or SRAC races here in Colorado? I miss racing with you.
Oh yeah, for sure! I'll be racing here as much as possible in between the big races.
Do you have any sponsors that you would like to thank?
Yeah, I'd like to thank Big Gun Exhaust, Vemar Helmets, Oxtar Boots, ProClean 1000, No Toil, Ferodo Brakes, and Works Connection. You guys have been awesome. I'd also like to give a special thanks to my Grandma and my parents for always supporting me.

Good luck Lindsey, thanks for your time.
No problem, thanks for having me!