After his best Grand Prix season ever, CAS Honda rider Josh Coppins is looking to make some major changes to an already successful career. The 2006 season will be the most important in his long assault on the world motocross championship, and the Kiwi knows it's going to take a bigger effort to challenge defending champion Stefan Everts.
We caught up with Josh on the phone today, and he is pumped to spend some time at home with his family and friends and enter another chapter in his amazing progress as a rider and person.

Racer X: So, back in New Zealand.… How it is to be home?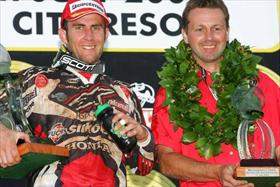 Josh Coppins and team manager Neil Prince


Josh Coppins: It's great. The weather is awesome. It's cool to be in your own house and hanging out with friends. I've been riding my road bike a lot—I've got two new trials bikes, but my cousin and I broke them on the first day. Yes, its cool to be back!

Have you already started your plans for '06, or are you taking it easy at the moment?
I'm taking it easy, but I'm working a bit already on a couple of my biggest weaknesses. I'm going cycling tomorrow, and I'm also working on some business stuff.

What points of the season stood out for you, good and bad?
The opening round in Zolder was a real low. It was pathetic. I was really bad there. Sweden was good, but the biggest standout for me was the first moto and second motos in Nismes, Belgium. There I had speed that I have never had before.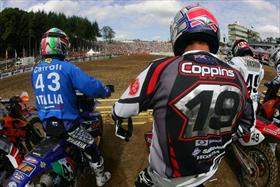 Coppins at the gate

In Nismes you rode and looked like a different rider. Why was that? What made the difference?
[Laughs] Yep, you're right. It was a combination of being really good at that time of the year, loving the track, and really wanting to put the heat on Stefan. It's just a track that my style excels on, also.

Sun City: again, that new look, the equal to the legend Everts?
Yes, I put a lot into the first moto, and Stefan was riding really good, I think. I just wanted it so bad. I remember the right-hander after the mechanics' area—it was a difficult turn and I was dragging my elbow and on the gas. After the race I had a smile from ear to ear just because of that corner. If I can get that speed more consistently, I think the MX1 boys have a problem in '06.

Natural talent-wise, Stefan, Mickael, and Ben are probably better than you. What have you done to compete with these guys? Is it mental strength?
I want it bad. My style isn't the best and I use too much energy, but I make it up in areas like determination, guts, and desire. Plus, my team is awesome. I'm working hard on improving my flexibility and style; I will improve in that area in '06. Trust me.

You're not a big talker—still the blue-collar hero. Is that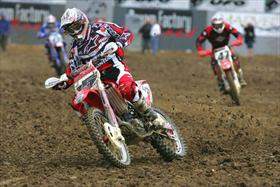 Josh leads Pascal Leuret

sometimes a drawback for you, or a plus?
It's a drawback at times, like on the podium, or when I meet new people, I'm quiet. I don't talk much. People say I don't smile enough. I'm working on that, but I think it's because I'm a thinker. On the podium I'm thinking what was good, what was bad, etc., etc. On the upside, people don't see me as cocky or arrogant, so that's nice. At the end of the day, talk is cheap. Results are what count. But I'm going to try and be a bit more outgoing.

Mickael Pichon on KTM, will it be any different?
Everyone has their own opinion on this. My opinion is, maybe for a part of the season it will be different, but not for the complete year. Don't forget about Sebastian Tortelli.

It's now of never to beat Everts. For all you guys, this will be the final year. Is that a motivation?
For sure it is motivation, but I don't think I need any more motivation. I was motivated this year, but he was just better over the whole season. I just need to be better. That's it, really.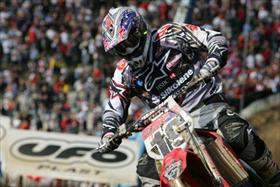 Coppins in Ernee, France

Did you feel like Stefan was riding on the edge on many occasions this year?
For him, yes; for anyone else, it looked normal. He made more mistakes this year, that's for sure. He made a lot of mistakes for a guy who had a healthy points lead almost all year long.

You aren't a rider who will ride over your limit. Is that a correct opinion?
Yes, I am consistent, and you don't often see me on the floor, although towards the end of this year I took more risks and you saw more crashes, like the Motocross of Nations and Ireland.

Thanks, Josh, and good luck.
Thanks, Geoff.