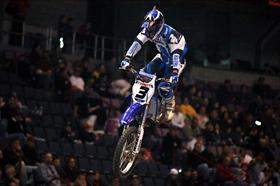 Chad Johnson was ready for this season. He was even ready before he knew what team he would race for!
TFS
Chad Johnson won both nights of the opening weekend of the AMA National Arenacross Series at Albany, a weekend that featured some new faces and a new format. Also, Shawn Clark won the new Lites class both nights.
Johnson earned the #3 plate last year on a Shogun Yamaha behind #1 Darcy Lange (who's racing supercross this season) and #2 Jeff Northrop (now on a Honda) but was without a ride as the season approached. He wanted to be ready anyway and had been working with tuner Junior Jackson for weeks before they even knew what brand bike he would race. The strategy paid off. With two weeks to go before Albany, a deal with Yamaha came together and he showed up more than ready, sweeping the weekend's premier AMA Arenacross class.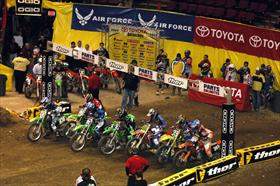 New format: The 125 class is renamed Arenacross Lites and doesn't count for national points. It pays less but gives local A riders a chance to race Friday and Saturday. The change seems to be work
TFS
The AMA National Arenacross Series, which technically hasn't been renamed Toyota Arenacross yet (but soon will be), got some format changes. Instead of everyone running a 125 and a 250 main each night, there is one premier class for 250 and 450 riders; the former 125 class, now named Lites, becomes a development class. Pros can still race Lites, but the pay is less, and it doesn't count for national points. The fastest guy to race both classes was Shawn Clark, who won both Lites mains and picked up a lot of contingency cash.
With some of the season regulars moving over to the BooKoo Arenacross Series, which starts next weekend, not everyone was there. New names showed up as well, and as usual in arenacross, there were some new teams (or maybe new names for old teams). The biggest new names are Greg Schnell, racing for Rockstar/American Suzuki, and Brock Sellards, for Cernic's/Tuf/Parts Unlimited. Schnell still was banged up from crashing out of the U.S. Open but toughed it out. Sellards is teamed up with Northrop, and Brock made the podium both nights. Also making the podium both nights was
John Dowd
.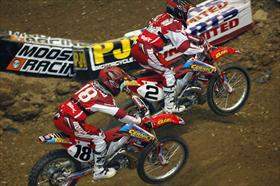 A new team for Northrop and Sellards. Tuf didn't know a month ago that it would be racing arenacross again, and Cernic's was added a few days before the first round. That's arenacross!
TFS
Friday's heat races were some of the weekend's best racing, with Jim Neese doing battle with Shawn Clark on Lites. Northrop and Schnell battled in the premier class, and Kevin Johnson and Dowd had a close race, then Neese beat Sellards. It was good racing.
On Friday, the first holeshot went to Ohio's Zach Ames, but the first turn went into a whoop section and his front end took a dive at the end of it, handing the lead over to Chad Johnson and Northrop. Johnson led every lap and won. Northrop got turned around in the whoops and ended up way back. Dowd was second and Sellards was third, even though he was slowed for a couple of laps by a Tuf Block cover that was hanging from his bike. Schnell was fourth, Neese fifth.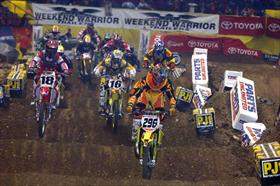 Zach Ames (#296) got the holeshot Saturday night and finished fourth
TFS
The next night, heat races were again pretty good—the best being when Damien Plotts tried to get around Clark for an entire moto. The race went to the last turn and Clark won.
Ames again took the holeshot in the main. He was passed by Sellards right away, then Dowd and Chad Johnson, but no one else. Sellards led a few laps, but Johnson made time on him in the whoops and, after a couple of tries, made a pass that stuck. Johnson won again, with Sellards second. (Brock later seemed pretty happy about making the switch to this series, and he mentioned on the podium that he wasn't used to racing that close.) Dowd was third and Ames held onto fourth, his best finish in the big-bike class.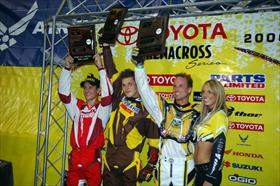 These three made the podium both nights
TFS
Overall, the weekend went well. The track held up well and no one got hurt, though high-school football and Halloween-weekend parties might have affected the crowd. Next weekend the AMA series goes to Des Moines, and the BooKoo series has its opener in Ft. Worth.