Chad Johnson swept both mains at the AMA National Arenacross opener at Albany, finishing ahead of a competitive field that included many of last season's top finishers, a couple of supercross guys—Greg Schnell and Brock Sellards—and the ageless John Dowd.

Two weeks ago, Johnson, who earned the #3 in AMA National Arenacross last season, was looking at two competing series that were about to start, and he had no ride. He made a call to Yamaha after a Kawasaki team he was going to join didn't work out, and soon he and tuner Junior Jackson were set up with a bike, hauler, and sponsors.

After the main on Saturday, we stopped Chad on his way to a post-race autograph signing to ask him about his weekend, the rush to get ready for a season, and what he thought about the big split into two series. (Note: New rules for this series eliminated the requirement for riders to ride both a 125 and 250 main each night. Instead, the new format features a primary "Arenacross" class and a support "Arenacross Lites" class. They can still ride both mains, but the prize money is mostly moved to the premier class, and Lites do not count for championship points. The AX Lites class was won by Shawn Clark both nights.)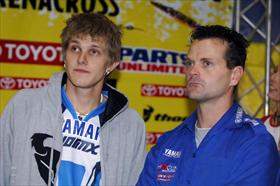 The key is getting ready early. Arenacross efforts always seem to start late, so Johnson and Junior Jackson were working together weeks before Chad was even signed for a team.
TFS

Racer X: Congratulations, Chad, you just won both nights in the new AMA National Arenacross series. How does it feel?
Chad Johnson: Awesome. We really put our work in this fall. I've been pounding laps all summer and staying in great shape. I have a supercross track at home. A month and a half ago I went to Junior [Jackson, his tuner] and we just started testing what we had and riding. About two weeks ago we found out we were riding Yamahas and just started putting stuff together. We got a truck and just went from there. It's been a good series starter, for sure.

Let's talk about the racing this weekend, then return to the team story and the new series. What are your thoughts on the overall weekend, the new series format, the track, the overall package?
I think Clear Channel is doing a great job. I do miss the little-bike class a little bit, but I do agree with the theory behind it—I definitely agree with them. They're trying to make it more for up-and-coming A riders to get into arenacross in a support class, then they don't have to ride against everyone that has been out there four or five years or whatever. We have [in the premier class] Brock Sellards and Greg Schnell from supercross, plus Jeff Northrop with the #2 plate, and that's a huge head game out there [for a new rider]. If they can just come in and ride their own race in a Lites class, it gives them more of a chance out there. So hats off to [CCE]; they're doing a great job this year.

Compared to previous seasons, what was it like here, in terms of competition at the front?
Usually, in previous seasons, everyone comes in with their hands tied behind their back. No one is usually ready. It seems that way a lot this year again. I've been down with Junior testing and stuff, and we came out swinging. I definitely am doing better than I ever have after a first round. Besides being ready more, it feels like everything else is about the same.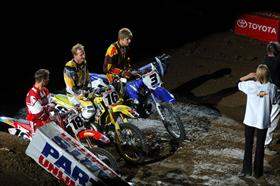 Show opening for a new series: Johnson is joined by Brock Sellards and John Dowd for the introductions.
TFS

You seem to be improving steadily every year. How long have you been at this?
This is my fifth year … or maybe it's the beginning of my sixth. I'm not sure! But it's a head game out there. It's 75 percent mental. If you're in shape and you've been riding a lot, the rest is definitely mental.

Back to your plans for this season. A couple of weeks ago, the internet rumors had you working with Babbits to do the BooKoo series, and that didn't happen. Now you're here and on Yamahas. What happened?
The Babbits thing, we had talked a whole bunch, and it just didn't quite work out. I have nothing bad to say about anybody. It just made more sense for me to go on my own and get going on my own program.

What exactly happened? You called, or someone called you?
When I was talking to Babbits, I just thought I would come into the other series, not be ready like I wanted to be. Arenacross starts so early, and you can't get everything ready. Just a couple of weeks ago I made the call to Keith McCarty at Yamaha and he said he was 100 percent behind me, and so were Thor, Wiseco, Smith, and Works Connection—all those guys. I would call and stuff would be sent overnight. Everyone was so helpful.

It's funny how these teams always just seem to fall together on the last week.
Yeah, pretty much! It's how arenacross stuff seems to work, at least in the last six years that I've been running it. A couple weeks before the opener, everyone is scrambling, throwing stuff in the trailer, and rushing off to the racetrack. I know that's how it worked for us earlier this week! We're just out here trying to hold a privateer team together and do the best we can. I think what we did was just as good, if not better than what anyone else did, and it showed. We won both main events. I felt great out there.

Do you miss some of the guys that weren't here because they're doing the BooKoo AX series next weekend?
Yeah, Josh Demuth and Jeff Willoh, those guys are my buddies, and I've been racing with them for years. I'm going to miss them a whole bunch. But Northrop is here, and Kevin Johnson, and Dowdy was here the first round, and those two supercross guys … it's all really good. Everyone is like family.

Can the arenacross business survive with two separate series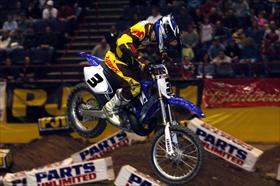 Johnson's bike looks a little plain in the sticker department. By the end of the season, a lot of people are going to want a little signage space on this Yamaha.
TFS

running?
I don't know. I hope so! That's how I make my money. I have a family at home to support, a beautiful wife and two great kids. I love coming to these races. There's low pressure, lots of money, and a good time out here.

Can arenacross really be a feeder series for supercross? Is that going to be a career path, or are people like Jeff Gibson that made the switch the exception?
I think it can be a feeder series. I ran arenacross for years, and I went out and ran East Coast SX out of a van last year and put in a pretty decent season. I was happy with it. I was fourth at Daytona. Now I have a ride for supercross East Coast and the outdoor nationals.

Motoworld?
Yeah, Motoworld. It definitely takes some time. It's hard to prove yourself, and everyone comes not ready. It takes everyone about half a season to get on top of their game. It's hard to have a full season of arenacross and then jump into a supercross season healthy. It's definitely hectic. When we were running two classes, you finish a weekend bruised and sore, or you get hit real hard or break some bikes. That didn't happen this time.

Yeah, it seems like no one got hurt out there.
No, the track workers did a great job. With Albany, usually we come here and … like, last year, the whoops section was just a solid section of ruts. They had dirt coming in, and I guess it was sloppy and they stopped it by putting a bunch of lime down. They made it happen. The track was actually hard and slick for the main event. They did a great job.

Thanks, and good luck from here, Chad
Thanks, appreciate it.